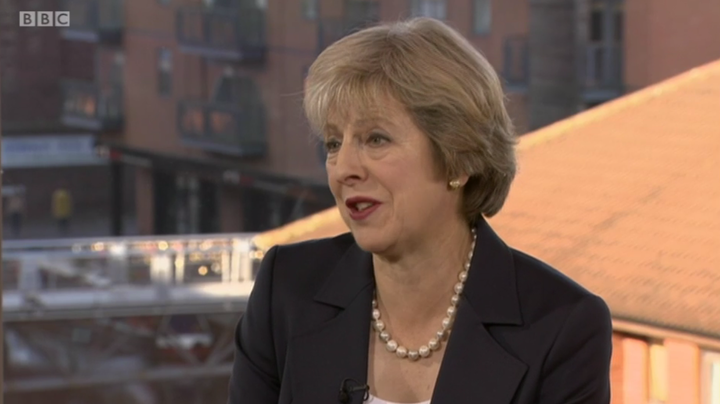 Theresa May has revealed she will trigger Article 50 of the Lisbon Treaty by the end of March next year, beginning a two year countdown to Brexit.
This means the United Kingdom will have left the European Union by April 2019.
The prime minister revealed her thinking on the BBC's Andrew Marr programme on Sunday morning at the start of the Conservative Party conference in Birmingham.
May has long said that following the referendum result "Brexit means Brexit". However it remains unclear what Brexit actually will look like. She told Marr this morning she wanted a "good deal" for the UK when negotiations begin with the other EU members.
"I think this is important, it's not just important for the UK, it's important for Europe as a whole that we're able to do this in the best possible way so we have the least disruption for businesses," she said.
Pressed on what deal she wanted, May added: "When the vote took place on the 23rd of June, apart from the message of leaving the EU, there was also a clear message from the British people to control the movement of people coming into the UK, so we will deliver on that."
May's date for triggering Article 50 immediately came under pressure from both the pro-Brexit and pro-Remain sides of her party.
Former Tory work and pensions secretary and leading Brexit campaigner Iain Duncan Smith, told ITV's Peston on Sunday programme the UK could leave the EU sooner than May hinted. "There's every chance she'll be triggering it earlier than that," he said of the prime minister's March 2017 Article 50 prediction.
But former Tory minister and 'Remain' campaigner Anna Soubry told the same programme that triggering Brexit as early as March "troubles me hugely". She said it was not clear what the government actually wanted to negotiate. "We need to know what are our red lines are," she said.
May will unveil plans to enshrine all EU regulations that apply to Britain in domestic law when the country leaves the bloc at her first party conference as PM.
She will tell Tories in Birmingham that a "Great Repeal Bill" will scrap the 1972 European Communities Act, which gives direct effect to all EU law, and at the same time convert Brussels regulations into domestic law.
This will give Parliament the power to unpick the laws it wants to keep, remove or amend at a later date, in a move that could be welcomed by MPs keen to have a say over the terms of Brexit.
The move is also designed to give certainty to businesses and protection for workers' rights that are part of EU law.
May told The Sunday Times: "This marks the first stage in the UK becoming a sovereign and independent country once again.
"It will return power and authority to the elected institutions of our country. It means that the authority of EU law in Britain will end."
Brexit Secretary David Davis will tell the conference: "To those who are trying to frighten British workers, saying 'when we leave, employment rights will be eroded', I say firmly and unequivocally, 'no they won't'."
Popular in the Community