It's the day parents have been waiting for: the long-awaited return to school. But children might have mixed emotions as they head back to the classroom.
After months of homeschooling, children might be excited about the return, as well as feeling anxious, says the charity YoungMinds.
In a recent survey by the charity, 75% of young people said they've found the current lockdown harder to cope with than the previous ones, and in autumn, 69% described their mental health as poor when they returned to school.
To reassure pupils this time around, the charity has launched a series of digital billboards across the UK, featuring a letter of support, as well as advice from other young people.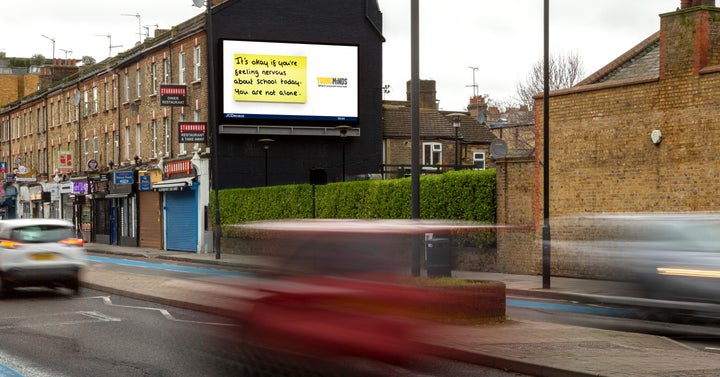 The advice includes phrases crowd-sourced from other young people, such as:
"You're not the only one who's scared. It's okay. I feel you, I'm scared too."

"One thing at a time. Breathe."

"Take your time and be kind to yourself."
"We want it to be clear that whatever you feel right now is valid, and by doing so, hopefully make it easier for young people to talk to someone they trust about how they are feeling," says Tom Madders, director of communications and campaigns at YoungMinds.
"We hope that the campaign will help young people on the day itself, and also encourage those who need further information and advice about their mental health to visit our website."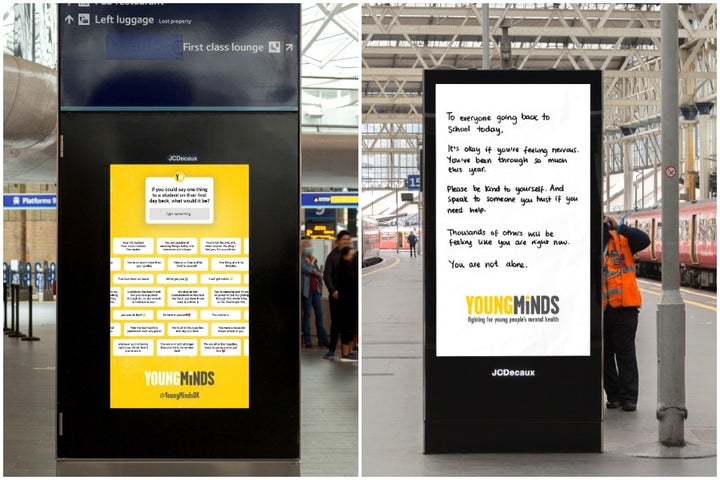 Advice to young people on their first day back at school, from YoungMinds:

1. Talk to someone about it. If you're struggling, open up to someone you trust and see if they can offer you any support and reassurance.

2. Try to find something positive about the day. Whether that's getting back into a routine, seeing friends again or a teacher that you trust. It can be very easy to let all of the bad things surrounding us cloud our optimism, but focusing on the positives can really help.

3. Try techniques to reduce your worries, like mindfulness, meditation, and grounding techniques which can help when you're feeling really anxious.

4. Remember, you're not alone in what you're experiencing. It's always okay to ask for help. Visit the YoungMinds website at youngminds.org.uk for advice and support, or if you're a young person experiencing a mental health crisis and need urgent support, text YM to 85258.
Useful websites and helplines
Mind, open Monday to Friday, 9am-6pm on 0300 123 3393.
Samaritans offers a listening service which is open 24 hours a day, on 116 123 (UK and ROI - this number is FREE to call and will not appear on your phone bill).
CALM (the Campaign Against Living Miserably) offer a helpline open 5pm-midnight, 365 days a year, on 0800 58 58 58, and a webchat service.
Rethink Mental Illness offers practical help through its advice line which can be reached on 0808 801 0525 (Monday to Friday 10am-4pm). More info can be found on rethink.org.