Generations of children have been obsessed with dinosaurs, and judging from the reception that Dippy the Diplodocus has been getting on his grand UK tour, their love for the prehistoric creatures isn't facing extinction any time soon.
Dippy famously resided in the Natural History Museum in London from 1905 until last year, by which time this he had been seen by more than 90 million visitors.
Now, the 292-bone skeleton – cast in plaster of Paris from a dino discovered in Wyoming, America in 1898 – is touring and kids can't get enough of him.
Dippy is currently in Northern Ireland at the Ulster Museum in Belfast, after stop-offs in Dorset and Birmingham where, by the end of August, more than 215,000 people had visited him at the Birmingham Museum and Art Gallery in what was the most successful temporary exhibition ever held at the institution.
Children have drawn pictures of Dippy, written him messages, shouted about him on trains and been left in awe by his sheer size (21.3m in length, and more than 4m in both width and height), parents are happy report.
One mother even took to Twitter to apologise for her child's extreme excitement on a train while travelling to see Dippy.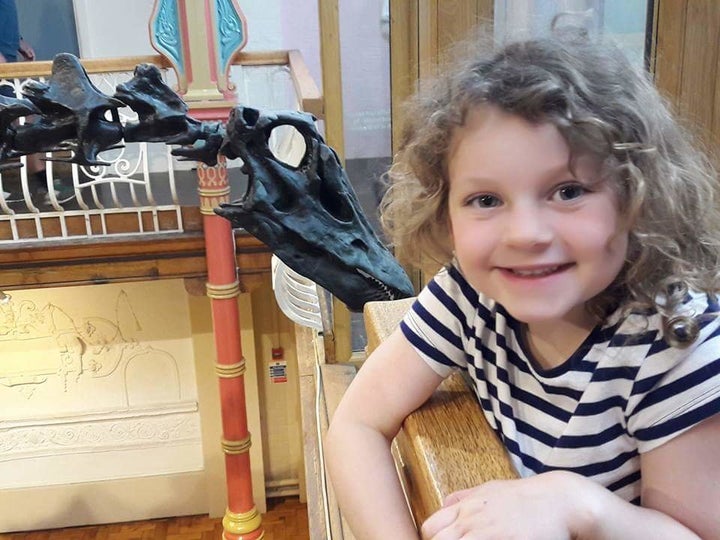 "Apologies to everyone on our Leicester to Birmingham train today who had to listen to a four-year-old repeatedly shouting, 'Dippy, we're coming to see you'," she tweeted. "On the return journey, passengers just had to put up with the four-year-old in a dinosaur mask, roaring loudly," she added.
Dippy's character has come to life online during the tour and even has his own Twitter account, @DippyOnTour, where he has been thanking children for their "creative and kind" messages.
He tweeted a picture of drawings and notes children left in Birmingham: Finley, six, wrote, "Dippy, I think you look awesome" while a two-year-old named Beatrice observed astutely: "He's got a long neck and an empty tummy."
Jennie Bridges took her three children aged nine, six and two to see Dippy at the Dorset County Museum in Dorchester back in April during the first leg of Dippy's tour, and said they absolutely loved the experience.
Her daughter Cora (pictured above), who was five at the time, has "loved dinosaurs since she was a toddler," Jennie told HuffPost UK, sharing a picture of Cora standing upstairs, as near to Dippy's head as she could, with a massive grin on her face.
"The older ones were really excited to go and knew about it for some time beforehand," she said. "They couldn't believe how big the skeleton was." She added that there were a lot of 'wows' coming from the crowds.
The museum, which is close to Dorset's famous Jurassic Coast, has fossil displays along its walls, which Jennie's older daughter May found particularly interesting, and all the children were able to use the interactive displays and even touch the larger exhibits in the museum.
"A lot of the fossils in the museum were found locally, too," Jennie added.
During Dippy's Birmingham stopover, Asha Adutwim took her seven-year-old son Dantè John and her five-month-old baby along to see him. Dantè had been looking forward to seeing the skeleton ahead of his visit and "was in awe and so excited when he saw Dippy in its full entirety," she said.
It was only Dantè's second trip to a museum, but as a fan of the movie 'Night At The Museum', he was full of excitement. "It helped spark his imagination of dinosaurs and that era," his mother said.
Carly Joseph also took her children to see Dippy at Birmingham and ended up spending around 90-minutes with her two-year-old Marissa and baby Brody at the museum, enjoying the activities that were put on for visitors, from dressing up to learning about what the dinosaurs would have eaten – a herbivorous dinosaur like Dippy would have lived around 150 million years ago.
Marissa took home a number of themed toys from the visit, including a dinosaur wind-up car and a stegosaurus soft toy with a bell, which she plays with all the time. Her enthusiasm was sparked by watching Andy's Prehistoric Adventures on CBeebies, said Carly, who was grateful for the chance to catch Dippy on tour: "it is not something we could travel to London for with such little ones".
There are loads of dinosaur-themed TV shows that get kids excited about the prehistoric creatures, she added, but now she can remind Marissa that she's seen a dinosaur in "real life", too.