Debra Biggs was about to start her third round of chemotherapy when she received a little bag of goodies at the hospital where she was being treated.
Inside the bag was a letter, handwritten from a woman in America. Biggs was hugely touched. A complete stranger had taken time out of her day to write – the letter detailed what she did for a living, the fact she liked crafting and some of the things she was making. "She wanted to let me know that someone was thinking of me and sending me positive thoughts," Biggs, who is 49 and living with lung cancer, tells HuffPost UK.
Biggs had struggled with the first two rounds of chemotherapy and had been forced to take a break before starting the third, due to the harsh side effects of the medicine. Receiving the letter gave her a much-needed distraction and a brief respite from worrying about what happened next.
"I went from feeling anxious, sitting there facing going through chemo again, to feeling more at ease," she says. "It really helped me."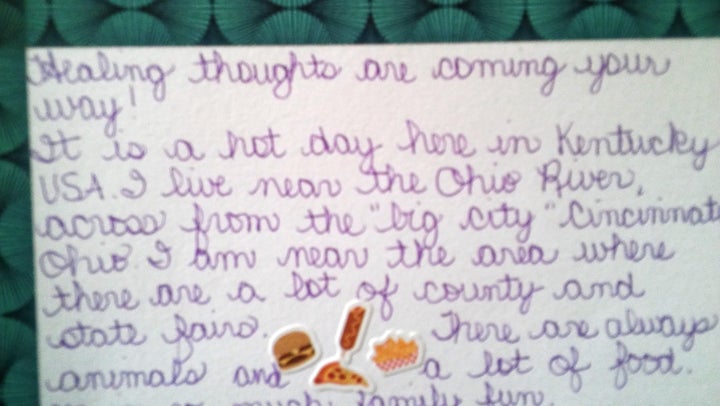 The anonymous letter exchange service is run by a charity called From Me To You, inspired by the friendship of two people which blossomed – thanks to letter-writing – during a particularly tough time.
Brian Greenley, 61, from Berkshire, first met co-founder Alison Hitchcock, on a yoga retreat in 2009, the year before he was diagnosed with stage 3 bowel cancer. The pair had stayed in contact, meeting up once or twice as friends.
The third time they got together was in June 2010, around the time Greenley was told he had cancer. "I didn't know her particularly well and was in two minds whether to say I had been diagnosed," he recalls of the get-together.
But in the end he plucked up the courage to tell her and was surprised by her reaction. "She said she was going to write to me to cheer me up. I asked if she was a great letter writer and she said 'no'," he laughs.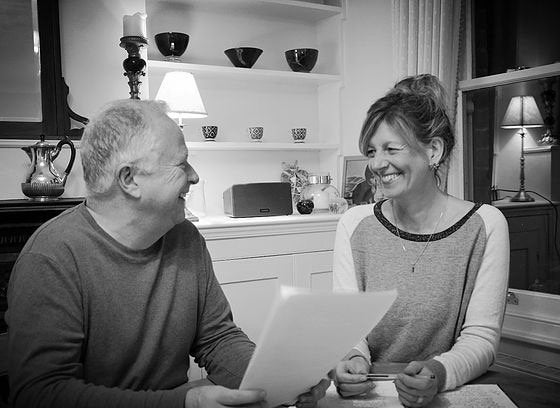 Greenley didn't really expect a letter to materialise but two weeks later, true to her word, a letter showed up. "She had made a good attempt to cheer me up by putting a joke at the top," he says. "It was a very funny letter [and] a massive distraction for me."
It was to be the first of more than 100. Greenley's cancer journey was far from straightforward. He had surgery on his bowel to remove the tumour, but a biopsy revealed it had spread to his lymph nodes. He then underwent six rounds of chemotherapy on a three week rotation, which finished in July 2011. He was given the all-clear that October, but two months later, tests revealed the cancer had returned and spread. In Febuary 2012, Brian had 60% of his liver removed, most of which has since grown back.
And through all of this, Hitchcock kept writing letters. "One of the funniest ones was quite early on in 2011 when she had signed up for an exercise class with Sweaty Betty," Greenley recalls. "She turned up to discover that it was in the shop window and that it was a hula hoop class – and Alison can't hula hoop."
Hitchcock retold her ordeal with great humour – and it cheered Greenley lots. In July 2012, he had a scan which revealed the cancer had spread to his lung and he went in for more surgery to remove the tumour. "That was in September," he reports. "Since then I've been clear."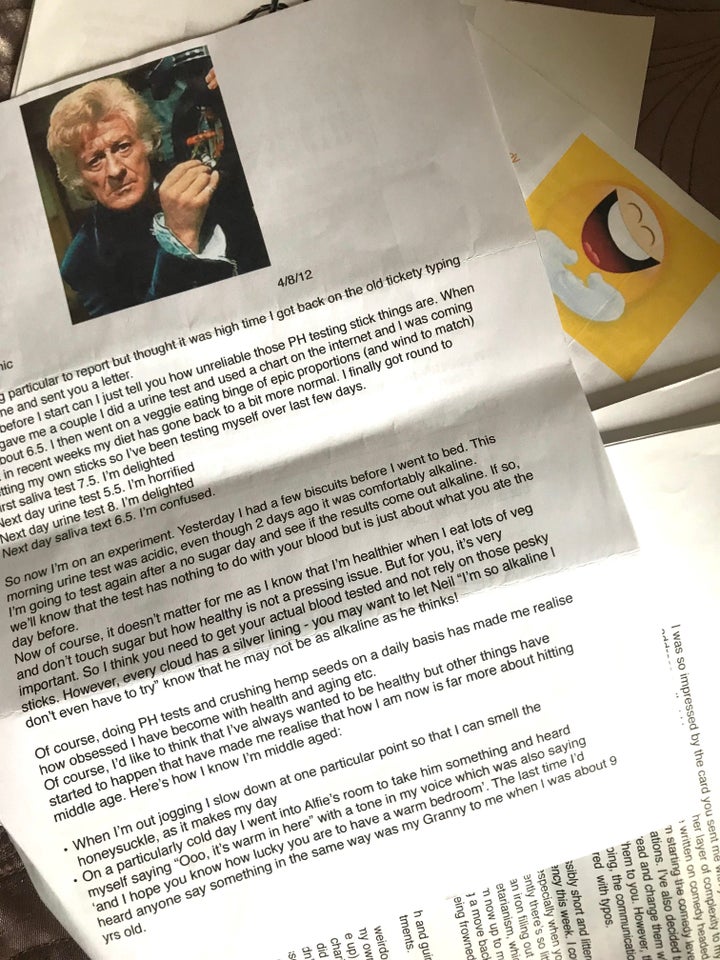 Through it all, Greenley kept all the letters and often reread them, feeling no pressure to write back. "That was what I needed," he says.
"I had enough people who were being supportive and knew about my cancer and talked about it, or didn't. But actually what the letters did was they gave me a distraction from the routine of going to hospital appointments or being sick.
"Her letters were connected to a life I used to have but wanted back. They made me laugh and when people came to see me, I'd show them the letters. It became something for me to talk about that wasn't about treatment or cancer."
Together, the pair set up From Me To You and what started out as a letter-writing workshop has become an invaluable source of support for cancer patients.
The charity's 'Donate A Letter' campaign asks people to send anonymous letters which are distributed to cancer patients in hospitals across the UK. In 2018 alone, it received almost 2,000 letters and cards. People from all walks of life receive the letters at various stages in their treatment journeys.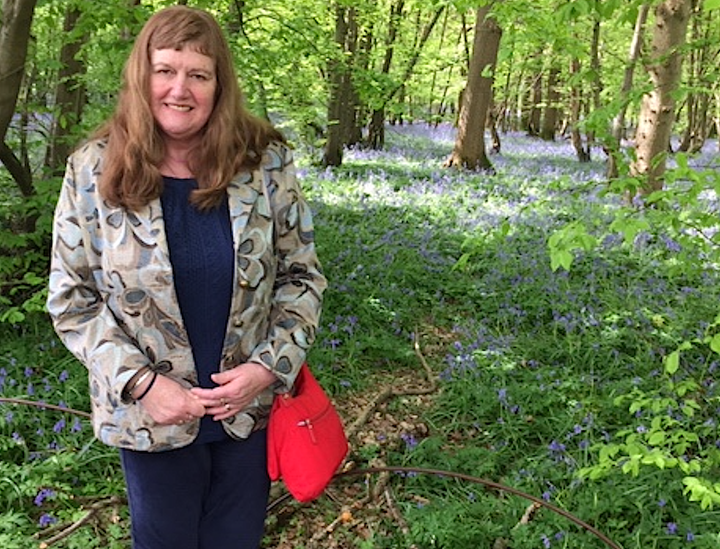 For Veronica Farley, her letter arrived when she needed it the most. She had been diagnosed with thyroid cancer and, as a part of treatment, had to spend three days in isolation.
During that hospital stay, the 69-year-old from east Sussex discovered an envelope on the pillow of her bed. Inside, she says, was a beautiful piece of paper with rosebuds on it. The letter was from a woman called Christine who lived in New Zealand. "She wrote a side about the wallabies in her garden who were eating her eucalyptus trees," Farley recalls.
"It completely distracts you. I was very scared when faced with what I was going through. And then I was overwhelmed that a complete stranger had taken the time to write to me. It was such a kind thought."
Both Farley and Biggs have since written letters to others – Biggs estimates she's penned 30-40 letters in total. "It's such a quick thing to do," she says. "What I love, personally, is that it's so inclusive and so beneficial to everybody. It's a real benefit for any situation where people can feel quite isolated."
She continues: "There's something beautiful [about receiving a letter] because it's usually just bills you receive in the post... it's nice to receive something that doesn't ask anything from you."
HumanKind is HuffPost's celebration of kindness, featuring people who do incredible things for others or the planet – transforming lives through small but significant acts. Get involved by joining us on Facebook or telling us about the people who you think deserve recognition for their kind works. You can nominate them here or share your personal story by emailing natasha.hinde@huffpost.com.