'Honestly, it's life changing' is a regular series where we talk about the weird and wonderful possessions we can't imagine life without. Think of it as an ode to the mundane, bizarre and, sometimes, wholly unnecessary products in our lives.
Housewarming gifts can be a bit shit: well-intentioned but destined for the back of the cupboard, or the drawer of random stuff nobody ever uses. Which is where I thought this eccentric kitchen utensil was headed. An avocado preparation tool? Nice idea, but really, does anyone need it?
Turns out, yes they do. Or that I do, at any rate.
So much better than grappling with a scarily sharp knife and under-powered fork, the 4-in-1 tool has a serrated edge that glides through avocado skin in a dreamy fashion, while at the other end is a scoop-shaped masher to help you easily remove the avo's innards and then pulverise them to a delicious guacamole. The knife end also has wide-set teeth meaning you can slice the fruit into chunks if you're that way inclined.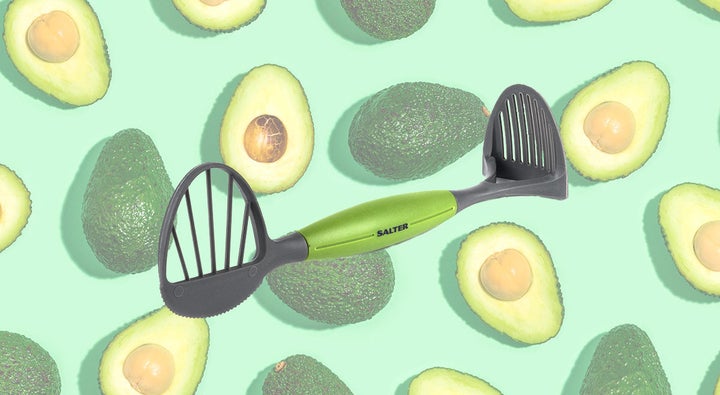 Is it worth £7.99? Absolutely. In a house of four people the utensil is permanently in the dishwasher covered in avocado, a sure sign that it is almost constantly in use. And, it's made my life easier. Gone are the days where I spent ages with a fork trying to mash avocado that invariably slipped around the bowl and out of my grasp. Now, I'm an avocado aficionado. The tool is even relatively easy-to-clean.
There's one essential thing that it doesn't do however: de-stone the fruit. That would be useful, given that two of my friends – yes, two – fell victim to "avocado hand" a few years back, where brunch lovers were severing palms and tendons with sharp knives in a rush to de-stone their beloved avos. Luckily, I've learned from their experience and know to be careful when removing said stones.
When people learn we've got a special device to prepare avocado, they think it's quite weird. And if I'd been browsing for kitchen utensils, I probably would have thought it quite weird as well. Instead, it arrived as a housewarming gift from my boyfriend's parents, and has surprised us both. I suspect our love of the 4-in-1 tool has also probably surprised them, who very likely bought it for us as something of a joke.
But who's having the last laugh? Me and my guacamole-eating guests, that's who.
Salter BW05611 4 in 1 Avocado Preparation Tool, Amazon, RRP £7.99, although prices may vary.
We all work hard to earn our money – so it shouldn't feel like hard work to spend it well. At HuffPost Finds we'll help you find the best stuff that deserves your cash, from the ultimate lipstick to a durable iron to replace the one that broke (RIP). All our choices are completely independent but we may earn a small commission if you click a link and make a purchase.