Forget expensive televisions and fancy clothes – 2017's biggest must-have is adventure. Trekking Machu Picchu or deep-sea scuba diving in the Red Sea win more props than a home full of stuff. This is science-backed: a 2016 study from Cornell University shows that happiness is linked to experiences, not things.
One man giving us a slice of inspiration is Patrick Bergel. A tech entrepreneur by trade, he's become the first person to cross the Antarctic by car in 30 days. Why? Because he set out to complete a journey that his great-grandfather set out to complete over 100 years ago.
Renowned Polar explorer Sir Ernest Shackleton posted a small advert in the paper in 1913, looking for a band of men to join him on a perilous journey over the globe's coldest and driest continent. Shackleton never realised his ultimate dream of being the first to traverse Antarctica as the goal changed to survival after the team's ship was trapped in pack ice within a month of arriving. Now, the focus had to be getting his crew mates home safely.
For Bergel, the opportunity visiting the frosted continent and having the opportunity to complete the journey his great-grandfather started was huge. December 2016 saw him set out to cross Antarctica in a 2.2-litre diesel Hyundai Santa Fe car, engraved with notes from the original crew's descendants. In doing so, he achieved something no one had before, crossing almost 5,800 kilometres of the continent's icy terrain over 30 days. For Hyundai, an affinity with Shackleton's courage and pioneering spirit drove them to make the endeavour happen.
"Getting to the South Pole was a special moment. The fact that this was a place my great-grandfather tried to get to more than once and I was there, it felt like a genuine connection," Bergel says.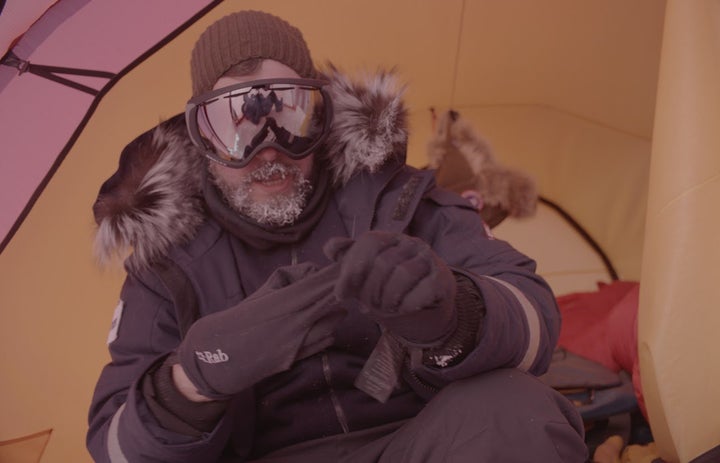 Not only did Bergel and his team have to navigate the minus 28-degree Celsius surroundings, they needed to plot a course through ice caps that had never been traversed by wheeled vehicles before.
Aiding Bergel in the cold, lonely quest were Shackleton's diaries.
"There was a compass [from the original expedition] but unfortunately it is uninsurable and the first editions, memoirs and so on were not very Antarctic-friendly," he explained.
"So I took the diaries with me... on a Kindle. They were fascinating and it meant much more than just reading them in London."
Bergel's modern-day expedition may have had the benefit of the latest equipment and technology but it was a test of will.
The unpredictable and harsh Antarctic climate had the crew battling the elements, as they followed the Leverett Glacier and Trans-Antarctic Mountains past the active Mount Erebus volcano to the Ross Ice Shelf, before arriving at the final destination: McMurdo Sound.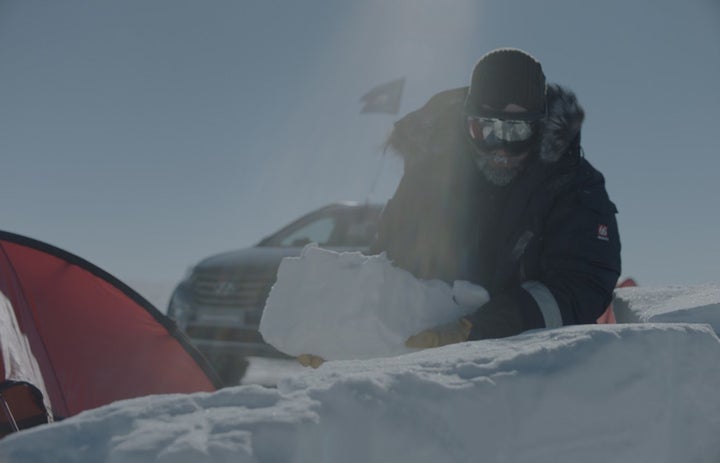 "When you're driving through a total white-out you start hallucinating, seeing things that aren't there. Our brains often confused us into believing we were going uphill rather than down," says Bergel.
Typically, machinery falls apart in these conditions. The 2.2-litre diesel Hyundai Santa Fe underwent limited modifications to prepare it for the weather and conditions that it needed to endure.
The ambitious project was made into a film – 'Shackleton's Return' ­– which had a debut at London's Hospital Club. You can watch it here.
The short film showcases the raw might of the Antarctic as Bergel drives across the snow continent, facing a heady mix of natural beauty and potential treachery.
"No roads, no people, no night, surrounded by nothingness, I journeyed across Antarctica for 30 days," says Bergel in the film.
"Finally, I reached the place my great-grandfather dreamt of 100 years ago. To my great-grandfather, I'm here at last. I came with your crew and their descendants."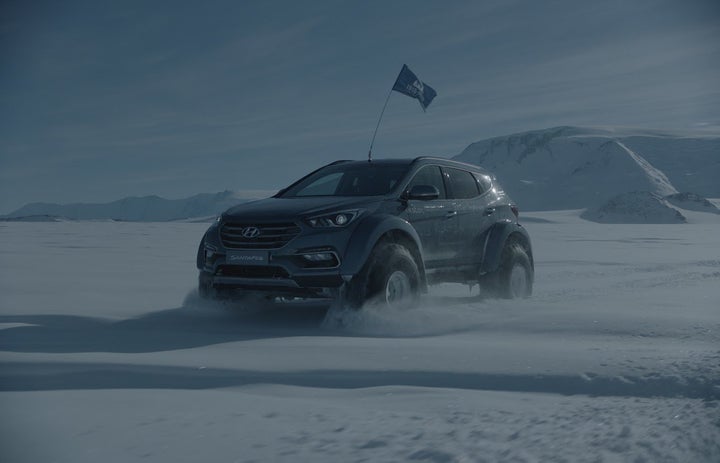 Bergel's adventure inspires all of us to push ourselves to the limit, to throw ourselves into something new and to bring some of Shackleton's spirit into our lives.
Like Bergel says in the film: "Shackleton's expedition did not fail. It just took 100 years to complete."
So. No excuses. What's your expedition going to be?