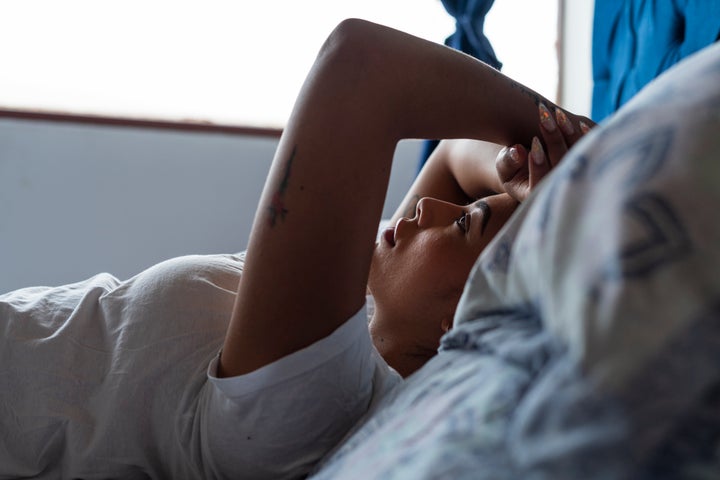 Do you ever find yourself feeling completely emotionally depleted the morning after an intense event or conversation?
If this rings a bell, it's known as an "emotional hangover" and, according to experts, they can persist for up to a week after said event.
These can happen to anybody but, according to clinical social worker Kaytee Gillis, they're often more severe for people who are highly sensitive, introverted or struggling with a social anxiety disorder.
Emotional hangovers can be incredibly impactful. In fact, studies have shown they often mimic the symptoms of depression and anxiety.
Why do we get emotional hangovers?
As much as it may seem that these only occur as a result of difficult situations, you can get an emotional hangover after something as joyful and memorable as a wedding.
Simply put, an emotional hangover occurs as a result of experiencing overwhelming emotions – good or bad!
Speaking to Charlie Health, therapist and founder of Mindful Care Therapy, Elise Robinson said: "Emotional hangovers are not wholly negative. We can experience really similar reactions from intensely positive moments in life too, like weddings, job promotions, concerts, or vacations." Post holiday blues, anyone?
Robinson added: "The human body is not meant to handle endless amounts of high-intensity emotions for extended periods of time."
According to Gillis, common symptoms of an emotional hangover include:
Muscle tension
Headaches or other physical ailments
Feelings of guilt or remorse
Sadness
Fatigue
Irritability
Feeling drained or burned out.
How to recover from an emotional hangover
Mental health experts at Talkspace recommend the following steps to anybody experiencing an emotional hangover:
Eat a good meal. Avoid anything that could trigger anxiety such as high-sugar foods and alcohol. Try leafy greens and other healthy choices instead.
Get some exercise. It's probably the last thing you want to do but after only five minutes of exercise, you'll feel the benefits. Remember that exercise can also be as simple as walking or yoga.
Write down your thoughts. Getting them down on paper can help you process them.
Speak to trusted friends and family about how you're feeling.
And lastly, be patient with yourself. As Talkspace said: "It's normal, it's science, and it's just your brain doing its job!"
Help and support:
Mind, open Monday to Friday, 9am-6pm on 0300 123 3393.
Samaritans offers a listening service which is open 24 hours a day, on 116 123 (UK and ROI - this number is FREE to call and will not appear on your phone bill).
CALM (the Campaign Against Living Miserably) offer a helpline open 5pm-midnight, 365 days a year, on 0800 58 58 58, and a webchat service.
The Mix is a free support service for people under 25. Call 0808 808 4994 or email help@themix.org.uk
Rethink Mental Illness offers practical help through its advice line which can be reached on 0808 801 0525 (Monday to Friday 10am-4pm). More info can be found on rethink.org.