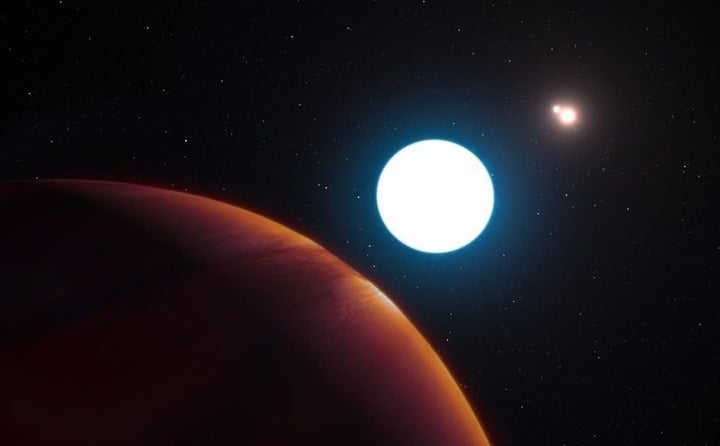 You'd want to make a timely arrival. Visitors to a newly discovered exoplanet that orbits three stars would be, depending on the season, either forced to endure constant daylight for more than 220 consecutive earth years or watch three sunrises and sunsets a day.
Astronomers previously believed that a planet in such a solar system would be quickly ejected by gravitational forces, but the discovery of this planet's stable path suggests the phenomenon might be more common.
The planet is located about 320 light-years from Earth and at 16 million years old is one of the youngest exoplanets ever discovered. It's four times more massive than Jupiter and one of the coldest to have been directly-imaged, despite having a temperature of around 580 degrees Celsius.
The brightest star in the system is estimated to be 80% more massive than the Sun and orbited by two smaller stars which twirl around each other. They might seem rare to us, but multi-star systems are just as common as single stars.
Kevin Wagner, the paper's first author and discoverer of HD 131399Ab, said: "For about half of the planet's orbit, which lasts 550 Earth-years, three stars are visible in the sky; the fainter two are always much closer together, and change in apparent separation from the brightest star throughout the year".
Wagner concluded: "It is not clear how this planet ended up on its wide orbit in this extreme system, and we can't say yet what this means for our broader understanding of the types of planetary systems, but it shows that there is more variety out there than many would have deemed possible.
"What we do know is that planets in multi-star systems have been studied far less often, but are potentially just as numerous as planets in single-star systems."
Daniel Apai, one of the co-authors of the new paper, added: "If the planet was further away from the most massive star in the system, it would be kicked out of the system.Our computer simulations have shown that this type of orbit can be stable, but if you change things around just a little bit, it can become unstable very quickly."
NASA's Most Famous Images: