'Honestly, it's life changing' is a regular series where we talk about the weird and wonderful possessions we can't imagine life without. Think of it as an ode to the mundane, bizarre and, sometimes, wholly unnecessary products in our lives.
I can't pull off the 'just got out of bed look' (nor do I want to). I have long, straight, fine hair – which easily becomes knotted, especially after the shower – so I don't leave the house without a hairbrush in my bag.
I used to find taming the bird's nest on my head incredibly painful (think: gritted teeth and watering eyes) – until, that is, I got my Tangle Teezer.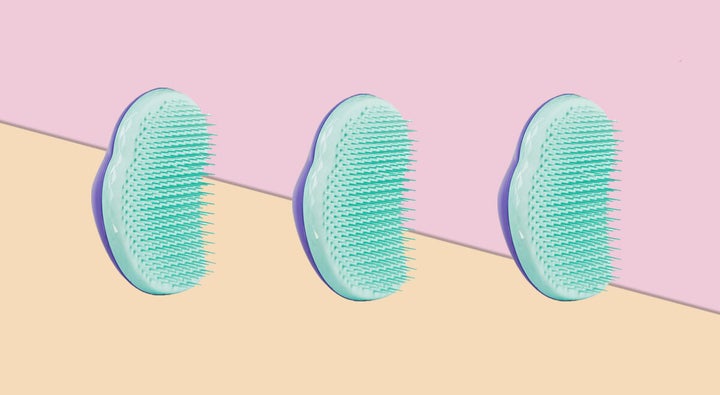 It doesn't look particularly special – a colourful plastic lump with plastic teeth – but for the last three years it's been my secret to smooth, sleek and manageable hair.
There's no hair dilemma it won't solve for me: whether that's battling through the damage of excessive hairspray and spilt drinks the morning after, or tackling a knotted mess because I let my hair dry unbrushed after getting distracted by Instagram (which happens more than I'd care to admit).
Our love affair is exclusive: I've thrown all my other hair brushes out because I simply don't need them anymore. I curl my hair most days using a curling wand, and these days my freshly-brushed hair is easily separated and partitioned to curl each layer with ease.
You would expect it to constantly slip out of your hands due to the lack of a handle but it doesn't, even when it's wet. As it's plastic, it's also very easy to clean. I tend to run it under the water in the shower with a small blob of shampoo and in less than 30 seconds, it's good as new.
It's held up for three years without a fault which works out less than 1p a day, so it's well worth it and when this trusty Teezer finally calls it a day, I will definitely be buying a new one.
It's yet another gym kit essential, much like my microfibre towel – you can read all about my obsession with that here – and if I forget to bring it, rest assured you will see me walking out the gym with my hair still wrapped in a towel, rather than having to deal with the horrors of wet and knotty hair. Diva, me?
Since The Original launched in 2007, many new versions have been released including styling brushes with handles and adapted versions of the original that work with different hair types. The Thick & Curly brush is designed for Afro hair, while the Fine & Fragile brush claims to cause up to five times less breakage.
We all work hard to earn our money – so it shouldn't feel like hard work to spend it well. At HuffPost Finds we'll help you find the best stuff that deserves your cash, from the ultimate lipstick to a durable iron to replace the one that broke (RIP). All our choices are completely independent but we may earn a small commission if you click a link and make a purchase.