Another day, another Christmas advert - and this year's selection is more inclusive than ever.
Thomas Cook is the latest to make diversity and inclusivity the heart of its advertising message, by featuring same sex parents and a gay kiss in an advert that will be aired on TV on Christmas day.
"It's 2016, our customers are as diverse as our holidays and we wanted to reflect that in our marketing campaign," Jamie Queen, marketing director for Thomas Cook Group and UK, said in a statement.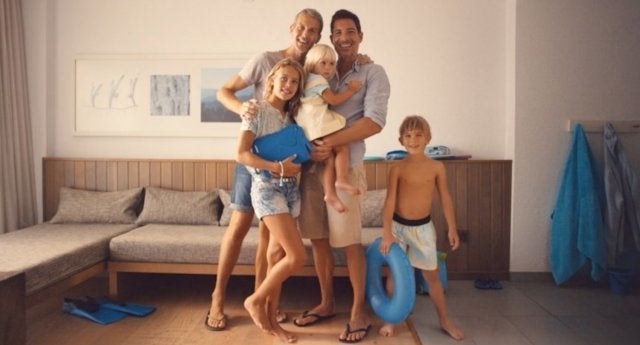 The advert is part of its 'You Want, We Do' campaign which showcases the holiday company's personalised and individual approach to holidays. The advert also represents families of different ethnicities.
Queen told Marketing Week: "I think marketers can always do more to represent the needs of the consumer and that's what we've tried to do with the gay kiss. It comes down to the needs of our customers and addressing a modern population."
When asked whether this was the first time Cook had used a same-sex couple in a national advert, Queen said, according to TTG Media: "To my knowledge, yes. At least in recent history."
Matt Horwood, spokesperson for UK LGBT+ rights charity Stonewall welcomes the shift in advertising.
He told The Huffington Post UK: "Businesses can have the power to help create a world where all lesbian, gay, bi and trans people are accepted without exception, and one way to do this is through showing a strong visible show of support for LGBT inclusion and equality. It's therefore extremely encouraging to see organisations include LGBT people in their advertising campaigns."
He added: "Britain's LGBT community is so wonderfully diverse, and we'd love to see this reflected more in advertising and marketing, to ensure that all lesbian, gay, bi and trans people feel welcome and included by these organisations."
Related