Wildlife authorities in Thailand have raided the controversial tourist attraction Tiger Temple, removing 40 animals by Tuesday and vowing to confiscate scores more following global pressure over wildlife trafficking.
The Buddhist temple in western Thailand has more than 130 tigers and has faced growing scrutiny over claims the animals appear drugged.
The tourist attraction allows visitors to take selfies with the animals and bottle-feed cubs.
The temple promoted itself as a wildlife sanctuary, but in recent years it has been investigated for suspected links to wildlife trafficking and animal abuse.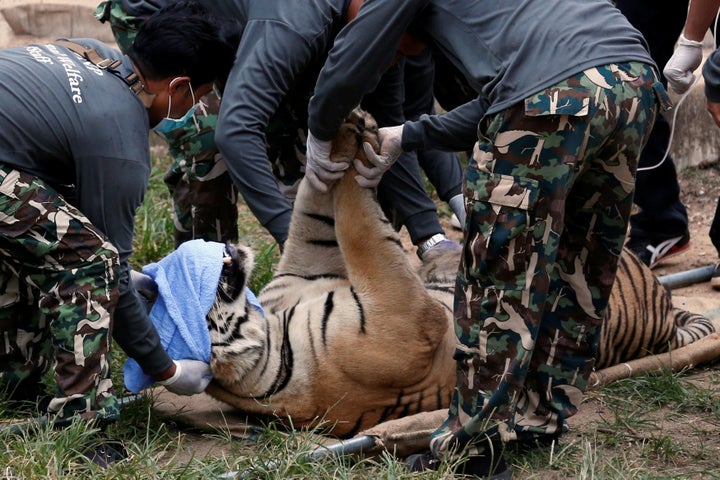 Monks have been accused of illegally breeding tigers. The temple denies the accusations.
The raid began on Monday and is the latest move by authorities to bring the tigers under state control.
Adisorn Nuchdamrong, deputy director-general of the Department of National Parks, said his team was able to confiscate the tigers thanks to a warrant obtained a few hours before the operation began.
"We have a court warrant this time, unlike previous times, when we only asked for the temple's cooperation, which did not work," Adisorn told Reuters.
"International pressure concerning illegal wildlife trafficking is also part of why we're acting now."
Officials moved seven tigers from the temple on Monday and 33 on Tuesday, leaving 97 still there.
Adisorn said the department planned to remove all of the tigers and send them to state-owned sanctuaries. Officials also found six hornbills, which are protected birds, at a monk's residence, he said.
Previous attempts to inspect the tigers were largely blocked by the temple's abbots but in January and February wildlife officials removed 10 tigers.
Thailand has long been a hub for the illicit trafficking of wildlife and forest products, including ivory.
Exotic birds, mammals and reptiles, some of them endangered species, can often be found on sale in markets.
The government introduced new animal welfare laws in 2015 aimed at curbing animal abuse, but activists accuse authorities of not enforcing the legislation.
Wildlife Friends Foundation Thailand (WFFT) worked with the authorities and other NGOs during the confiscation.
The wildlife charity said in a post on Facebook: "WFFT is seriously concerned about the wellbeing of the tigers for the (near) future, and will monitor their progress."
The group People for the Ethical Treatment of Animals said the temple was "hell for animals", which spent much of their lives in cement cells.
"The tigers ... should be transferred to suitable sanctuaries and facilities that can offer them a better life," the group said in its statement.
It called on tourists to stop visiting animal attractions at home or abroad.