The images show a topless Gable Tostee posing with New Zealand tourist Warriena Wright inside his Gold Coast apartment in the early hours of 8 August 2014.
In some Wright is making peace signs with her fingers and grinning at the camera. In one she appears sombre.
Further images shown to the jury included a police reconstruction of the incident, with one image showing a barefoot female police officer hanging from the balcony, with her feet visible from below.
The pair had only know each other for a few hours during which time they drank and had sex, before Wright fell 14 floors while trying to climb off the balcony.
Appearing at Queensland state Supreme Court, Tostee, 30, denies murdering the 26-year-old.
Prosecutor Glen Cash told the jury that Tostee did not throw Wright to her death, but intimidated and threatened her to an extent that she felt the only way to escape was to climb down from his balcony. Tostee is thus responsible for murder, it is claimed.
Witness Nick Casey, who was on the balcony of his apartment on the 12 floor, told the court: "I heard her say 'I want to go home', I heard her say 'help' and at that point I said to her 'go back inside' and it wasn't long after that she fell.
"She fell straight past where I was standing on the balcony and ricocheted off a few balconies below us and kept going to the ground."
The court heard an audio recording made on Tostee's phone that captured an altercation between the pair, as well as the fall. Parts of the transcript, sourced from Huffington Post Australia, can be read below. Tostee recorded more than three hours of audio on his phone that evening.
Cash alleged that Tostee became angry after Wright threw ornamental rocks at him and hit him with a telescope, the Associated Press reports.
He also said that Tostee choked and restrained her before locking her out of his apartment on the balcony.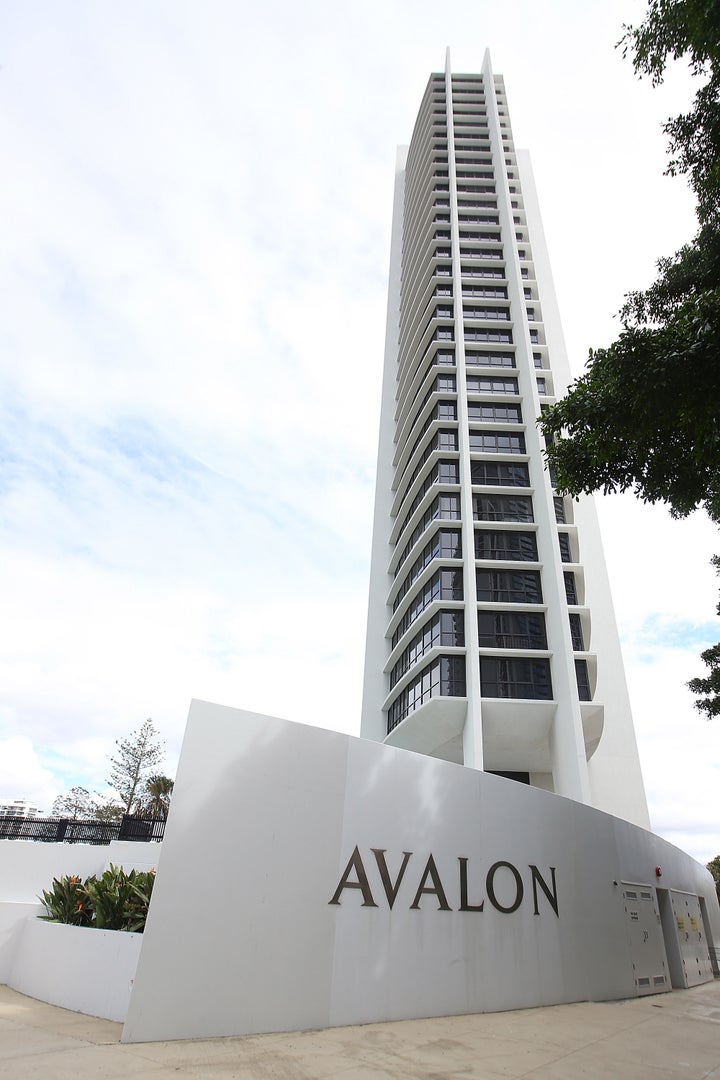 "You're lucky I haven't chucked you off my balcony you goddamned psycho bitch," Tostee is heard saying in the recording. "If you try to pull anything, I'll knock you out, I'll knock you the fuck out, do you understand?"
Defence lawyer Saul Holt said Wright had become increasingly erratic and aggressive toward Tostee after a night of drinking and intimacy.
"What happened in this case is nothing like murder or manslaughter. It doesn't fit," Holt said.
"Dad this is really fucked up, why does this shit keep happening to me?" he asked.
"I swear to god I didn't push her, I just chucked her out on the balcony because she was beating me up.
"Oh my god, I hope she's not dead."
The trial is estimated to last between seven and eight days.
Parts of Tostee and Wright's conversation during the mobile phone recording from August 8, 2014:

Wright: "I know you want to kill me because you told me so."
Tostee: "Throw me off the balcony and that is it. This is it, boom."
Tostee: "There is a tonne of your stuff here. Hey I didn't say you have to leave, I said that you have to stop beating me up."
Wright: "I will fucking destroy your jaw. It is not fucking funny."
Tostee: "I should have never given you so much to drink. I thought that we were going to have fun?"
Tostee: "I don't deserve this shit, OK. I am a nice fucking guy.
Tostee: "Do you even remember what you were doing to me half an hour ago? You were beating me up for no reason."
Wright: "Exactly."
Tostee: "You thought it was funny or something. Why were you beating me up?
Wright: "I am gone, I will be out of your hair see you later. I am going."
Tostee: "You are such a drama queen."
Wright: "Exactly."
Tostee: "You thought it was funny or something. Why were you beating me up?
Wright: "I am gone, I will be out of your hair see you later. I am going."
Tostee: "You are not my kind of girl. That is enough. You have worn out your welcome. You have to leave."
Wright: "OK, it's all good."
Tostee: "You have to leave."
Tostee: "I thought you were kidding and I have taken enough. This is fucking bullshit. You are lucky I haven't chucked you off my balcony you goddamn psycho little bitch."
Tostee: "You're a goddamn psycho. I am going to let you go. I am going to walk you out of this apartment just the way you are. You are not going to collect any of your belongings you are just going to walk out and I am going to slam the door on you do you understand. If you try and pull anything. I'll knock you out. I'll knock you the fuck out. Do you understand? Do you understand? Do you understand?"
Tostee: "Come on Get up. Get up."
Wright: "I am so sorry.
Tostee: "I don't care ... you don't understand do you? You don't understand anything at all, do you? You don't understand, do you?"
Tostee: "Let go. You think that you hit me and I was going to fall down like in the movies. Let go of it. Let go. Let Go. Let go."
Tostee: "Who the fuck do you think you are? Hey?"
Wright: "No, no, no ... No! No, no. No."
Tostee: "You tried to kill me huh? Well why did you try and hit me with that. Huh? Shut your filthy mouth."
Wright: "No. No. No No. No (screaming)."
Tostee: "It is all on recording you know. It is all being recorded."
Wright: "No, no, no, no, no, no, no, no, no, no, no, no. Just let me go home."
Tostee: "I would but you have been a bad girl."
Wright: "Just let me go home. Just let me go home. Just let me go home. Just let me go home."