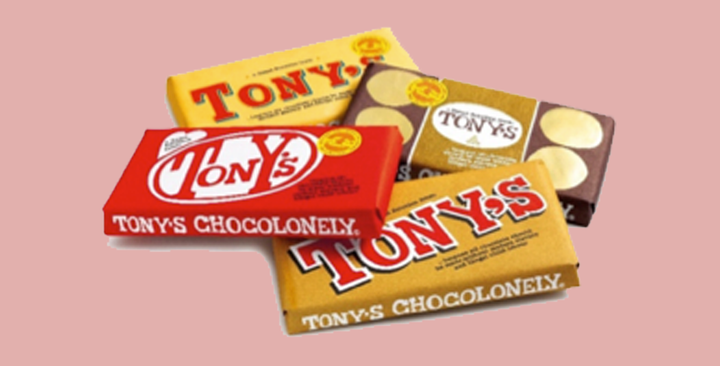 Do you recognise the chocolate bars in this picture? They look eerily similar to some classics – Twix, Ferrero Rocher, KitKat and Toblerone – that you'll know.
Tony's Chocolonely, a chocolate brand that says it's committed to making chocolate that is "100% slave free", launched four limited edition 'lookalike' bars to raise awareness of the fact that, 20 years after the chocolate industry promised to eradicate illegal child labour, "it is still widely prevalent".
The bars were due to be sold in UK supermarkets, but, after just one day in Sainsbury's on January 21, Paul Schoenmakers, head of impact at Tony's Chocolonely claims "some big chocolate makers put pressure on Tony's retailers to remove them because they didn't want to be associated with the claims of illegal labour in the chocolate industry".
Two of the companies whose chocolate bars were copied deny any pressure was applied, and another called the action "an eye-catching stunt".
According to a US Department of Labor report published in October 2020, an estimated 1.56 million children – some as young as five – are involved in harvesting cocoa in Ivory Coast and Ghana, the two countries which together supply 70% of the world's cocoa beans. The proportion of children living in these countries who work on cocoa farms has increased from 31% to 45%.
"Our Sweet Solution bars were not created to point fingers, but to make a point," says Schoenmakers. "There is a serious problem in chocolate and it won't stop until we all take responsibility. We may have to stop selling the bars, but we'll never stop campaigning until we make chocolate 100% slave-free."
The Tony's limited edition bars have been "delisted" and are no longer available in Sainsbury's, HuffPost UK has learned. When contacted, the supermarket told HuffPost UK: "We do not comment on individual suppliers."
After some shoppers complained to Sainsbury's on Twitter about the bars disappearing, Tony's replied that Sainsbury's were "huge supporters of our mission", adding: "There was a lot of pressure from big chocolate [brands] and this certainly won't stop us from campaigning for 100% slave free."
Twix owner Mars Wrigley told The Grocer it "categorically" had nothing to do with the matter and a spokesperson for the company reiterated to HuffPost UK that "no pressure" had been applied to pull the lookalike chocolate bars.
HuffPost UK also contacted Ferrero Rocher maker Ferrero, KitKat maker Nestlé, and Toblerone maker Mondelez. A spokesperson for Ferrero told HuffPost UK: "We did not ask Sainsbury's to remove the campaign".
They added: "We source 100% sustainable cocoa, and our cocoa beans are 100% traceable to farms... We do not tolerate child labour and we are determined to prevent and eliminate this issue across our supply chains. Child labour in cocoa growing communities remains a shared challenge for the industry, that no one is exempt from and no one entity can solve alone."
The history of the problem, according to Tony's

"In 2001 the world's biggest chocolate companies supported the Harkin–Engel Protocol, committing to eradicate illegal child labour and modern slavery from the chocolate supply chain. Since then, not much has changed.

"Today, over 1.56 million children and at least 30,000 victims of modern slavery are forced to work on cocoa plantations as evidenced in the US-government sponsored NORC report published in October 2020.

"Voluntary measures have failed, and self-regulation is clearly not enough. Companies are not legally obliged to do their due diligence to trace violations of human rights in their supply chains, let alone solve them."
A Nestlé spokesperson told HuffPost UK: "This is an eye-catching stunt from Tony's but behind the marketing lies a very serious reality. Child labour exists within the cocoa industry and, at Nestlé, we have been working for many years to help tackle it."
In 2012, Nestlé established a Child Labour Monitoring and Remediation system which has had a "significant impact", the company added. In 2019, the company reported identifying more than 18,000 child labourers performing "unacceptable tasks" among the 78,580 children working on its supplier farms. After intervention, 55% of those identified were no long doing those tasks.
"We are working with Tony's Chocolonely on this shared agenda and we will stand with anyone who seeks to eliminate child labour from cocoa," the company told HuffPost UK.
In a statement, Schoenmakers, from Tony's, added: "All of us – from Choco Fans to choco makers, governments to grocery stores – are part of the problem. But we can all work together to be part of the sweet solution."
Tony's says its bars are made with five sourcing principles: using 100% traceable cocoa beans; paying a higher price; strengthening farmer cooperatives; engaging in long-term direct trading partnerships; and focusing on quality and productivity to optimise cocoa yields.
As part of its campaign, Tony's is calling on chocolate fans to sign its petition to support the need for human rights legislation that holds companies accountable for modern slavery and illegal child labour in their supply chains.