Tory MPs have joined Labour in warning that millions of people face losing their jobs unless the government acts swiftly to pay benefits and wages directly to workers hit by the coronavirus outbreak.
Boris Johnson and chancellor Rishi Sunak faced calls to intervene immediately, with former business secretary Greg Clark warning that firms were making "irreversible" decisions to lay off staff and ex-Tory leader Iain Duncan Smith demanding welfare support.
With many Britons fearing income cuts or job losses in coming days, Conservatives lined up in the Commons to call for urgent action.
The calls came as Labour urged the creation of a Danish-style wage subsidy, with leadership favourite Keir Starmer demanding a minimum income guarantee for workers and former PM Gordon Brown attacking the government's response to date.
Sunak unveiled a £350bn package of emergency loans and grants for business on Tuesday, while offering the prospect of new forms of "employment support" in coming days.
However, the new scheme - which HuffPost UK understands will involved national insurance cuts for employers - has yet to materialise and anger boiled over in the Commons as Conservative MPs insisted on immediate intervention.
As junior Treasury minister John Glen was dragged before MPs, former cabinet minister Clark said firms were "facing a crisis" as revenue is "collapsing".
Clark said the government's system of loan guarantees provides "no reason to keep staff employed".
He said "large numbers of people will be unemployed" if the government does not act immediately, adding that the nation should be "paying the wages" of people for the next few weeks in order to prevent redundancies.
"With revenue collapsing and no knowledge of when normal trading can resume, [companies] see no choice but to lay off workers now. The loan scheme the Chancellor announced on Tuesday is not enough to prevent that," he said.
"These businesses have no idea when they will be able to pay back the debts that they would incur. It provides no reason to keep staff employed. In fact the reverse - because the smaller the wage bill, the less would have to be borrowed.
"On Tuesday, the Chancellor promised there would be employment support but as each day goes by, businesses are making decisions that will be irreversible. If the Government does not act immediately, large numbers of people will be unemployed."
Clark suggested that instead of firms paying payroll taxes to the government, "that flow should now be reversed with the nation paying the wages of people for the next weeks if, and only if, they continue to employ their staff".
Former work and pensions secretary Duncan Smith, who oversaw the introduction of Universal Credit, said benefit rates should be changed and waiting times reduced to offer assistance to people on the welfare system.
Veteran Brexiteer Sir Bernard Jenkin said the chancellor's measures were "simply not going to be enough". "The government had to "say something today" to reassure the public.
Tory backbencher Peter Aldous added that the state "must support payroll costs far more directly as other European countries are doing".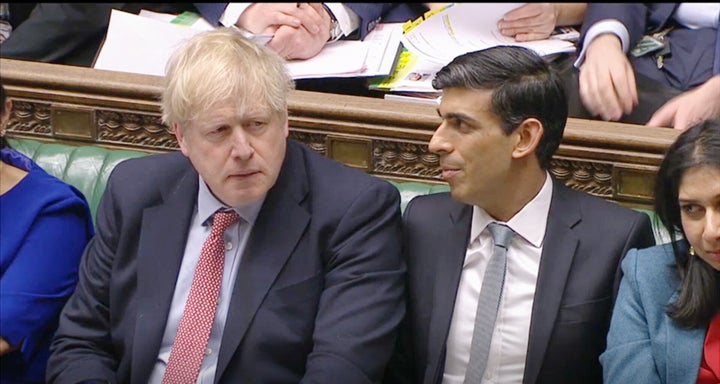 Treasury minister John Glen admitted that measures outlined so far "will for some not feel at this point sufficient". But he stressed that any reforms "need to be effective and work."
Millions of working parents face job losses from Monday, when schools close their doors to their children, unless they are 'critical workers' needed to help the NHS or food retailers.
Former PM Brown, who led the government during the 2008 financial crash, told BBC Radio 4's Today programme the scale of the crisis now facing the country was "unprecedented" and called for international co-operation instead of "populist nationalism" to protect workers.
"They're afraid of catching the virus, or their family members catching the virus, and they're afraid of their livelihoods and their family incomes being lost," he said.
Shadow Treasury minister Peter Dowd said Denmark had its first coronavirus case on February 27 and New Zealand its first case on February 28, four weeks after the UK and yet both had comprehensive job protection plans in place. "We've announced nothing to secure people's jobs and wages," he said.
Starmer urged a national "Income Guarantee Scheme" to combat economic impact of coronavirus.
"We have all heard tragic stories of people expecting to be laid off work or see their incomes fall. Days into this crisis ministers are still several steps behind where they need to be in order to reassure people facing a loss of income.
"We are potentially days away from further social-distancing measures that will change British life. It is imperative that the Government acts to support workers to buy food, pay the bills and cover the cost of living."