A British woman who received a stem cell transplant has taken the "trip of a lifetime" to meet the German donor who saved her life.
Ashling Connell is pictured in an emotional hug with selfless Jan Rottschäfer - the stranger who saved her life. She was just 25 when she was diagnosed with late-stage blood cancer in 2012, and told 95% of her cells were cancerous.
After an extensive search, blood cancer charity Anthony Nolan was able to match her up with an anonymous donor in Germany, whose stem cells saved Ashling's life.
Two years later, in 2014, Anthony Nolan put Ashling in touch with her donor, Jan Rottschäfer. And after three years of chatting online, Ashling finally flew out to Germany in late December 2017 to meet Jan and his family, at his sister's 30th birthday.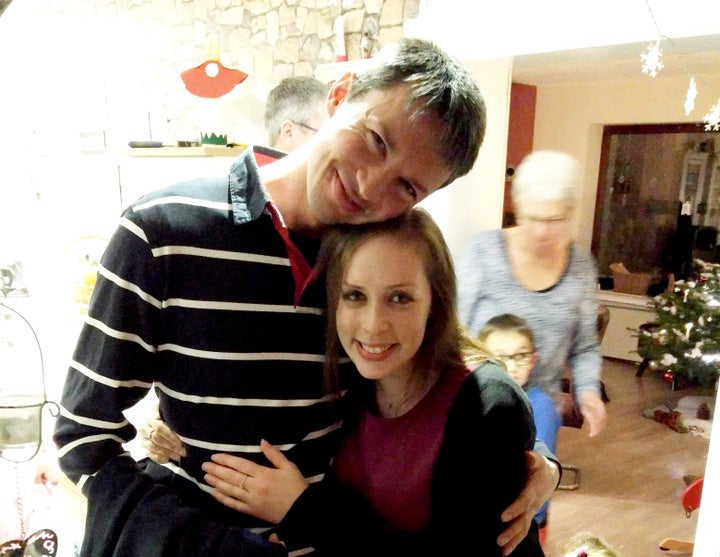 Ashling, now 31, from Headington, Oxon., said: "It was very special. He opened the door and we had the biggest hug, it lasted about three minutes.
"Then he cried on me, which set me off too. I said 'thank you' and he said something in German which I didn't understand, but I think it was 'you're welcome'.
"He is very gentle and kind and so happy and smiley. Who he is really shines through his face."
Ashling had just started a new job in HR when she received her devastating acute myeloid leukaemia diagnosis in 2012. As more than 95% of her cells were cancerous, chemotherapy began just four days later, and she underwent several months of "horrendous" treatment.
Ashling was put on the list of blood cancer charity Anthony Nolan Trust, who began an extensive search to find her a vital stem cell donor. She said: "My doctor told me that I shouldn't have any difficulty finding a donor for a stem cell transplant.
"This didn't turn out to be a very accurate prediction, as an initial search found that there were no ten out of ten matches for me in the entire world.
"My medical team really struggled to find me a match as I have an unusual tissue type, due to mixed heritage in my family generations back."
Ashling added: "One day I was allowed out of hospital for a short while and I was having lunch with my mum by the canal when I got the call to tell me they'd found a great match in Germany.
"I decided then and there that if I made it through transplant and he was willing, I'd love to get to know him."
Around Christmas time in 2014, two years after her successful transplant, and with recovery going well, Anthony Nolan got in touch with Ashling.
They told her that her donor, Jan Rottschäfer, from Flensburg in Germany, who was by then 28 years old, wanted to get in touch - which led to Ashling bursting into tears.
After searching for her 'life-saver' on Facebook, Ashling said: "Having a face to put to a name of the person who is the reason I am alive - there are no words to describe how that felt.
"I said 'thank you' to him for giving me a chance at life but thank you doesn't seem enough.
"I was very conscious of not scaring him off by gushing at him in gratitude."
When she finally arranged to fly out to Dorth to meet Jan last year, with her partner Rob Dalton, Ashling said she felt "a bit sick from nerves".
She said: "I asked him why he wanted to donate and he said that he was told there was a lady called Ashling who would die without help.
"He said he wanted to give someone like me the chance of a future."
And the pair have continued to keep in touch after what Ms Connell described as 'the trip of a lifetime'. She has plans to return and has also invited Mr Rottschäfer, now 32, over to the UK.
Ashling added: "This is my new family - my stem cell donor, and his loved ones, who've taken me into their hearts.
Anthony Nolan's Head of Register Development, Rebecca Pritchard, said: "It's heartwarming to hear stories like Ashling and Jan's.
"In 90% of cases, donating stem cells is a simple procedure via the blood, but to the person who desperately needs the transplant it is a life-changing moment for them."