Listen to our weekly podcast Am I Making You Uncomfortable? about women's health, bodies and private lives. Available on Spotify, Apple, Acast and wherever you listen to your podcasts.
Content warning: this article contains graphic description of traumatic birth
Sam, my only child, came rushing into the world as a six weeks early, tiny 4.7lb baby boy in October 2011.
The delivery was complicated. After Sam got stuck in the birthing canal, he was swiftly extricated with forceps as his heart was beginning to fail. The damage done to me in the process was profound.
I suffered tearing through my rectum and into my vagina, leaving me with irreparable injuries and a permanent stoma. An opportunity to repair the damage to my sphincter was missed, an abscess developed, and I was left in extreme pain for several days, until the abscess was discovered after I complained that I was faecally incontinent. I had developed a recto-vaginal fistula, with faeces coming out of my vagina, creating a veritable breeding ground for bacteria and infection. Up to 30,000 women every year experience a traumatic birth, but I was one of the unlucky few to end up with extremely rare, severe long-term injuries. I was officially disabled.
I suffered with sepsis in the fistula tract for a year, was heavily overweight, and struggled to cope with the quadruple whammy of a new stoma bag, a newborn baby, post-traumatic stress and post-natal depression.
I was the only woman I knew in my circle of baby friends to experience such a traumatic birth. I felt isolated, like there was no-one who could understand my pain. In the years which followed the birth, I was medically retired from my job as a police officer, and I slipped further into depression.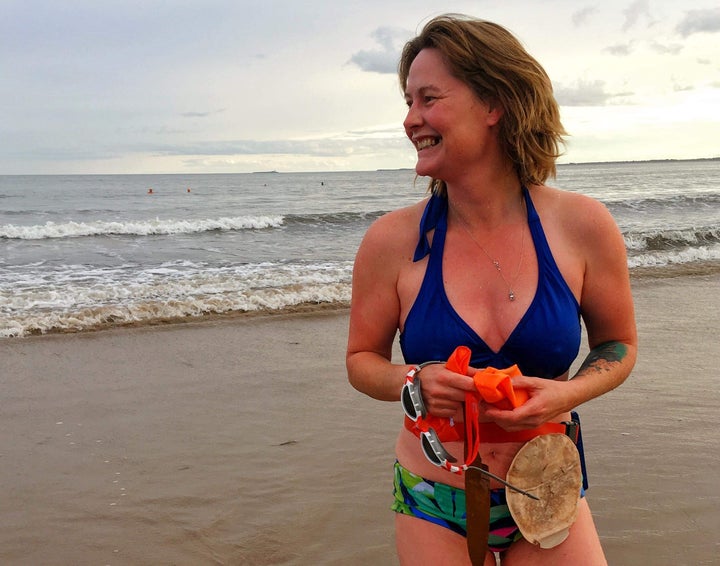 As with many people of my generation, I turned to the internet for support. There, I found forums full of distressed women relaying horrific tales of their own birth trauma, and what seemed to be an unrelenting catalogue of misery from stoma forums. At the age of 32, I began to feel my life as an active, healthy young woman was over.
Three years passed, and I began to feel twitchy – like a bit of the old, feisty me was clamouring to be heard. Maybe I was far too young to give up on life? I really wanted to prove to myself that I could still do something. I saw an indoor cycling class advertised, took the plunge and went along. Initially I was too concerned about my bag being squashed or the toilets being closed to care much about my fitness. It was hard work – I only managed to stand up for a couple of cycle rotations at a time – but I was hooked.
At the class I met members of the local triathlon club, something I had always wanted to try but never did. Stuff it, I thought, joined the club and took part in my first sprint triathlon a few months later. In 2017 I completed a half ironman (1.2m swim, 56m cycle, 13.2m run), raising £5,000 for the Birth Trauma Association. The exhilaration as I crossed the finish line, sobbing with relief and exhaustion, was like nothing I had ever experienced before. I felt empowered. I felt like I could do anything.
The open water swim I had done for my triathlon was a big obstacle for me – I have a deep seated fear of open water from – don't laugh – watching Jaws! I'd been an enthusiastic sailor when I watched the film, aged eight, but it had such a huge impact on me that I didn't go out of my depth, or feel safe, in open water for the next 30 years.
In a bid to start taking back control of my life, I resolved to beat my fear. I started meeting experienced swimmers regularly, taking 18 months before I felt able to open my eyes under the water. Within three years I was swimming in skins (only a swimming costume), and in October I started a bikini challenge – wearing only a bikini, hat and goggles for all swims three times per week until 1 May.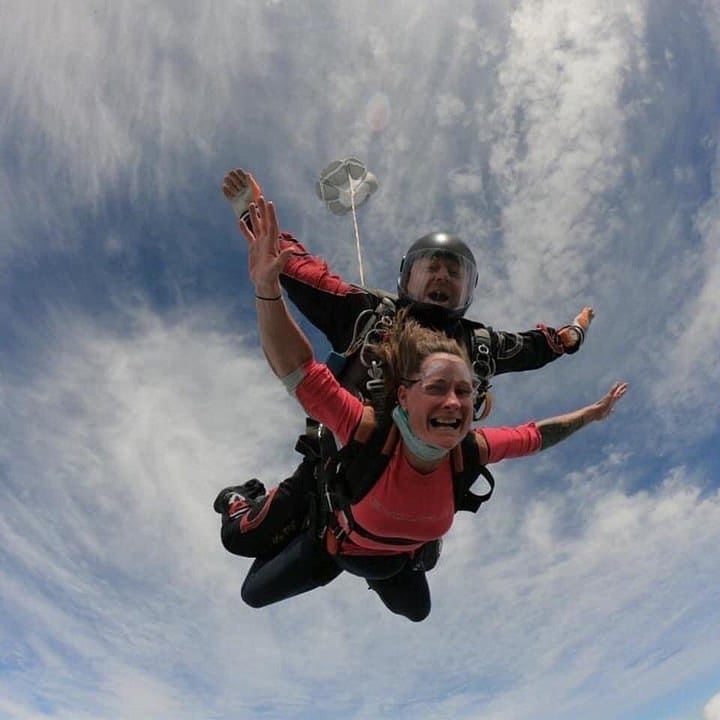 I have also tackled my fear of heights and flying, by leaping out of a plane from 15,000ft – with a harness on and attached to someone else, but still, quite an achievement. I qualified as an open water diver, and in 2019 I successfully completed the Coast to Coast Rat race, a two-day 105 mile run, kayak and cycle from east to west Scotland.
My years of incapacity taught me the value of being active when you can, of taking life by both hands and giving it a good shake to make sure you get as much out of it as possible. I no longer say no, or hesitate, when thinking of doing something new.
It is a very empowering feeling, realising the potential of humans to overcome great trauma, to reinvent themselves in the face of seemingly insurmountable odds, and to overcome deep-seated fears. I truly believe that there is nothing we can't do if we put our minds to it, so I set up my website, Stoma Chameleon, to inspire other people who have had traumatic births, or who have a stoma. I want to be the positive person who I was desperately looking for when I was at my lowest, showing by my actions and big smile, you can do anything.
Trauma does not need to end in misery. There is always hope.