As summer turns to autumn and former President Donald Trump continues to dominate the 2024 Republican presidential race despite his coup attempt and four criminal indictments, there remains one glimmer of hope for his rivals: the 11-percentage point gap.
That is the difference between Trump's polling lead nationally over his closest rival, Florida Gov. Ron DeSantis, and the average of his leads in Iowa, New Hampshire and South Carolina, three of the four early voting states.
"Lots of people are still undecided," said Marc Short, who was former Vice President Mike Pence's chief of staff and is now advising his presidential campaign. He added that while Trump has large leads in polls, Iowa voters do not seem solidly committed to him — particularly after recent Trump's comments disparaging anti-abortion activists. "That's what we see when we're canvassing in the neighbourhoods."
While Trump has the support of 57% of Republican voters nationally, that figure is only 48% in South Carolina, 46% in Iowa and 44% in New Hampshire.
(Nevada, the fourth "early" state, has had no recent public polling, and the pro-Trump state party is encouraging candidates and GOP voters to shun the state-run Feb. 6 primary and participate in party caucuses two days later instead.)
Trump campaign officials did not respond to HuffPost queries asking why he is not doing as well in the early states as nationally. But in a sign they recognise the problem, they have scheduled a handful of Iowa events in the coming weeks after a summer of little campaigning at all.
Under the theory that anti-Trump Republicans are pinning their hopes on, that gap between national and early state numbers proves that in states were other candidates are actually conducting a campaign, a majority of Republican voters are open to a non-Trump candidate.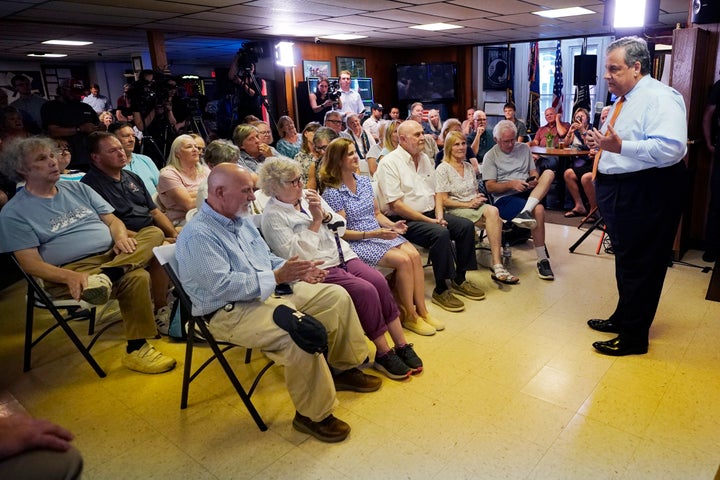 And because Trump is effectively the incumbent in the Republican field, those under-50% numbers actually show considerable weakness, not the insurmountable strength that Trump and his allies like to project, the anti-Trumpers argue.
"I think New Hampshire is going to be a very busy place in the coming months, and I think there's a lot of opportunity for movement," said Maura Weston, a former New Hampshire Republican Party official.
In this scenario, should Trump wind up losing Iowa, the myth of his inevitability will be shattered, making a loss in New Hampshire the following week more likely.
And if he loses New Hampshire, the theory goes, it becomes a wide-open race going forward — which is precisely the way the candidate who has made attacking Trump the focus of his campaign has been presenting his case in his New Hampshire-centric effort.
"Just remember, the future of this country starts with you. Here," former New Jersey Governor Chris Christie told a couple of dozen voters during a visit to the Mountain Base Brewery in Goffstown last week. "If Donald Trump wins here, he will be our nominee. Everything that happens after that is going to be on our party and on our country…. America's counting on you. I'm counting on you, too."
Normalizing Trump's Coup
Just after January 6, 2021, it seemed certain that Trump had ended his political career with his incitement of a violent attack on the Capitol that injured 140 police officers and led to the deaths of five in his last-ditch attempt to remain in power despite having lost the 2020 election. On the floors of their respective chambers, the two Republican leaders both blamed Trump for the mayhem.
But within weeks, as Republican lawmakers returned to their districts and found that their voters were angry at them for not supporting Trump, GOP leaders in both Congress and the states began toning down their criticism or reversing course entirely.
Senate Republican leader Mitch McConnell not only voted against impeaching Trump — a Senate conviction would have had the effect of banning Trump from federal office for life — but asked other Republicans to do the same. Kevin McCarthy, at the time the House minority leader, actually made a pilgrimage to Trump's country club home in South Florida to make amends with him exactly three weeks after his mob had invaded McCarthy's office in the Capitol.
That refusal to criticise Trump for his coup attempt has largely continued within the GOP presidential field. Biotech entrepreneur Vivek Ramaswamy a week after January 6 called Trump's behaviour "downright abhorrent," but has now become Trump's biggest cheerleader among the 2024 contenders and has promised to pardon Trump on his first day in office.
Nikki Haley, a former South Carolina governor who served as Trump's United Nations ambassador, went from telling fellow Republicans the day after January 6 that Trump's "actions since Election Day will be judged harshly by history" to declaring "we need him in the Republican Party" in a span of nine months. Now, running against Trump, she calls him "the most disliked politician in all of America" — but fails to mention the role January 6 plays in that unpopularity.
And when a moderator at last month's Republican debate asked how many of the eight hopefuls on stage would still support Trump as the nominee even if by that time he had been convicted of a felony, she was among six to raise their hands.
For former New Hampshire Republican party chair Jennifer Horn, Haley is the perfect illustration of the non-Trump field's inability or unwillingness to challenge the man who, despite everything, remains the de facto incumbent in the Republican primary.
When she raised her hand on stage, Horn said, Haley effectively eliminated any reason for her supporters to choose her over Trump. "No matter how good Nikki Haley is, if she's going to support him no matter what, she's giving permission to even her own voters to do the same," Horn said.
The GOP's De Facto Incumbent
Fergus Cullen, another former chair of the New Hampshire party, said that Republican leaders missed their window to put Trump behind them by not universally condemning him and his actions immediately after January 6. That opportunity is now gone, he said, and he remains unconvinced that someone can defeat him in the primaries.
"Voters are always open to looking at other choices, but fundamentally, they're OK with Trump," he said. "Do you want your potato mashed or baked? Or French fries? Voters will pause to consider the options, but they'll go with the usual most of the time."
Others, like former Republican National Committee member from New Hampshire Steve Duprey, are more sanguine about the odds of beating Trump, pointing to New Hampshire's reputation for quirkiness and the ability of registered independents to vote in either Democratic or Republican primaries. Duprey said that while Trump may be currently favored by New Hampshire's registered Republicans, the independents are done with him and will make up a third or more of the vote in January. "Watch the independents," he said.
Matt Mayberry, another former state party official who now hosts candidate meet-and-greet events for the state home builders' association, said the primary is only getting started and several of the non-Trump candidates are well positioned. "I think there's a possibility that anyone can win or lose New Hampshire," he said.
"I liked some of Trump's policies, but he's just a horrendous person. You wouldn't buy a car from someone who you don't like, even if it's a good price."
For those non-Trump candidates, there is clearly a significant percentage of voters, including former Trump supporters, who are ready to get behind someone without Trump's baggage.
"I think if he is the candidate again, I think he will be defeated again,"said Marc Colcumbe, a 63-year-old mechanical contractor who voted for Trump in both 2016 and 2020. "But I won't vote for him a third time."
Greg Lynch, who is 56 and installs building insulation, said he, too, is a never-again Trump voter. "I liked some of Trump's policies, but he's just a horrendous person," he said. "You wouldn't buy a car from someone who you don't like, even if it's a good price."
While much of the field has focused their time on Iowa, hoping to either win or place in the caucuses, Christie is instead putting his time and money into New Hampshire in echoes of the late Sen. John McCain's 2000 campaign against George W. Bush in which he conducted 114 campaign town halls in the state.
At a Rye gathering sponsored by former Massachusetts Sen. Scott Brown, Christie said that he did not expect to lead Trump in any poll prior to the primary — just as McCain did not until beating Bush on election night by 18 points.
The following night at a campaign town hall in Bedford that drew several hundred, Christie repeated his pledge to work the state until primary day four months from now. "I will be here until the last dog dies," he said, wrapping up two hours in a hot elementary school gym. "I will be here until the last vote is counted."