More than 40 of the UK's largest businesses have signed a groundbreaking "Plastics Pact", committing to making 100% of plastic packaging they use reusable, recyclable or compostable by 2025.
The UK Plastics Pact is the first of its kind in the world and has united 42 household names including supermarkets such as Aldi, ASDA, Lidl, Tesco, Sainsbury's, Waitrose and Morrisons, in a bid to tackle plastic waste and protect the environment. These businesses are responsible for over 80% of the plastic packaging on products sold through UK supermarkets.
Big brands including Coco Cola Europe, Nestle UK and Unilever UK have also signed up. They're joined by a further 15 organisations, including the British Retail Consortium and the British Plastics Federation. The powerful collective is spearheaded by sustainability charity WRAP and plans to eliminate "problematic" single-use plastic through package redesign and innovation.
Environmental charities have praised the move, although some have raised concerns the alliance won't go "far enough" to tackle plastic pollution.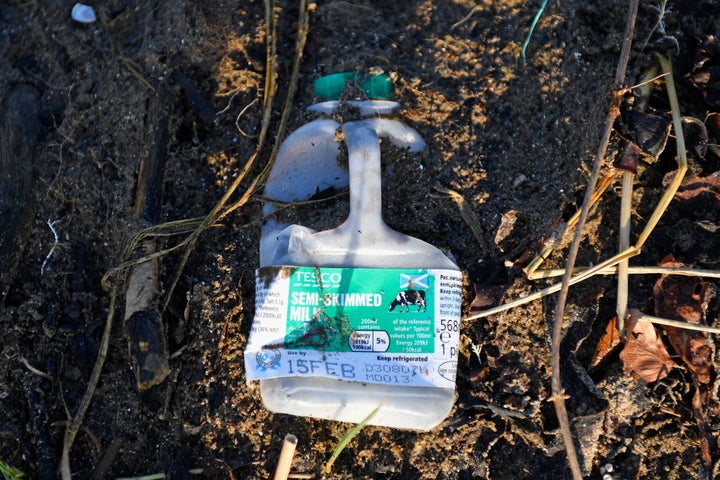 The 57 businesses and organisations in the pact have committed to hit a series of targets by 2025:
Eliminate problematic or unnecessary single-use plastic packaging through redesign, innovation or alternative (re-use) delivery models.

Make 100% of plastic packaging reusable, recyclable or compostable.

Ensure 70% of plastic packaging can be effectively recycled or composted.

Use 30% of plastic packaging must be made from recycled materials.
The pact is set to be replicated in other countries to form a powerful global movement for change as part of the Ellen MacArthur Foundation's 'New Plastics Economy initiative'.
Commenting on the launch Environment Secretary Michael Gove, said: "Our ambition to eliminate avoidable plastic waste will only be realised if government, businesses and the public work together. Industry action can prevent excess plastic reaching our supermarket shelves in the first place. I am delighted to see so many businesses sign up to this pact and I hope others will soon follow suit."
The immediate focus of the group will be identifying the priority projects that will deliver greatest impacts in the short and long term, such as finding ways to increase the amount of recycled materials used in new packaging, developing reusable packaging and working with partners to overcome the issue of un-recyclable "black plastic".
Sian Sutherland, co-founder of campaign group A Plastic Planet, welcomed the pact as a great "first step" to tackling waste, but said "in some areas it's clear it doesn't go far enough".
"Recycling is often touted as the answer to the packaging crisis, yet plastic will almost always end up in the environment sooner or later. Most plastic can only be recycled a handful of times before it becomes unusable." she said. "We've been able to recycle plastic for decades yet there is now an estimated 6.3 billion tonnes of plastic waste somewhere on our planet - in our soil, in our oceans, in our air. Plastic is everywhere and we must do everything possible to slow down its production."
She called on manufacturers to look at alternatives to plastic - such as metal, glass, carton board and wood pulp - rather than focussing all energy on plastic itself.
Friends of the Earth plastics campaigner Julian Kirby also said the pact is a
"move in the right direction" but added "government measures are also needed to ensure everyone plays their part, and that these targets are actually met".
"Ultimately the only long term solution is a complete phase-out of plastic for all but the most essential uses," she said. "Ministers must draw up an action plan, covering all plastic-polluting sectors, including clothing, cosmetics and vehicles, to make this a reality."