Walkers planning a coastal stroll this weekend are being urged to avoid taking "storm selfies", with Britain expected to be battered by strong winds and rain.
Gusts of about 60mph are expected along exposed coastlines in the south and west, bringing a blustery end to the recent sunny spell, The Press Association reported.
Campers and those hoping to enjoy a weekend outdoors have been warned to be careful amid "unseasonably strong" winds and travellers are being warned of possible disruption to transport.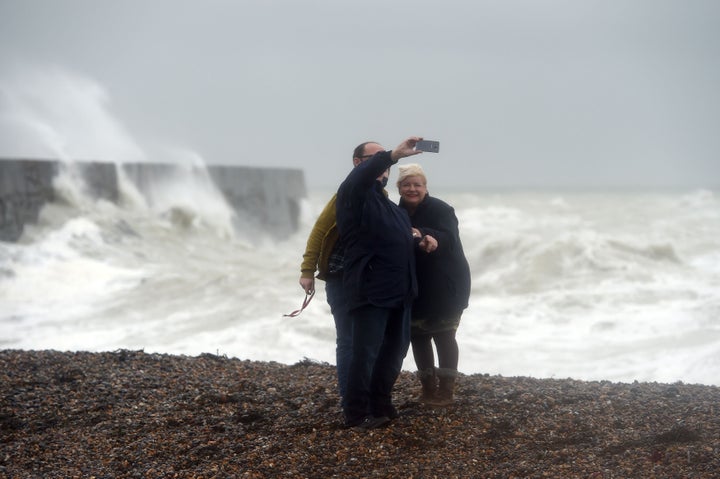 The conditions are expected to be accompanied by "heavy, thundery, showery rain", the Met Office said.
The forecaster has issued a yellow weather warning across most of England and Wales, with winds expected to reach 40mph to 50mph inland as a low-pressure system moves in from the west.
Members of the public using coastal paths and promenades, particularly on the South West coast, will face increased risks on Saturday, the Environment Agency said.
Severe coastal weather has seen thrill-seekers taking photos and filming themselves in treacherous conditions while videos of people getting swept along by waves have gone viral online.
"Strong winds and large waves will combine with high tides on Saturday and local minor flooding is possible across parts of the north Devon coast," said Craig Woolhouse, flood risk manager at the Environment Agency.
"We urge people to stay safe on the coast and warn wave-watchers against the unnecessary dangers of taking 'storm selfies'."
Temperatures are expected to drop from a high of 28C (82F) earlier this week to the low 20s (68F) or high teens in many parts this weekend.
Warmer weather should return from the middle of next week, just in time for the August Bank Holiday.
"Autumn has not arrived with this bit of wind," Nicola Maxey, from the Met Office, said.
"There's certainly some more sunshine around for next week depending on where you are in the country.
"It's a low-pressure system passing through, it's not the end of summer."