If you're planning on making a dash for it on Friday afternoon be warned you'll be contending with some pretty wintry conditions.
Hail, sleet and snow are expected to bookend the long weekend, with a risk of gales in some areas on Sunday.
Commuters in northern England and southern Scotland awoke on Friday to yellow warnings of snow, with up to 6in (15cm) predicted to fall over higher ground, while showers of rain and sleet are expected to hit lower levels.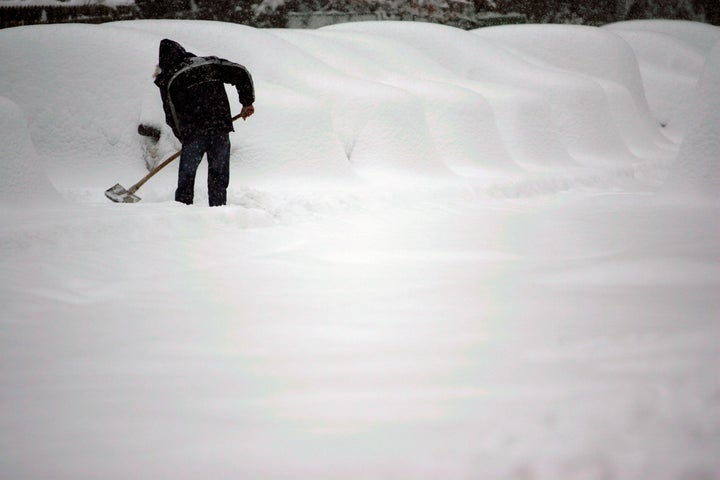 Thoughout the day the band of wintry weather carrying thundery downpours is due to move towards the south and east, with occasional sunny spells accompanied by a stiff breeze.
Ahead of the cold front, temperatures are expected to reach 13C (55F) in the South East, while the mercury will creep past 8C (46F) in most parts.
Met Office forecaster Helen Roberts said: "The remnants of system that is bringing snow across southern Scotland and England will be lingering into Friday evening, predominantly in the North East of England.
"Mostly it will be rain showers and a wintry mix of snow, sleet and hail for the rest of the country."
Hail was expected "just about anywhere" and warned of the risks it may pose to motorists.
Roberts added: "Later in the day we are most likely to see hail cause trouble on the roads if the ice builds up as conditions become slippery."
After a cold night on Friday, a keen frost is expected to follow on Saturday morning, although the best conditions of the weekend are expected later on.
While it will be a fairly dry day for many, showers are likely in eastern parts of the UK.
Temperatures are expected to reach up to 14C (57F) in the South East, while between 10C (50F) and 12C (57F) is predicted for the rest of the country.
On Sunday, the start of May will see a band of rain move in from the north west, bringing gales that could touch 50mph in some exposed parts, before moving towards the south east throughout the day.
Ahead of the weather front, temperatures could peak at 15C (59F) around London and the Home Counties, while wet weather in the North will be accompanied by temperatures between 12C (54F) and 13C (55F).
By Monday the wet and windy weather is expected to cover much of the eastern half of the country, although brighter conditions will move in from the west.
Most of the country is expected to see out the bank holiday with temperatures between 12C (54F) and 13C (55F), peaking at 15C (59F) in the South East.
Related