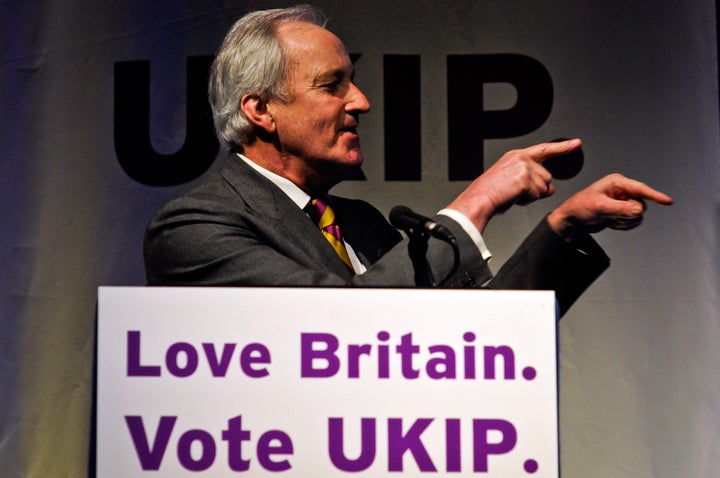 Ukip is set for a major internal power battle after former Tory MP Neil Hamilton was elected under the party banner to the Welsh Assembly.
In what was a breakthrough night for Ukip in Wales, the anti-EU party picked up seven seats on the Assembly, giving it its largest representation on a national body in the UK.
The Ukip leader tried to force through his own list of candidates for Wales, in which Hamilton was significantly lower.
But Ukip's National Executive Committee – of which Hamilton is a member – put the matter out to a vote of Ukip members and the ex-Tatton MP was placed top of the list for Mid and West Wales.
The seven UKIP assembly members will now have to decide whether to endorse the party's Welsh leader Nathan Gill – who is close ally of Farage – as group leader, or switch allegiance to Hamilton.
If Hamilton is chosen to lead the party in the Assembly, it will create a division between Ukip in Wales and the national HQ in London.
Even before last night's vote, a source in Ukip's Welsh team claimed a member of the NEC was asking people involved in the campaign if they were "Team Nigel" or "Team Neil".
Suspended Ukip member Suzanne Evans, who has been repeatedly sacked by Farage, told the HuffPost UK the party's Welsh campaign was a model for its future direction.
She said: "The way the Wales campaign was run and the policies that we set out shows a clear direction for the future of Ukip. It was positive, common sense and focused on local issues: an upbeat, positive, non-typical Ukip campaign.
"Contrast that with Scotland where we have had this ultra-libertarian, radical-right campaign that got us nowhere.
"The members had a direct input into who was chosen for Ukip in Wales and it's a shame this didn't happen elsewhere in the country. If members feel enfranchised they are going to campaign harder. Disenfranchise your members, and the ground campaign is never going to be successful."
The source said: "Wales was an extremely successful result and notable because it's where Nigel didn't campaign. He boycotted the launch of the manifesto."
When asked if there was a fear of division between Ukip in Wales and the national party, the source said: "There may be one or two people in the office in London who feel slightly like putting those in Wales in their place, but I wouldn't pay too much attention to that. The sensible people in the party are focused on June 23."
Hamilton joined Ukip in 2011, and after receiving the backing of Farage was elected to the NEC and the Deputy Chairman of the party.
But the pair began to fall out after Farage played down Hamilton's importance, claiming he was little more than a "backroom boy" in 2014.
Earlier this year, Hamilton was stripped of his Deputy Chairman role, along with Evans
Speaking after being elected to the Welsh Assembly today, Hamilton said: "I hadn't anticipated at the age of 67 that I would once again be elected to public office, particularly after I had been liberated from it so spectacularly in 1997 by the electorate."
He is not the only former Tory to now represent Ukip in Wales, with former Rochester and Strood MP Mark Reckless also elected to the Assembly.
Reckless defected to Ukip in 2014, and after initially winning his seat in a by-election, lost it to his old party in the 2015 General Election.
Labour MP Stephen Kinnock, who represents the Welsh constituency of Aberavon in Westminster, was bullish about Ukip's success.
He told the HuffPost UK: "Let's now scrutinise this bunch of Tory has-beens they have put forward. People will have a chance to really scrutinise them – their attendance records, their expenses claims, their chamber behaviour – all of that stuff will start to come to the fore."