Ukip's youth wing are using a closed Facebook group to post Islamophobic, homophobic and anti-Semitic comments, the Huff Post UK can reveal.
Members of the The YI [Young Independence] Faculty group have used the word "faggot", described Islam as a religion of "hatred, genocide and slavery" and claimed the Prophet Mohammed was a "murderous paedophile."
Group members also frequently use the word "cuck" - an insult associated with white supremacist groups - to disparage supporters of Douglas Carswell and others who are perceived to be disloyal to Nigel Farage.
One member of YI told the HuffPost UK the group "is full of some of the most racist, hurtful and pathetic comments I have ever seen".
Some members of the group have implored others to stop posting such content, but to no avail.
Here are screenshots of some of the posts:
Nathan Somerville – Ukip's candidate in Livingstone in the 2015 General Election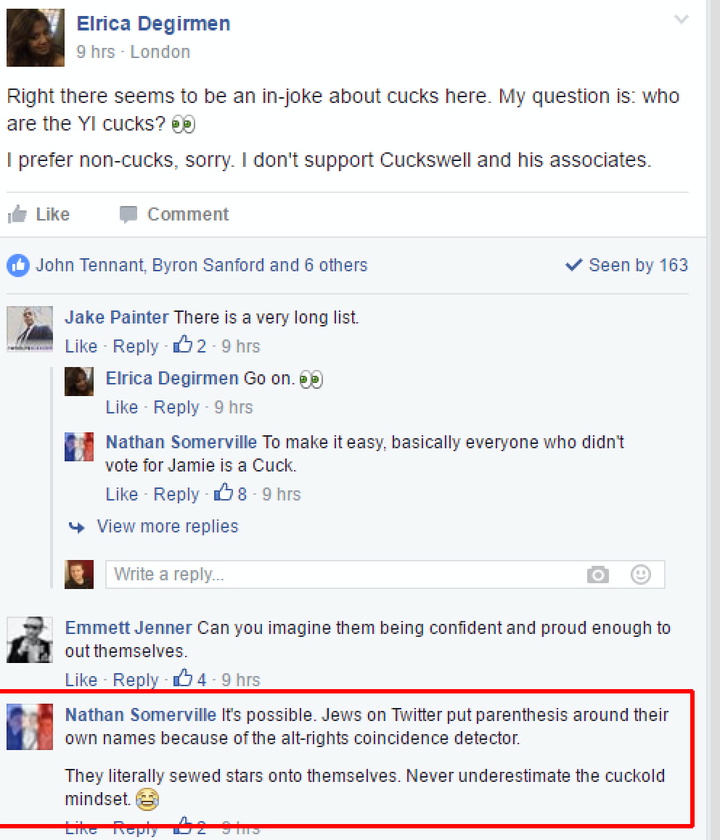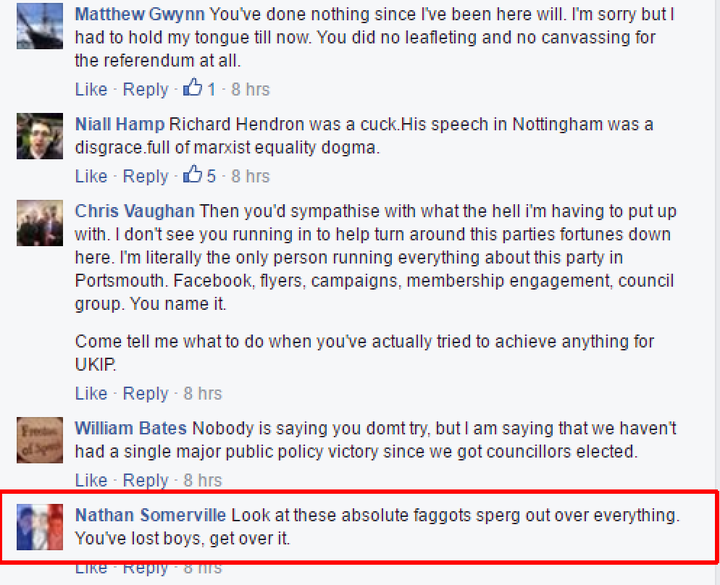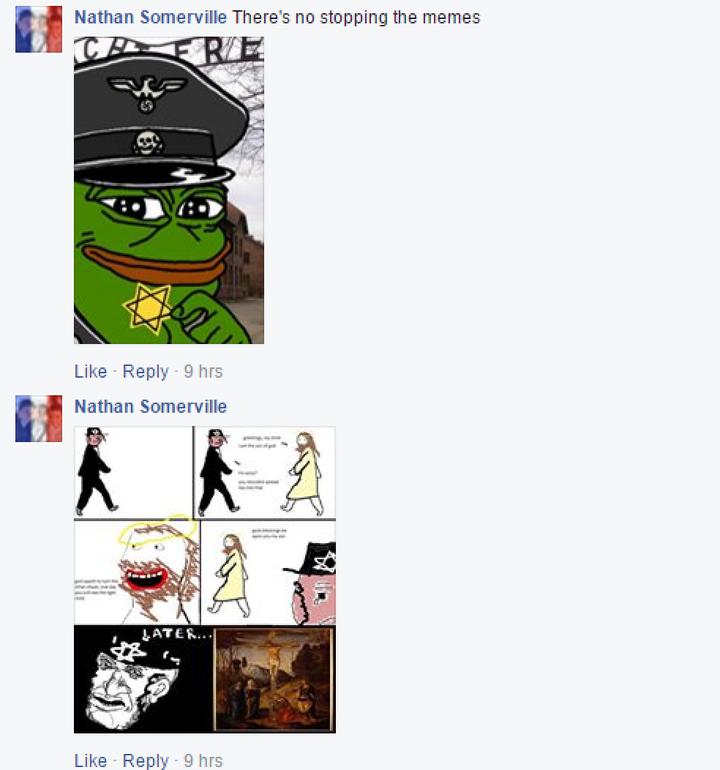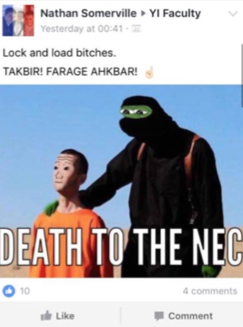 Lewis Green - stood to be YI's secretary in last month's elections: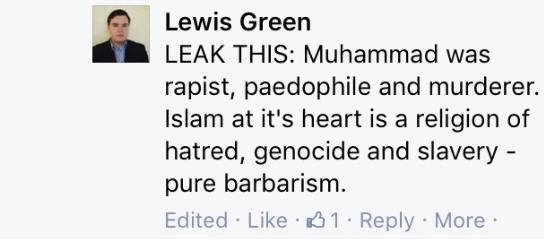 Jamie Ross McKenzie – the new chairman of YI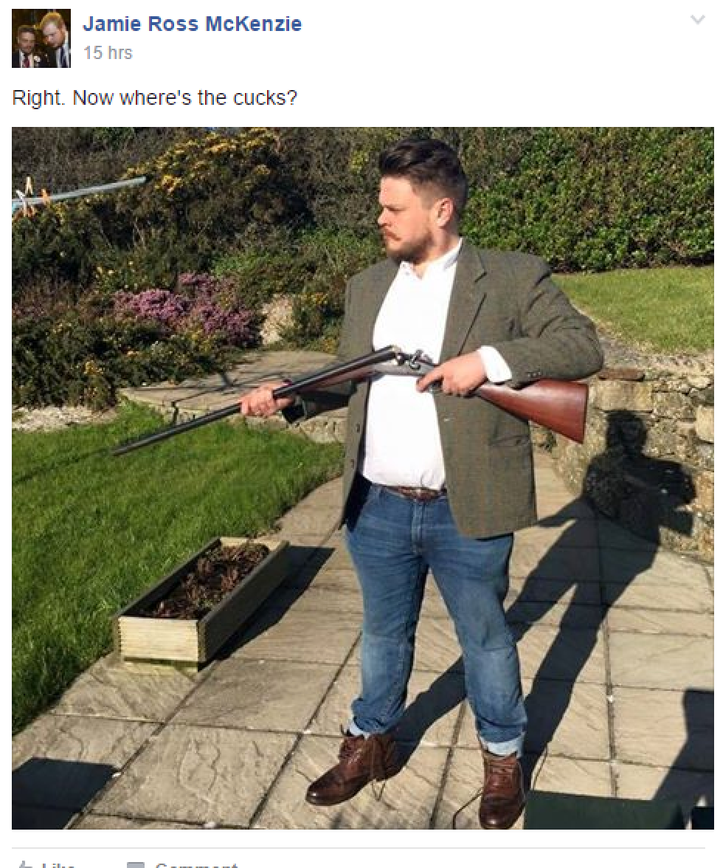 Jade Smith, who joined Young Independence after quitting the Tory party, said the language and intimidation she had witnessed was as bad as bullying she had seen in the Conservatives.
She told Huff Post UK: "Young Independence can no longer be allowed to continue the route they have been going down. Under the new leadership of Jamie Ross McKenzie (chairman) and Ed Sumner (deputy chair) the group is time and time again bringing Ukip into disrepute. But the party will do nothing. The secret group 'YI Faculty is full of some of the most racist, hurtful and pathetic comments I have ever seen."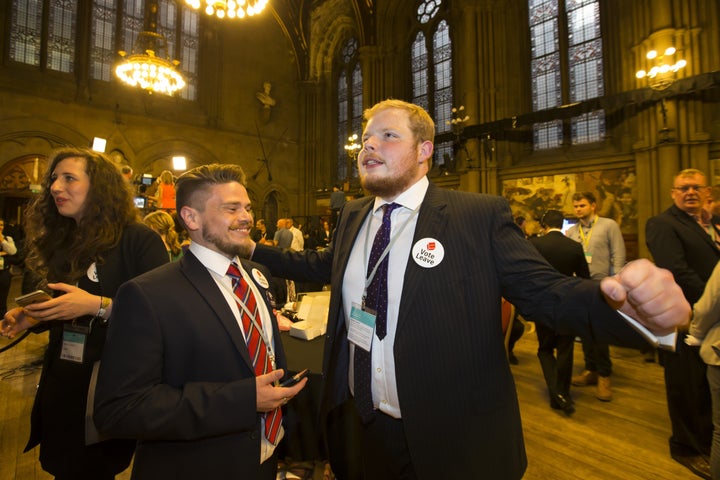 Tom Seston, a Ukip candidate in the local elections in Scarborough in 2015, called out the abuse in the group, but was told "shit people exist" and to "ignore them."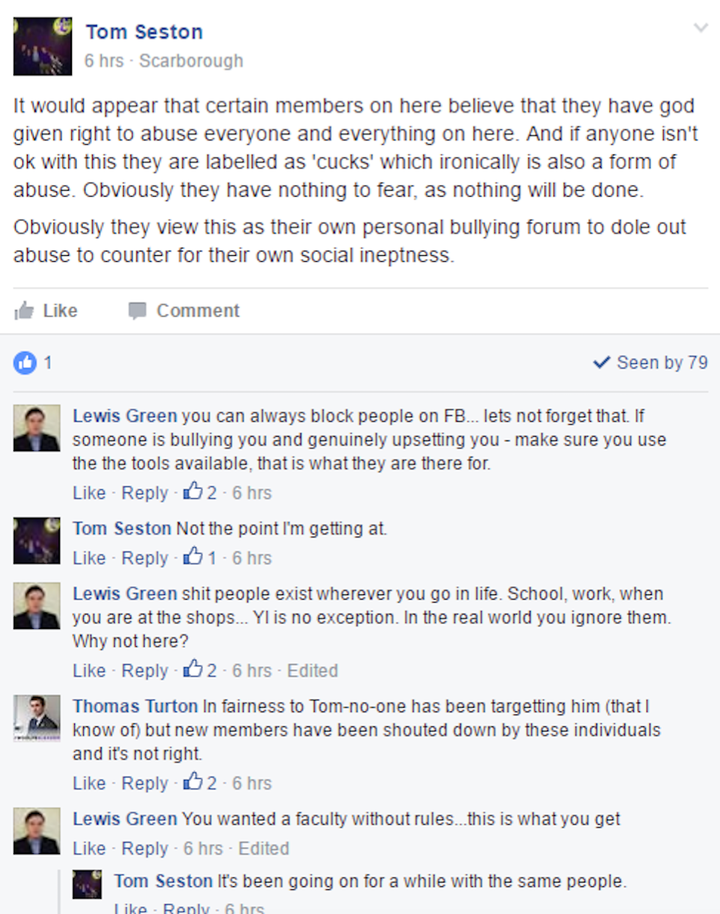 Oscar Gomez, a former local election candidate in North East Derbyshire, wrote: "Roll the fat fuck down the street and straight to the RSPCA. We can flog her off as an unwanted butchers dog."
Another group member, Edwin Smith, wrote: "She rolls her sleeves up before assaulting another bucket of deep fried poultry."
After a picture was posted of Duffy mocked up as Mr Blobby with the caption: "Mrs Duffy says Move on", Smith wrote: "She needs to 'move on' to a treadmill."
When presented with the latest revelations by the Huff Post UK, Duffy vowed to deal with the group if she became leader.
She said: "I'm extremely disappointed at this new string of appalling comments made by a small minority of YI members.
"I'll make it crystal clear- this disgraceful behaviour does not belong in Ukip. If I'm elected as Ukip's next leader I will review YI at once and decide if we need to appoint a national co-ordinator again to keep a close eye on its affairs.
"Misconduct should be investigated on an individual basis through the complaints process put in place by our NEC. Our party takes a no-nonsense, zero tolerance approach with this sort of thing, and trust me, it WILL be dealt with."
Huff Post UK contacted Somerville, Green and McKenzie for a comment.
Somerville responded with a statement: "There's really nothing worth commenting too much on. You're literally writing a story about me - and others - posting memes and using language which doesn't align with your Orwellian, guilt-inducing, speech codes on the Internet. Do you need a safe space?
"It seems Big Brother has been replaced by Big Mother, and hordes of infantilised mental children - seemingly inhabiting adult bodies - come crying to her whenever they are emotionally triggered by a joke, opinion or fact. You want to punish me for naughty-think, but I frankly don't care
"I look forward to reading your no-doubt out of context, hyperbolic and intellectually dull article masquerading as news. You really have made my day."
Green responded by sending a screenshot of another comment he had made in order to demonstrate he was criticising the religion, not those who practice it.

He told Huff Post UK: "I'm strictly talking about the religion here, as I'm sure you can see.
"Like most Christians, most Muslims have not studied their holy texts themselves and rely on selected verses spoken to them by their preachers."
A Ukip spokesman said: "The postings were made on an unmonitored unofficial private group loosely associated with Ukip The postings do not represent UKIP's position or values in any way and these posts will be looked into and appropriate action may be taken."
Popular in the Community