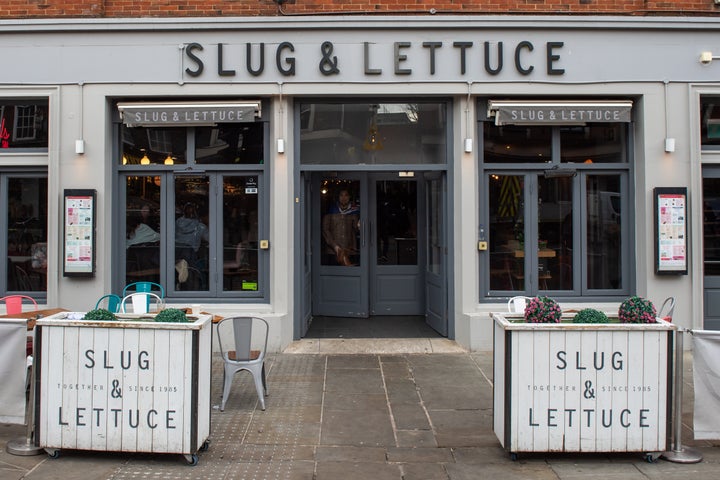 Very soon we could be paying around 20p more per pint — yes, every single pint — during peak hours at Stonegate pubs, the chain that owns Slug & Lettuce and Yate's.
The pub chain has announced that they will be charging punters 20p more during peak hours due to cost increases. It's thought that around 800 of their 4,500 pubs will introduce the "dynamic pricing" structure during evenings and weekends.
On the reasoning behind the price increase, Stonegate told Sky News: "This flexibility may mean that on occasions pricing may marginally increase in selective pubs and bars due to the increased cost demands on the business with additional staffing or licensing requirements such as additional door team members."
They added: "Across the managed business our dynamic pricing encompasses the ability to offer guests a range of promotions including happy hours, two-for-one cocktails, and discounts on food and drink products at different times on different days throughout the week."
People were quick to react with anger and jokes on social media, with one tweeting: "Well, I suppose it's an excuse to start drinking during the day. Swings and roundabouts."
Alcohol has already seen a price rise from the start of August, when Prime Minister Rishi Sunak and the chancellor of the exchequer, Jeremy Hunt, slapped taxes on some of the most popular drinks.
And while most wines and spirits are rising in price due to the duty price increasing by 10.1% overall in line with inflation, price hikes are affecting booze with lower alcohol percentages, as well.
Prior to the changes, alcohol was taxed based on category, such as beer, wine, spirits, etc. But since August, the new "simplified" system means that alcohol will be taxed more broadly, depending on how strong they are. The higher the percentage, the higher the tax.
The rising price of alcohol comes after a long line of cost of living changes that have seen the price of consumer goods and services rise by 9.6% — the fastest rate in four decades.
The increase in food, drinks and fuel means two-thirds of Brits are spending less on non-essentials as they struggle to make ends meet.
If 20p more for a pint just doesn't work for your budget, then it might be time to get a carry-out and have some friends round. House parties are more fun anyway.