Wetherspoon's large breakfast has been revealed as one of the unhealthiest breakfasts on the high street, according to a new report.
The large breakfast consists of two fried eggs, bacon, two sausages, baked beans, three hash browns, mushroom, tomato and two slices of toast.
It was found to contain the most salt and saturated fat, as well as the highest number of calories - a staggering 75% of the daily recommended amount for women, and 60% for men.
Belgian waffles from Harvester were found to contain the most sugar, 77.4g.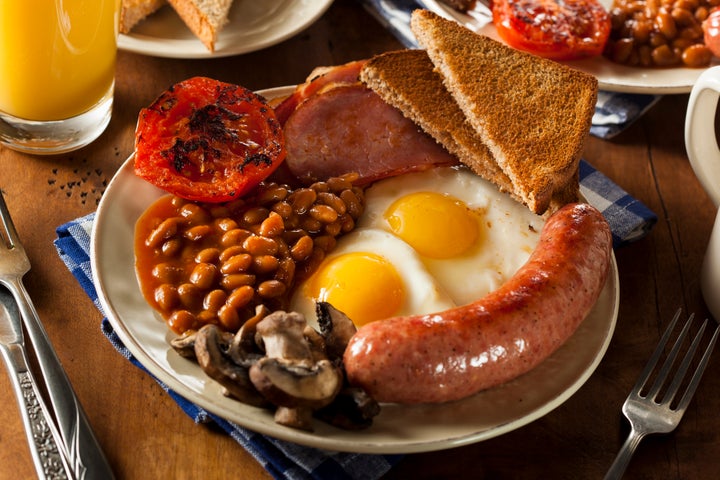 Dr Wayne Osborne and Treated.com compared breakfast menus from 11 major UK high-street food outlets: McDonald's, Starbucks, Greggs, Harvester, EAT, Wimpy, Costa Coffee, Wetherspoon, Pret, Burger King and Caffé Nero.
They analysed nutritional data from the outlets' menus and found the large breakfast at Wetherspoon to be the unhealthiest.
It contains 18.3g of salt, according to the report, which is more than six times higher than any breakfast menu item from McDonald's or Burger King.
It also contains 40.2g of saturated fat (three times higher than a double sausage and egg McMuffin from McDonald's) and a mammoth 1,531 calories.
Harvester's Belgian waffles contained a staggering 77.4g of sugar, which is seven times more sugar than any breakfast item on the menu at Wimpy.
The report found that "Harvester and Wetherspoon chains consistently led on the highest counts in all categories".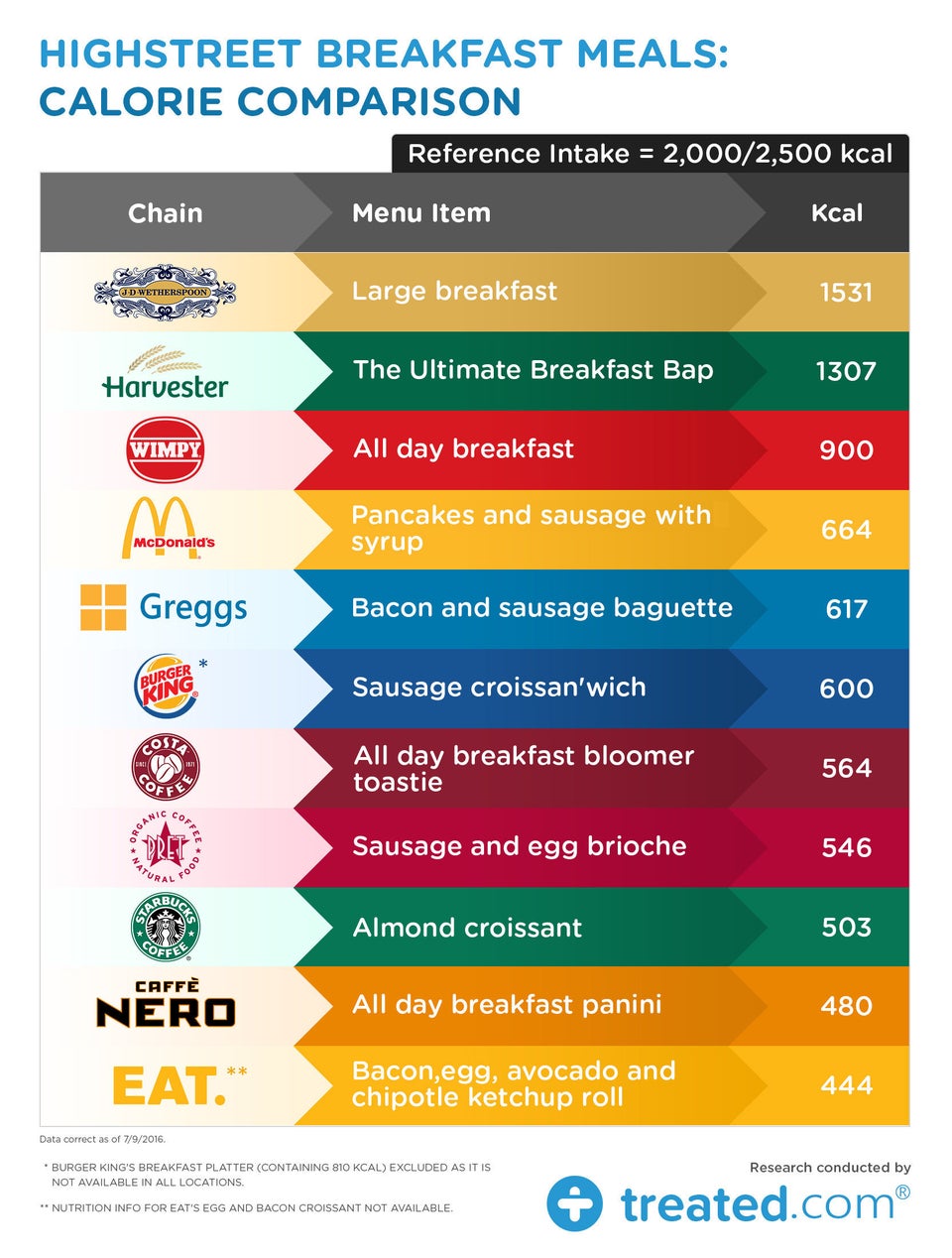 Unhealthiest Breakfasts On The High Street
The Wetherspoon large breakfast contains 75% of the daily recommended calories, more than three times the daily recommended salt intake, and twice the daily recommended amount of saturated fat, Dr Osborne said.
Despite this, he did praise the chain - along with the other 10 outlets - for being transparent about nutritional information on their websites and menus.
He said: "Transparency with consumers when it comes to nutrition is vital; and in this respect, the 11 chains below seem to be leading the way."
In response to the report's findings, a Wetherspoon spokesperson said the chain offers a choice of 23 different breakfasts including cooked breakfasts, gluten-free options, fresh fruit and organic Greek-style yoghurt with honey - to name but a few.
"Each Wetherspoon pub in the UK lists the calories of each meal on its menu as well as on the company's website," they said.
"People that choose to enjoy the big breakfast are aware of the calorie content.
"We would not lecture our customers on which breakfast to choose."
They added: "Dr Osborne takes the Wetherspoon big breakfast out of context with all the other items on the Wetherspoon menu, with the calorie intake for other items ranging from 200 calories upwards."
A Harvester spokesperson said: "We had already planned to remove the breakfast fruit waffles when we update our menu at the end of September.
"Harvester takes its nutritional responsibilities very seriously and our menus offer choice and healthier options for the entire family."