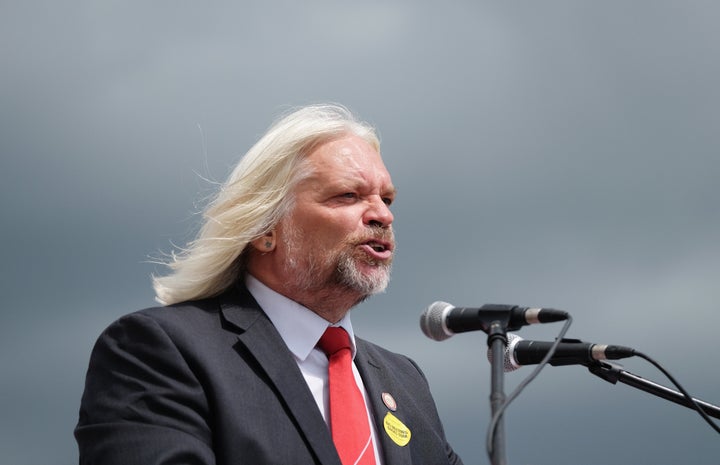 Tosh McDonald, the president of the ASLEF train drivers union, has denied comparing comparing Hilary Benn to Hitler.
An Aslef spokesperson told The Huffington Post UK: "Tosh didn't say Hilary Benn is like Hitler. Hilary Benn isn't anything like Adolf Hitler."
It was widely reported that McDonald told a fringe event at the TUC conference in Brighton on Monday evening that Benn was wrong to have compared the battle against Isis to the "fight against Franco" in the 1930s.
Instead he suggested it was the people in the West who advocated expanding military strikes against Isis from Iraq into Syria who were on the wrong side.
"The only comparison I can draw is with Hitler and Mussolini, bombing the republican lines in Spain," McDonald said.
Benn, the former shadow foreign secretary, hit back on Twitter: "How can you equate the fascists of Daesh with the republicans fighting Franco in Spain?"
In a statement, McDonald did not deny the quote was accurate but said it was out of context.
"I never compared Hilary Benn to Hitler and I never compared the International Brigades to Daesh. Anyone who knows me knows I would never say those things and everyone who was there at the meeting knows that isn't what I said," he said.
"I think Hilary Benn was wrong to back the Tories in their attempts to bomb Syria. And I think he was wrong to compare the proposed Western mission in the region to the efforts of the International Brigades to defend democracy in Spain.
He added: "But I know that Hilary, who I respect as a senior Labour politician, was only responding to misquotations of what I actually said. And I think it's time for all of us, in the labour movement, to turn our fire on the Tories, and what they are doing to this country, rather than attacking each other."
Danny Payne of the International Brigades Memorial Trust, said: "Tosh is a long-standing supporter of the IBMT and knows the difference between a theocratic medieval state and those brave men and women who died defending democracy in Spain."
In December last year, Benn gave a passionate speech in favour of military strikes against Isis.
His position was in direct opposition to Corbyn - who had earlier told the Commons that it should not authorise David Cameron's plan.
Benn told MPs:
"What we know about fascists is that they need to be defeated. It is why, as we have heard tonight, socialists, trade unionists and others joined the International Brigade in the 1930s to fight against Franco. It is why this entire House stood up against Hitler and Mussolini."
On Tuesday evening, a pro-Jeremy Corbyn rally in Brighton was told majority of Labour MPs are "tied to a Blairite capitalist agenda" and it is the "democratic right" of party members to deselect them if they want.
Related