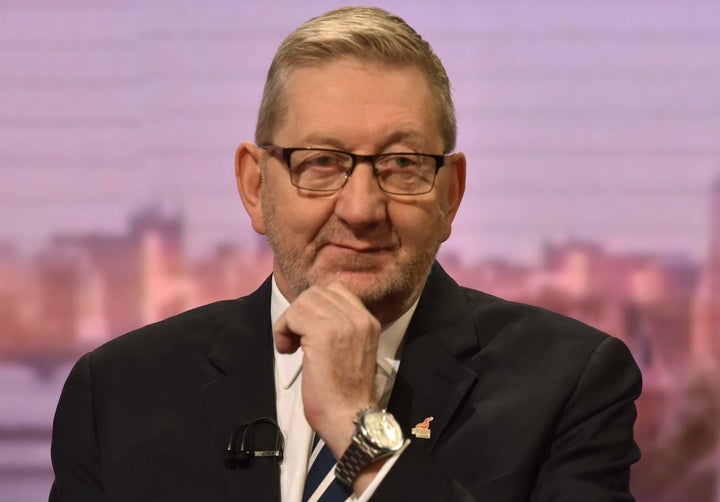 The Unite union is facing allegations of a "stitch-up" in its impending general secretary race after new rules appeared to make it harder for critics of Len McCluskey to get on the ballot.
Britain's second biggest union is set to finally fire the starting gun in the election of McCluskey's successor when its executive meets on Wednesday morning.
With nominations expected to close in June, Unite is set to have its new general secretary in post by the end of August, in time for Labour's annual conference.
But some MPs and Unite members have hit out after internal election guidance included changes that would raise the threshold for the minimum number of nominations that candidates need.
The guidelines, marked "confidential" but passed to HuffPost UK, propose that for the 2021 general secretary election a brand new system should be adopted to create more "workplace branches" that are eligible to nominate contenders in the race to lead the union.
Under a rule change approved since McCluskey narrowly beat centrist challenger Gerard Coyne in 2017, any candidate for the post of general secretary must first obtain nominations from 5% of branches of the union.
Rough estimates put the number of current branches at around 3,000, meaning each contender has to garner the backing of 150 or more branches. In the last election, the threshold was just 50 nominations.
But under the new proposals, current "postcode" or "geographical" branches – which cover multiple employers and locations – could also be split up into several "workplace" branches as long as each venue has 50 or more Unite members as staff.
The change could mean that the number of branches is increased substantially, raising the minimum needed to much higher levels.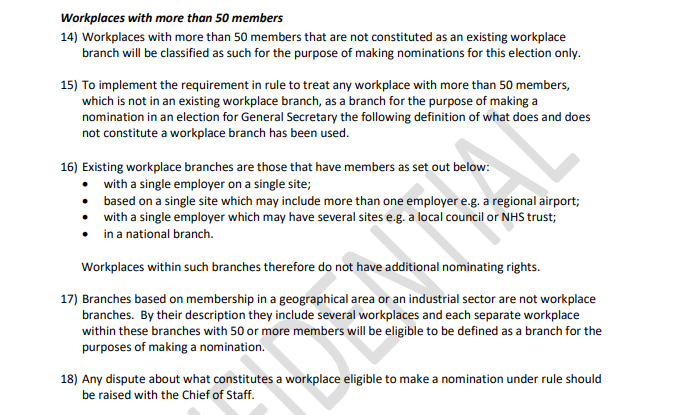 Critics further claim that because only elected Unite officials are allowed to request nomination packs for the new branches, the system would inevitably exclude any challengers to the status quo.
"It looks like a stitch-up," a Labour MP said. "Raise the bar higher to make it harder for any one who wants to take the union in a different direction from Len.
"These are the people who wanted to reduce the nomination threshold for Labour party leader but now want to increase it for their union. They're utterly shameless."
After three general secretary election victories, McCluskey's 11-year reign at the head of Unite will end this year after the union executive approves the timetable for his successor.
Among the likely Left contenders for the general secretary post are assistant general secretaries Steve Turner and Howard Beckett, as well as the union's national organising officer Sharon Graham.
Turner is seen as the favourite given his crucial endorsement by the United Left grouping of the union last year, but Beckett and Graham supporters believe they have the numbers to get on the ballot too.
"Moderate" former regional secretary Coyne, who came within 5,000 votes of defeating McCluskey four years ago, is also running once more.
He is the only candidate so far to have publicly questioned Unite's spending of £98 million on a hotel and conference centre in Birmingham.
The proposed nomination changes are expected to be given strong support by allies of McCluskey, who dominate the union executive, on the grounds that they widen democratic participation in the nomination process.
There will also be tighter rules on campaign spending and on data protection and access to members' contact details.
One senior Labour MP said: "I've been a Unite member for more than 20 years and never seen anything like this. The threshold could be so high it stymies a fair contest."
A regional union insider added: "Because of Unite's huge reach across so many sectors of the economy and public sector, this election really matters. And that's why the rules on who can stand really matters."
Although overtaken in recent years by Unison as the UK's largest union, Unite has been one of the party's biggest financial backers under Ed Miliband and Jeremy Corbyn.
It has recently withheld funding amid its criticism of Keir Starmer's handling of legal complaints over anti-Semitism.
McCluskey has also heavily criticised Starmer's removal of the whip from Corbyn over his response to the Equalities and Human Rights Commission finding of institutional racism against the party.