More ivory has been seized than cocaine worldwide in recent years, a report has shown, warning that the "absolute limit" on the animal product is likely to see a "vicious cycle" ensue as demand increases.
Hundreds of tonnes of illegal ivory are trafficked each year, the United Nations Office on Drugs and Crime's World Wildlife Crime Report revealed in its report on Tuesday.
But the limited supply of ivory compared to Class A substances such as cocaine and heroin means incentives for poaching will increase as scarcity begins to rise.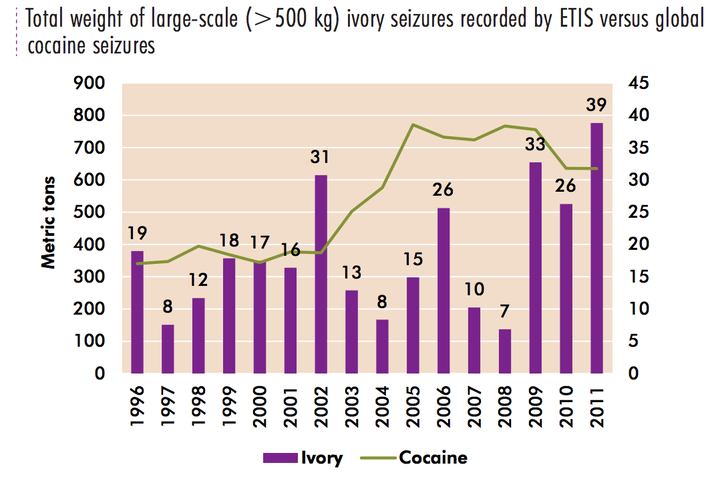 "Unlike cocaine or heroin, there is an absolute limit on the amount of ivory that can be produced, so there is a danger of a vicious cycle ensuing, where each elephant poached increases scarcity, and thus the incentives for poaching another.
"Paradoxically, interdiction and destruction of ivory stocks would also serve to limit supply, further enriching those invested in ivory," the report finds.
Concerns were also raised about potential for the criminal proceeds from wildlife and forest crime to fuel conflict and terrorism.
Yury Fedotov, executive director of the United Nations Office on Drugs and Crime, said: "There is increasing recognition of the dangers wildlife and forest crime pose not only to the environment but to the rule of law and stability, and of the potential for the criminal proceeds to fuel conflict and terrorism."
He continues: "As we have seen time and again with all forms of organised crime and trafficking, criminals exploit gaps in legislation, law enforcement and the criminal justice system."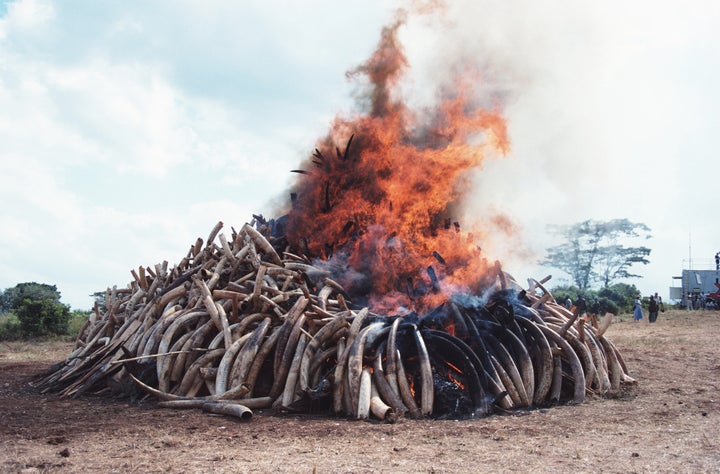 While cocaine seizures remained consistently high between 2003 and 2009, the graph (above) shows it levelling off in 2010, with ivory seizures by weight drastically overtaking the Class A substance in 2011.
The last time this was the case was in 2002.
Between 2009 and 2013, an average of about 30 metric tons of ivory were intercepted in large-scale shipments annually, according to the Elephant Trade Information System (ETIS).
ETIS argues that these shipments, which exceed 500kg, are indicative of organised crime activity, the World Wildlife Crime report shows.
The report states: "The annual seizure totals are highly volatile, however, making it extremely difficult to estimate what share is captured, let alone correlate these totals to other variables.
"This is very different from other illegal commodities, like cocaine or heroin.
"In fact, the standard deviation of annual changes of seizures in ivory over the 1996-2011 period is almost eight times as high as the standard deviation of annual changes in either heroin or cocaine seizures.
"It is also true that a half dozen ivory seizures can make up more than half the annual total, which would be impossible with cocaine or heroin.
"The analysis below uses a five-year average of some 30 tons, but given the level of volatility, these figures should be viewed with caution."
The number of African elephant is dramatically higher in countries that are at peace.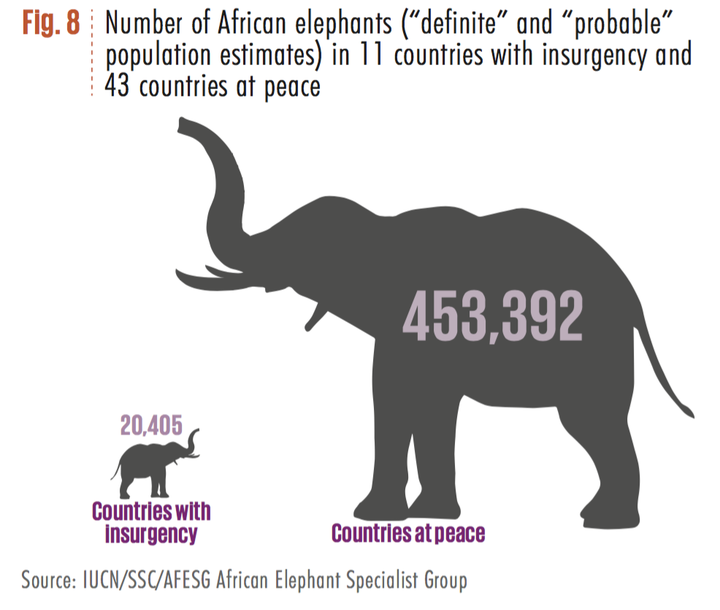 Bryan Christy, chief correspondent at National Geographic, said that the illegal ivory trade has far more to do with violence than many would think.
"The first thing I did when I talked to my team was to stop talking about elephants and to start thinking about other forms of crime," Christy told a conference last week.
"When you want to use the word 'elephant,' use the word 'cocaine'.
"If you use the word 'cocaine' when you're talking about ivory, you'll start to understand—you'll start framing this in your mind the way I want you to."
Christy has tracked the movement of ivory around Africa to reveal how the dealings of wildlife traffickers are financing terrorism in the country.
The UN report released today also reveals the types of species seized internationally.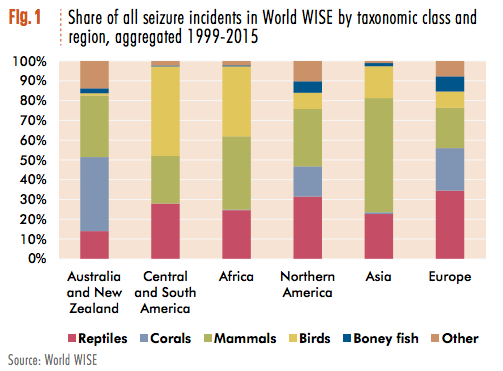 The types of species varies dramatically between continents.
In Africa, mammals and birds are seized on the largest scale, closely followed by reptiles.
Asia sees the highest volume of mammals seizes by authorities, while Europe has the largest number of reptiles.