Thousands of women have been forced to have surgery to remove vaginal mesh implants due to complications, NHS records suggest.
Figures obtained by the Guardian suggest that around one in 15 women fitted with the most common type of mesh implant later require surgery to have it removed.
Vaginal mesh implants, sometimes referred to as sling implants, are given to women who experience pelvic organ prolapse and incontinence, often after childbirth.
The treatment is common in the UK, with more than 92,000 women receiving a vaginal mesh implant between April 2007 and March 2015 in England alone.
The latest figures contribute to growing controversy around the use of vaginal mesh, after the BBC revealed that more than 800 women are suing the NHS or device manufacturers after experiencing complications.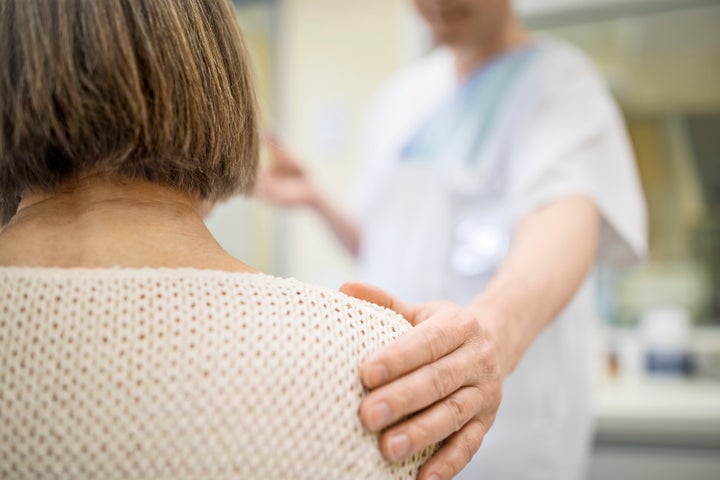 The Guardian reports that between 2006 and 2016, just over 75,000 women received the most common type of vaginal mesh implant, called a trans-vaginal tape (TVT).
In the same 10-year period, almost 5,000 procedures were carried out to remove TVT implants.
What's more, between 2006 and 2016 the NHS carried out more than 1,000 removals of the second most common type of vaginal mesh implant, called transobturator tape (TVT-O).
Sohier Elneil, a consultant urogynaecological surgeon at University College Hospital in London, told the paper the removal rate was a "scandal", while Mark Slack, a consultant gynaecologist at Addenbrooke's Hospital, Cambridge, said he was "absolutely shocked" by the figures.
"It is purely a synthetic net material used in the placement of a weak connective tissue or ligaments, suspending the vagina and uterus," he told HuffPost UK.
He added that complications are usually caused by the mesh eroding and breaking down into smaller pieces, which potentially move.
"The vagina area being stitched up is a weak point of the vaginal wall," he said. "The mesh can find its own way through this weak point and protrude outside the vagina."
Many women who've experienced this have spoken out about experiencing intense pain, sometimes leaving them unable to walk, work or have sex.
Cat Lee, a 43-year-old former Huddersfield University lecturer now uses a mobility scooter after experiencing complications with her implant.
"Ten years on, I'm convinced that the so-called 'simple' vaginal mesh surgery has ruined my life."
However, Dr Ismail supports the overall use of the treatment and said the majority of women should not be worried "at all" or consider having implants removed.
"If they are asymptomatic, just leave them [the mesh implants] alone," he told HuffPost UK. "If they are happy and are continent and are able to control urination, they've had a successful operation and that is fantastic news - 90% of people are like that.
"Anyone reading the news might think 90% of the women have the complication and 10% get better, but it's the other way around."
"We are committed to helping address the serious concerns raised by some patients. We have undertaken work to assess the findings of studies undertaken by the clinical community over many years, as well as considering the feedback from all sources in that time."
The spokesperson added that MHRA continues to see "that evidence supports the use of these devices in the UK for treatment of the distressing conditions of incontinence and organ prolapse in appropriate circumstances".
"This is supported by the greater proportion of the clinical community and patients," they said.
"In common with other medical device regulators worldwide, none of whom have removed these devices from the market, we are not aware of a robust body of evidence which would lead to the conclusion these devices are unsafe if used as intended.