Croissants are full of buttery goodness, making them totally unsuitable for vegans – until now. Times are (finally) changing, with this month marking the launch of not one, but two new vegan-friendly croissants on the high street.
For the 350,000 people who have pledged to take part in Veganuary and the 600,000 (and counting) full-time vegans in the UK, Pret and Caffè Nero have both launched vegan croissants with fruity jam centres to kickstart your morning with flaky bakey goodness.
But can they live up to the original buttery treat? Hungry HuffPosters rolled up their sleeves, put their best tastebuds forward and shared their verdicts.
Caffè Nero, Vegan Raspberry Croissant, £1.95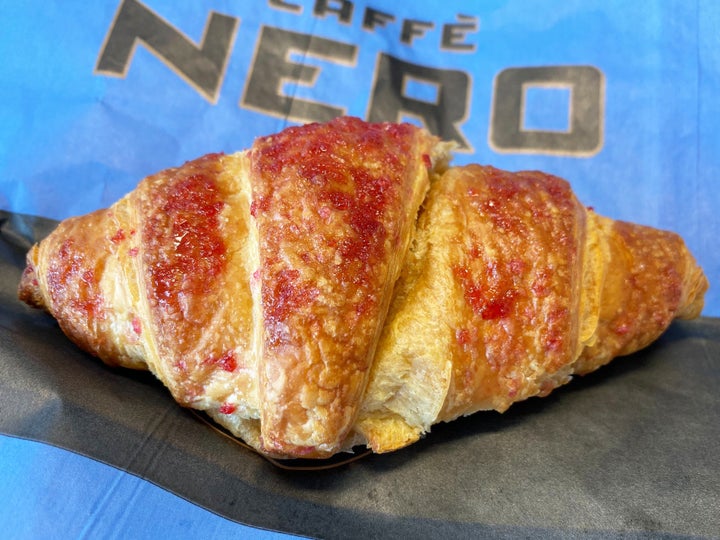 Baked freshly in store, Caffè Nero's new vegan croissant is made in the same way as its fine butter croissant, with the same proofing and resting times. The butter has been replaced by a combination of natural oils, and the pastry is filled with a tangy raspberry jam and finished with a raspberry sugar glaze. Available from 8 January 2020.
'Crumbly and delicious. Would 10/10 buy again'
Amy Packham, assistant Life editor
"If you get this, have it warm. You'll want to scoff the whole thing. I was so distracted by the delicious berry topping and filling I completely forgot this was a vegan croissant. It doesn't taste different to me – in fact, it's one of the few vegan foods I've tried where I can taste no difference at all. This could be because the raspberry overpowers the flavour of the croissant a little, but that doesn't matter to me. It's crumbly and delicious – would 10/10 buy again."
'Surpasses expectations'
Louise Whitbread, Finds reporter
"It's warm, soft and I want to say buttery but as it's vegan, there's no dairy to be found. In my experience as a non-vegan, vegan alternatives of my favourite foods often fall short, but this has surpassed my expectations. It doesn't taste different, the flaky texture is the same, and it looks exactly like my croissant from Pret. Eating it warm was like a sweet treat amidst the January blues."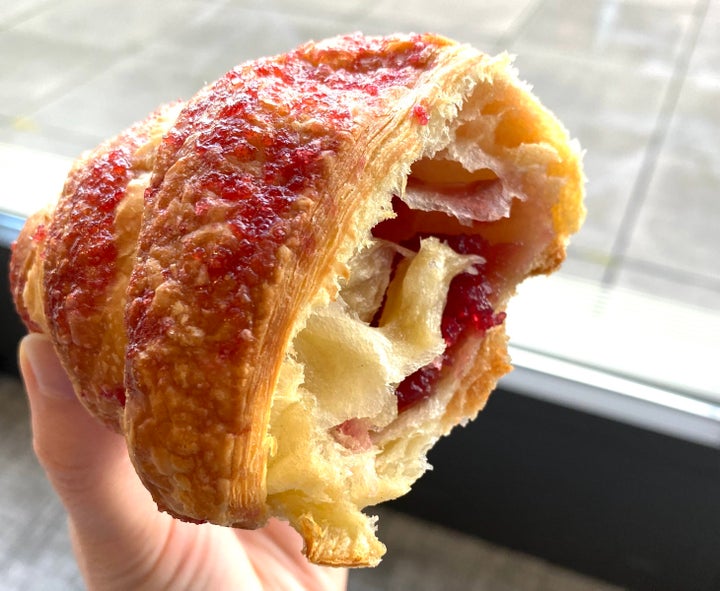 'Pretty close in both texture and taste'
Ramzy Alwakeel, News editor
"Even if this had been horrible, I'd have been excited by the prospect of a croissant vegans like me can actually eat. As it happens, it isn't horrible at all – not quite as rich as the butter-based equivalent but the creamy pastry inside came pretty close in both texture and taste. It isn't too greasy to handle, either (although the raspberry sugar glaze does make it look slightly like it had been salvaged from a crime scene), and it has a lightness sometimes absent from dairy-free baking. The jam inside tasted more like a doughnut filling than something that belongs in a croissant, so I'd probably have gone for a plain option had it existed, but a plant-based croissant is a Good Thing.
'I couldn't eat a whole one'
Natasha Hinde, Life reporter
"I have to admit I was pretty sceptical that a vegan croissant could exist that didn't resemble plaster of Paris in taste and texture, so I'm delighted to be proved wrong. Served warm, this croissant is exactly what Veganuary ordered – the pastry is light and crispy, but softer near the centre, where there's a juicy, intensely rich raspberry filling. The top of the croissant is coated with a raspberry sugar glaze. The only downside for me is that it's very sweet – I couldn't eat a whole one, especially not for breakfast. But on the whole it's a delicious pastry and I don't miss the butter all."
Pret, Vegan

Very Berry Croissant

, £1.70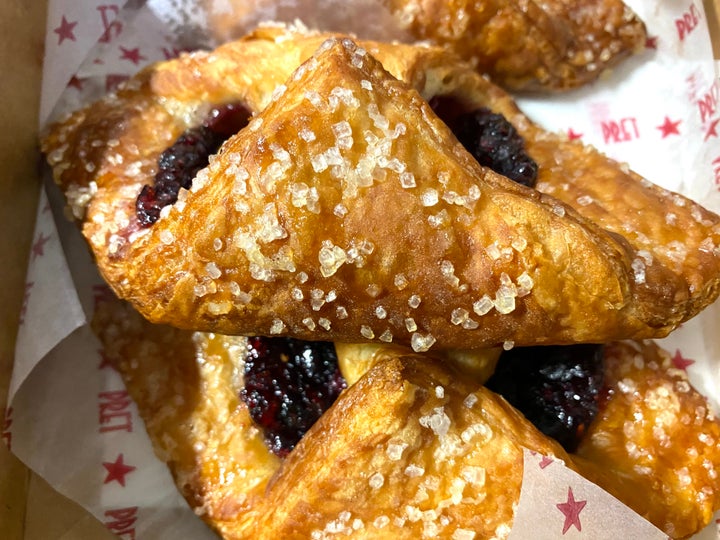 The Very Berry Croissant uses margarine and sunflower oil to re-create the light texture of a traditional croissant. The pastry is filled with a sweet berry compote and finished with a sprinkling of sugar. It's on sale at Pret and Veggie Pret shops nationwide from 7 January.
'It's not a croissant, it's a pastry'
Amy Packham, assistant Life editor
"I LOVE the crunch on this one, it's like it's been cooked for a smidgen too long. Glazed with lots of sugar, it tastes great but is probably horrendously bad for us. The filling is delicious too. My main gripe? It's not a croissant, it's a pastry. It doesn't even look like a croissant – unlike Nero's. That being said, I'd still buy it (if I wanted a sugar rush)."
'Delicious, moreish and a sweet treat'
Louise Whitbread, Finds reporter
"This is a top tier dessert masquerading as a croissant. Laden with sugar and blackberry/raspberry jam, it's delicious, moreish and a sweet treat. Flaky and warm, I will eat this everyday gladly. For a breakfast dish, it's a bit much, but for a mid-afternoon snack or dessert to follow dinner, it's a winner."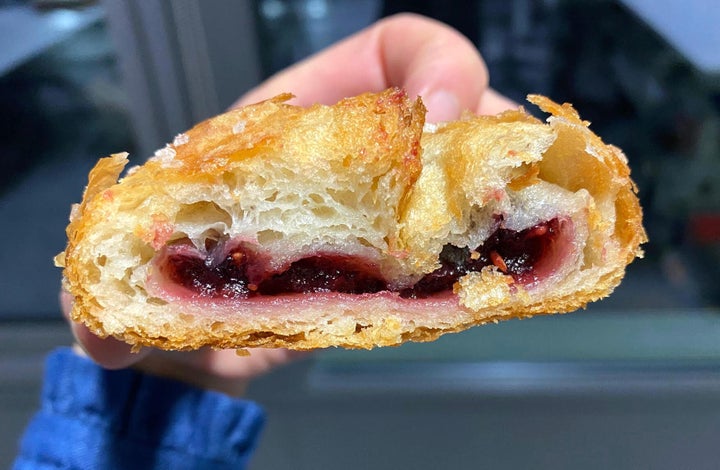 'The right texture once you get into it'
Ramzy Alwakeel, News editor
"The Pret 'croissant' is definitely less deserving of the term than the Caffè Nero one – it looks more like a Danish, or like jam spread on a piece of toast with the corners folded in and the whole thing inexplicably baked. The primary taste is fruit. But it does have the right texture once you get into it, with thin layers of light pastry and a buttery flavour just about discernable through the raspberry. It's a nice treat, and it's FUN, and it's really great to have vegan options in the bakery section instead of just sad overpriced squares of dark chocolate. A croissant it is not, but I'm ok with that if you are."
'Crispier and more densely packed'
Natasha Hinde, Life reporter
"I really enjoyed this but wouldn't recommend it for breakfast – unless you want to spend the morning coming down from the mother of all sugar crashes. The pastry wrap (I'm not sure I'd call it a croissant) is filled with a delicious, sweet jam that has a bit of a tang to it – thanks to the blackcurrant. The pastry is a lot crispier and more densely packed than Caffè Nero's but delicious in its own right. It does feel slightly greasier though. Again, I manage to eat half of it before I have to grab myself a glass of water and have a break from the sweetness. I do wonder why both of the vegan croissants were so packed with sugar – is it masking the pastry's lack of flavour? Would it be too dry without the jam filling? Who knows."