If you're choosing to go vegan this January, you're probably on the lookout for interesting lunch options. And luckily, the high street has plenty to offer you.
More than a quarter of a million people signed up to the Veganuary pledge in 2019, and it's estimated the number who took part was probably even higher. Considering vegan diets are on the up, it's likely those embracing the plant-based pledge this January will be record-breaking.
The HuffPost UK newsroom ventured out to the high street on our own lunch hour to see what we could find and how good it tasted. Here are our verdicts.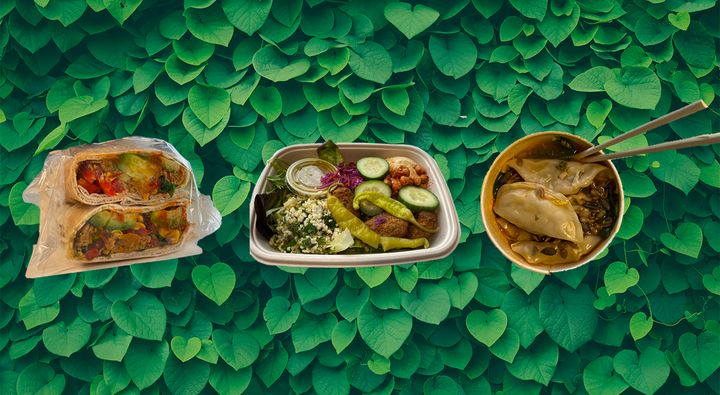 Starbucks Vegan All Day Breakfast Burrito (£3.70)
In brief: "I wasn't overwhelmed, or underwhelmed, just plain old whelmed."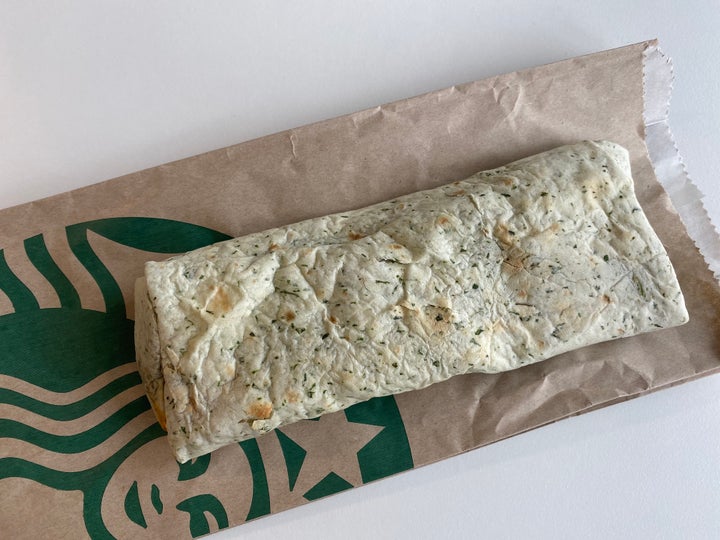 "I was impressed by the amount of vegan choices at Starbucks, even if the vegan mac and 'cheese' I'd longed for wasn't in stock. In its absence, I opted for the Vegan All Day Breakfast Burrito, which contains smoked scrambled tofu, tomato, chipotle beans, spinach and mushrooms. The tortilla itself looked a little lacklustre and was a tad bland, as was the tofu, which could have done with some extra seasoning. Still, the chipotle beans and mushrooms salvage the review, giving the warmed burrito a comforting, slightly smokey overall taste. I wasn't overwhelmed, or underwhelmed, just plain old "whelmed" by this lunch. For the price of £3.70, I probably won't buy again." Rachel Moss, Life Reporter
McDonalds Veggie Dippers Meal (£4.89)
In brief: "I ate two dippers and gave up."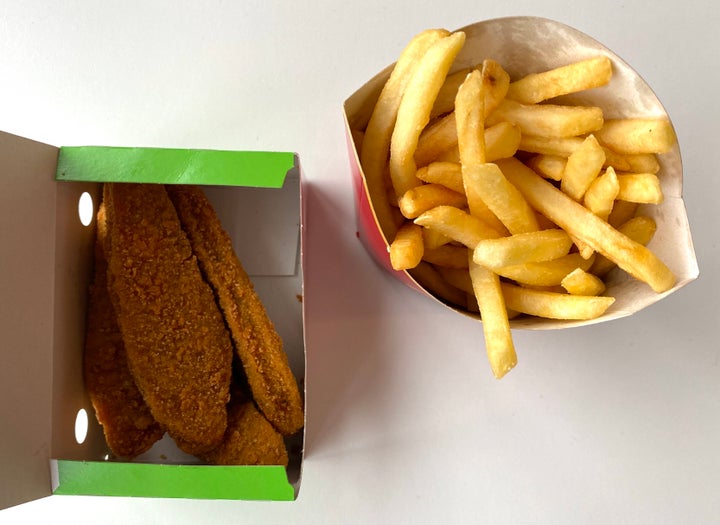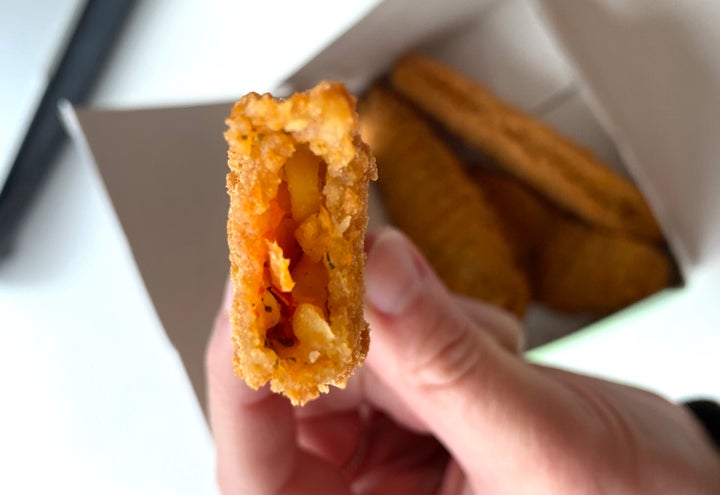 "The first hurdle I faced at was at the order screens, when I had to deliberate over which parts of a McDonald's meal are actually vegan (are the fries?!) and which aren't. I got the Vegetarian Society, vegan-approved veggie dippers (four in a box), medium fries, a bottle of water and ketchup. Alas, when I opened the bag of supposed vegan joy, I swiftly realised they hadn't given me any sauce. And the dippers looked bone dry. Once you bite into them, there's a bit more moisture. I tasted pepper, and some form of herb, but there's not much else to write home about. Overall, they were very meh. I ate two dippers and gave up. The fries were the saving grace of the meal." Natasha Hinde, Life Reporter
Leon Brazilian Black Bean Box (£3.95) and Crushed Pea Salad (£1.95)
In brief: "It looks small, but my goodness it's filling."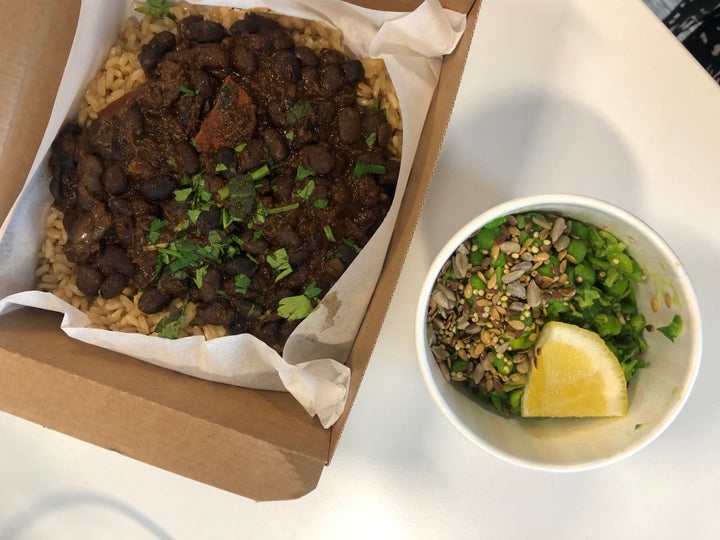 "This box looks small, but my goodness it's filling. That's because, as delicious as it is, it's 70% brown rice. I happen to love brown rice, so I'm not complaining, but if you're not a fan of carb-loading on your office lunch break, this may not be for you. I ordered a very tasty crushed pea salad on the side, just to add some greenery and because my major criticism of this dish is that it could do with a bit of variety. The beans are really good though, and it's proper comfort food for those grey, cold January days when you really fancy something hot and a salad or a sandwich just won't cut it. I'd definitely buy this again, especially if I wanted something hearty and filling before a night in the pub (assuming that if you're doing Veganuary, you aren't also attempting a Dry January)." Jess Brammar, Executive Editor
Costa Chilli Bean and Rice Meal Pot (£4.05)
In brief: "It has a great smokey taste."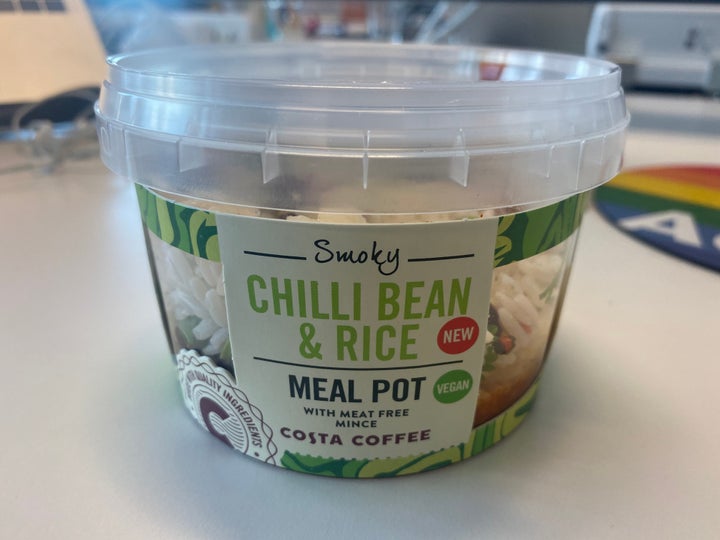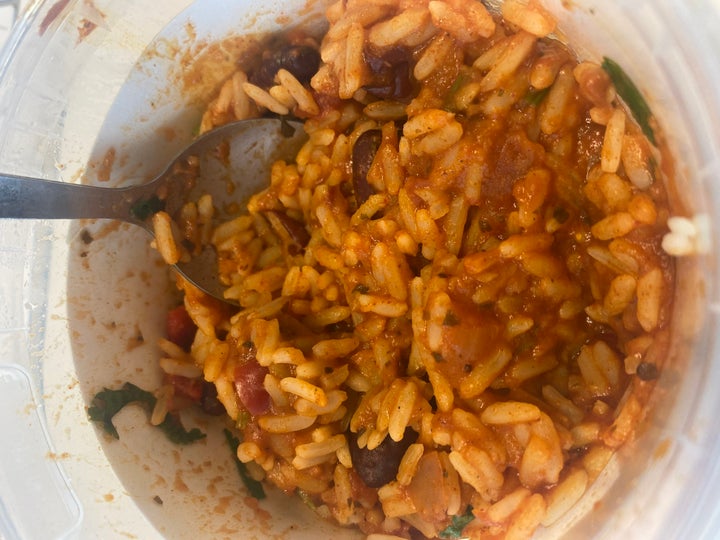 "I didn't know what vegan options to expect when I went to a local Costa Pronto on my lunch break, but it definitely wasn't a chilli pot. I was told the vegan ham and cheese toastie had sold out (sob!) so this was my only option. The pot is a nice alternative to the classic vegetable falafel wraps so often sold for vegans, though. I heated it up in the microwave back at the office for just over a minute and mixed it in. It has a great smokey, slightly spicy taste, and I had one of those moments where I thought: 'I'm actually shocked this is vegan.' But I only noticed beans and vegetables in the pot, no 'meat-free mince' as the packaging suggests. It was also a bit small – I'd want more next time." Amy Packham, Assistant Life Editor
M&S Roasted Vegetable and Avocado Sandwich (£2.80) and Beetroot, Squash and Hazelnut Grain Salad (£3.90)
Rating: 4/5
In brief: "Nice, but a bit insubstantial."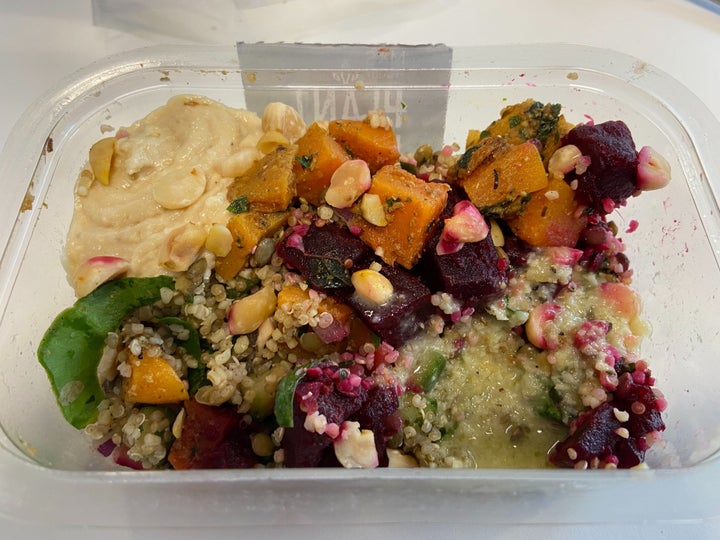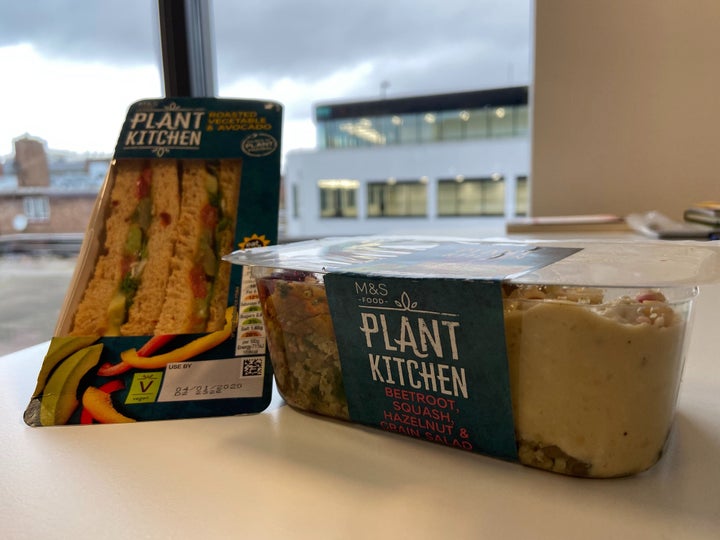 "I've been vegan since 2010, when textured vegetable protein was a special treat, so the fact you can buy a fully plant-based sandwich from M&S is still a welcome novelty. The roasted veg and avocado sandwich on weightless orange bread is nice enough, but it's also a bit insubstantial – the entire thing totals 311kcal, for which reason I supplement it with a beetroot, squash, hazelnut and grain salad. It contains lentils and what appears to be houmous but actually turns out to be a cashew dip that merely looks and tastes like houmous. Vegan food can often be too light – I think it's assumed we're all trying to lose weight – and a baguette, a pot of houmous, a tin of soup and a banana would have cost less than half what this did. But it was nice." Ramzy Alwakeel, News Editor
Boots Vegan Southern Fried Wrap (£3)
In brief: "What it lacked in looks, it more than made up for in taste."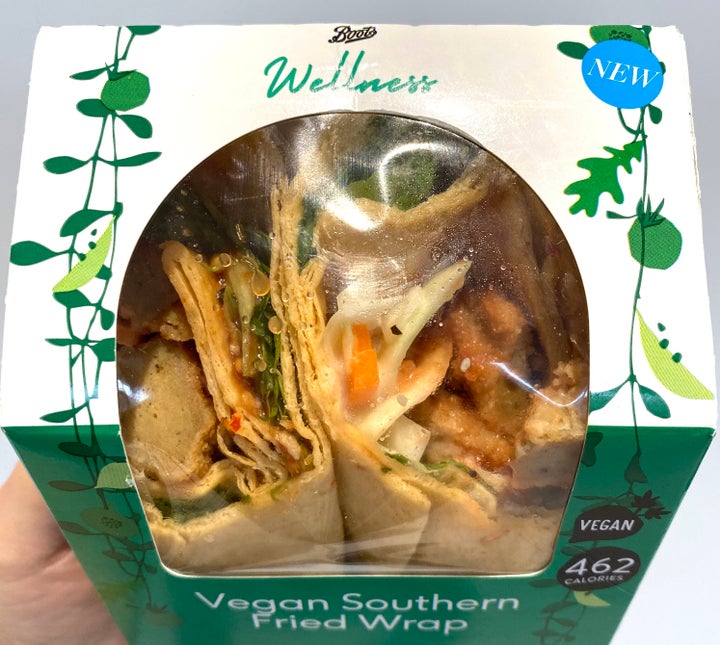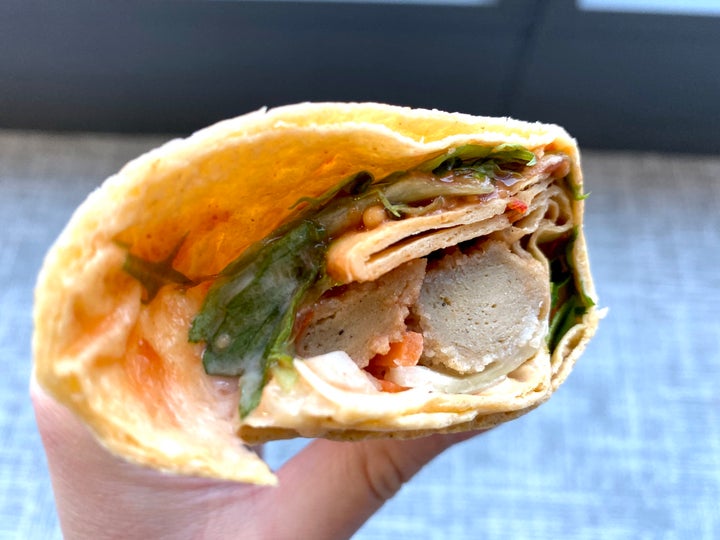 "This looked the best of the bunch when I popped into Boots (the alternative was a "no-cheese and chutney sandwich", which left little to be desired). I found myself side-eyeing my colleagues' more colourful lunches, but what mine lacked in looks, it more than made up for in taste. There was a nice mix of crunch from the veg, while the fried chicken substitute, made from vegan wheat and veg, was flavoursome. The tangy salsa and vegan mayo ensured it wasn't dry in the slightest. And I was also pleasantly surprised with the texture and taste of the wrap. This lunch option doesn't feel particularly healthy, which you might expect from a vegan option, however it's not as terrible as you'd think for a 'southern fried' option, scoring amber for fat, saturates and salt, and green for sugars. If you're going to buy it, get it as part of a Boots Meal Deal, because I was left wanting more." Natasha Hinde, Life Reporter
Eat Houmous and Falafel Mezze (£4.75)
In brief: "I loved it, I wanted to eat it all over again."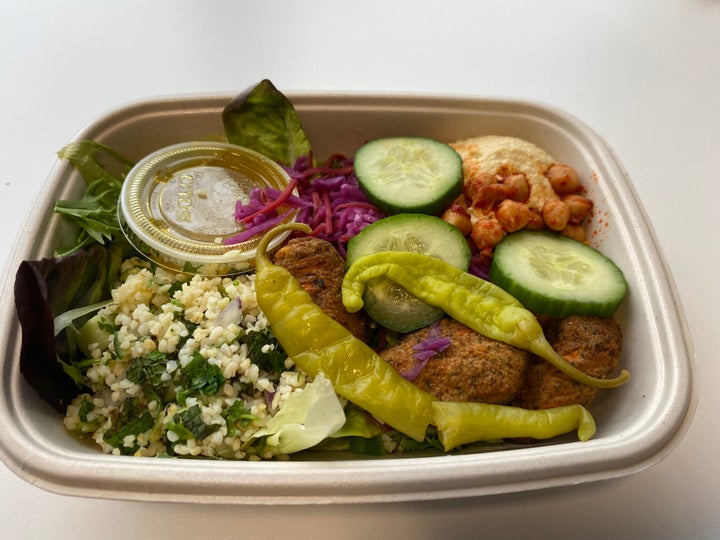 "There were a few options in Eat, one being a wrap and another a 'protein pot', but I opted for this mezze because I was drawn to the huge dollop of houmous and generous portion size. It was a packed box of falafel, tabbouleh, pickled veg, cucumber and salad. The sweet dressing from the pot added a delicious sweet taste to the dish, and I was pleased the three chunky pieces of falafel were moist, not dry, as can often be the case. I loved the lunch, and everything went really well together – but I was left wanting more. I could've easily eaten another portion, as it wasn't as filling as I'd hoped. Instead, I opted for a few biscuits and that seemed to do the trick." Amy Packham, Assistant Life Editor
Pret Vegan Falafel, Avocado and Chipotle Flatbread (£3.99)
In brief: "A scrummy lunch."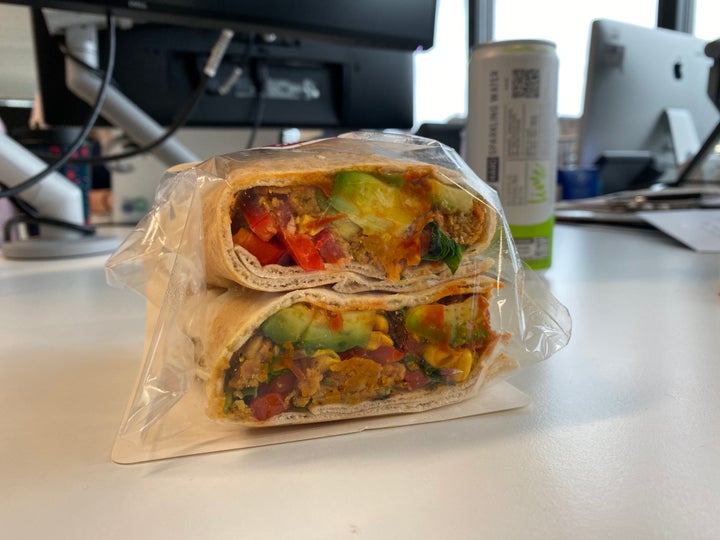 "Finding a vegan lunch at Pret was surprisingly difficult – the branch closest to our office didn't have a single option. Still, if you work in central London, you'll find a Pret approximately every 400 metres or so. When I found one, I went for a flatbread containing sweet potato falafel and avocado, topped with pickled onions, red peppers and charred corn salsa. It was worth the wait. The wrap looked gloriously colourful, the pepper and onions offered great contrasting crunch to the perfectly ripe avo and the salsa ensured the falafel wasn't at all dry. My only criticism is with the chipotle ketchup distribution – it was deliciously smokey, but there wasn't enough of it. Overall though, it was a scrummy lunch and while not the cheapest, I'd happily buy it again for a treat." Rachel Moss, Life Reporter
Itsu Veggie Gyoza Udon (£6.49)
In brief: "It's carb-heavy with dumplings and noodles."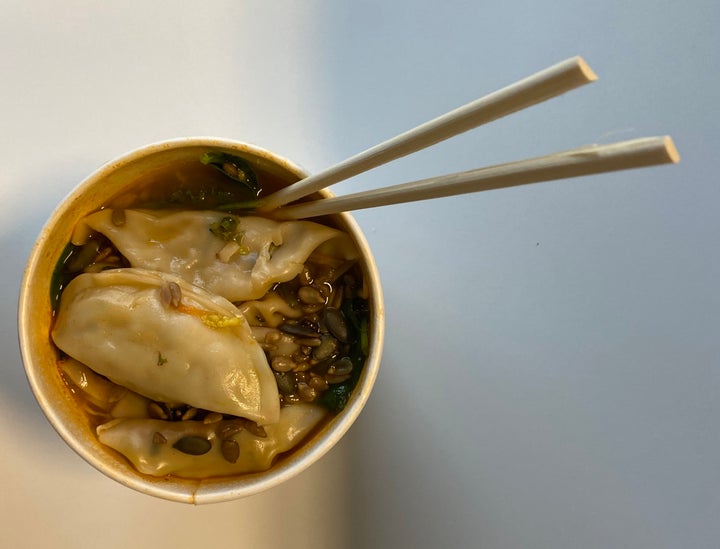 "Itsu's vegan dishes include a miso soup, 'wellbeing warrior' bento box and hot i'Thai udon noodles. I went for the veggie gyoza udon, a filling broth with steamed vegan gyoza, noodles and seasonal greens, garnished with plenty of nuts. At £6.49 it's an affordable lunch and pretty hefty for what you get. Even though it's carb-heavy with dumplings and noodles, it was a much-needed departure from my recent Christmas diet that had consisted almost solely of gin and cheese. While it started out tasty enough, about half-way through I found myself regretting not adding soy sauce and chilli sauces as it did start to feel a little bland. Next time I'll be adding those for sure." Sara Nelson, Senior Editor
Waitrose Vegan Sushi Pot and Edamame Beans (£5.28)
In brief: "It would've been bland if I hadn't smothered it in soy sauce."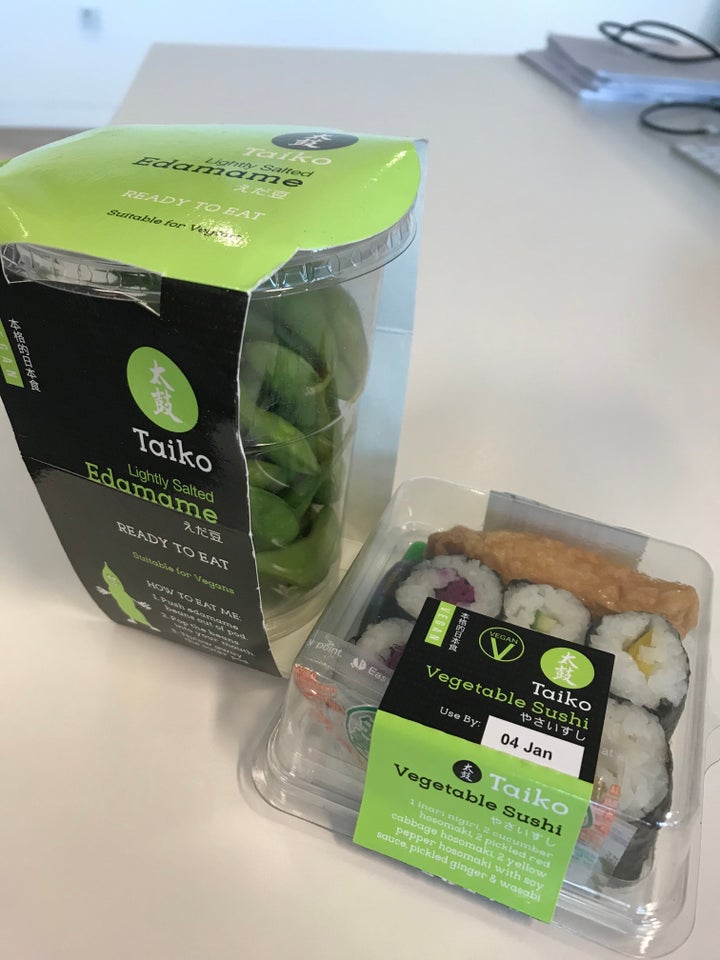 "I'm not usually a fan of vegetable-based sushi, but I wanted to see what was on offer for vegans at Waitrose. The answer was... not much. Other than a Vegan Christmas Dinner sandwich and one other vegan sushi bento box, the pickings were slim. I put together my own version of a meal deal with a small box of vegetable sushi (two cucumber hosomaki, two pickled red cabbage hosomaki, two yellow pepper hosomaki and an inari nigiri) and a pot of lightly-salted edamame beans. The sushi wasn't too dry, but would've been bland if I hadn't smothered it in soy sauce, wasabi and pickled ginger. The edamame beans were just right – and are a great snack – but it was a small lunch, and cost a lot for the two items. You'd need one more portion of something tasty to bulk it up to keep you full all day." Victoria Richards, Parents Reporter
Caffe Nero Vegan 'Meatball' Panini (£4.45)
In brief: "These meatballs made for quite the mouthful."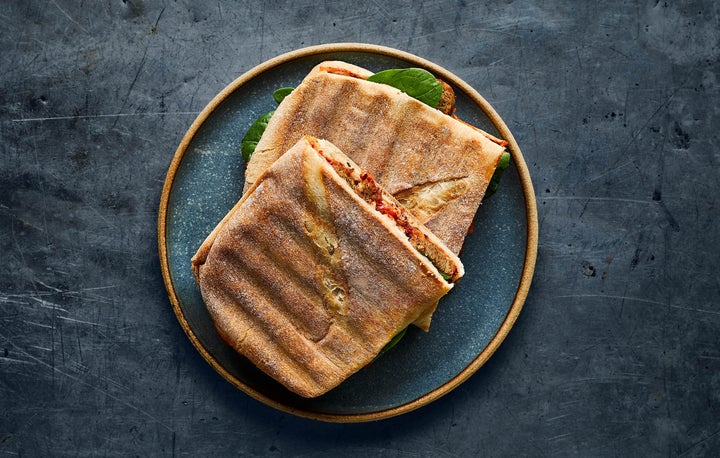 "I'm a meat-lover who doesn't eat much meat anymore – but OD-ed on turkey and all the trimmings over the Christmas period and could do with a bit of a palate cleanser. So a nice, light vegan lunch appealed on my first day back in the office. This meatball panini was not that, though, nor is it meant to be. It's actually my issue with a lot of meat replacement products – they taste carbier than they do proteinous. Nestling inside Nero's stonebaked sourdough – which is tasty for a high street brand – these meatballs made for quite the mouthful. The tomato ragu sauce was as rich as promised. the mayo tangy, and the spinach leaves impressively unsoggy. I couldn't really make out the vegan 'cheese', but was already full enough. Too heavy for me, but a good option if you crave a more substantial sandwich." Nancy Groves, Head of Life