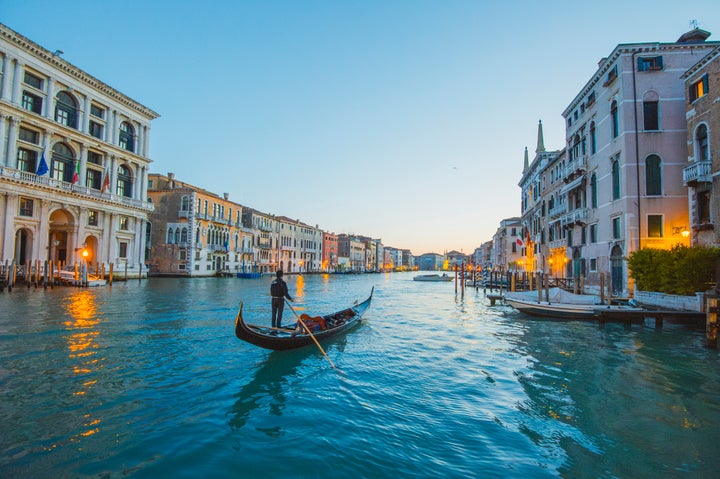 Venice just narrowly avoided being added to UNESCO's list of endangered world heritage areas, but three other sites joined the hefty index this year.
Here's what you need to know.
What is the list of endangered world heritage sites?
The UN's cultural agency, UNESCO – United Nations Educational, Scientific and Cultural Organisation – decides which areas are in danger each year.
The list is "designed to inform the international community of conditions which threaten the very characteristics" which makes up a World Heritage site.
UNESCO explains that sites can earn a place on the endangered list through armed conflict and war, earthquake and other natural disasters, pollution and unchecked tourism development.
Putting an area on the endangered list is meant to encourage "corrective action" and "marshal international support".
There are 1,157 world heritage sites across 167 countries. As of this year, 54 of these are in danger, including sites in the US, Austria and Mexico.
So why wasn't Venice added?
The famous Italian city, divided by canals rather than roads, just avoided being added to the list of world heritage areas in danger this year.
A UNESCO committee said in a statement on Thursday: "The World Heritage Committee ... has made the decision not to inscribe Venice and its Lagoon on the world heritage list in danger."
But, it noted that more work to be done for the "proper conservation of the site" amid threats from climate change, development projects, and mass tourism in the popular holiday destination.
In response, Italian culture minister Gennaro Sangiuliano said putting Venice on the list would have been an "undue move" not backed up by facts.
He suggested UNESCO had reviewed his government's implementation of an anti-flooding system and a new entry fee for tourists for 2024 positively.
Venice has been threatened by floods and overwhelming tourism for years now – a single day during the 2019 Carnival saw 193,000 people squeeze into the historic centre.
Which sites were added this year?
Lebanon: Rachid Karami International Fair-Tripoli
Ukraine: The Historic Centre of Odesa
Yemen: Landmarks of the Ancient Kingdom of Saba, Marib
What sites were already on the list?
Afghanistan: Cultural Landscape and Archaeological Remains of the Bamiyan Valley (2003), Minaret and Archaeological Remains of Jam (2002)
Austria: Historic Centre of Vienna (2017)
Bolivia: City of Potosí (2014)
Central African Republic: Manovo-Gounda St Floris National Park (1997)
Côte d'Ivoire: Mount Nimba Strict Nature Reserve (1992)
Democratic Republic of the Congo: Garamba National Park (1996), Kahuzi-Biega National Park (1997), Okapi Wildlife Reserve (1997), Virunga National Park (1994)
Guinea: Mount Nimba Strict Nature Reserve (1992)
Honduras: Río Plátano Biosphere Reserve (2011)
Indonesia: Tropical Rainforest Heritage of Sumatra (2011)
Iraq: Ashur (Qal'at Sherqat) (2003), Hatra (2015), Samarra Archaeological City (2007)
Jerusalem (Site proposed by Jordan): Old City of Jerusalem and its Walls (1982)
Kenya: Lake Turkana National Parks (2018)
Libya: Archaeological Site of Cyrene (2016), Archaeological Site of Leptis Magna (2016), Archaeological Site of Sabratha (2016), Old Town of Ghadamès (2016), Rock-Art Sites of Tadrart Acacus (2016)
Madagascar: Rainforests of the Atsinanana (2010)
Mali: Old Towns of Djenné (2016), Timbuktu (2012), Tomb of Askia (2012)
Mexico: Islands and Protected Areas of the Gulf of California (2019)
Micronesia (Federated States of): Nan Madol: Ceremonial Centre of Eastern Micronesia (2016)
Niger: Air and Ténéré Natural Reserves (1992)
Panama: Fortifications on the Caribbean Side of Panama: Portobelo-San Lorenzo (2012)
Peru: Chan Chan Archaeological Zone (1986)
Romania: Roșia Montană Mining Landscape (2021)
Senegal: Niokolo-Koba National Park (2007)
Serbia: Medieval Monuments in Kosovo (2006)
Solomon Islands: East Rennell (2013)
State of Palestine: Hebron/Al-Khalil Old Town (2017), Palestine: Land of Olives and Vines – Cultural Landscape of Southern Jerusalem, Battir (2014)
Syrian Arab Republic: Ancient City of Aleppo (2013), Ancient City of Bosra (2013), Ancient City of Damascus (2013), Ancient Villages of Northern Syria (2013), Crac des Chevaliers and Qal'at Salah El-Din (2013), Site of Palmyra (2013)
United Republic of Tanzania: Selous Game Reserve (2014)
United States of America: Everglades National Park (2010)
Uzbekistan: Historic Centre of Shakhrisyabz (2016)
Venezuela (Bolivarian Republic of): Coro and its Port (2005)
Yemen: Historic Town of Zabid (2000), Landmarks of the Ancient Kingdom of Saba, Marib (2023), Old City of Sana'a (2015), Old Walled City of Shibam (2015)