Olympic cyclist-turned-jockey, Victoria Pendleton, meets Denise Lewis, ex-Olympic heptathlete and TV broadcaster, in the fourth in our series of InSync stories, produced in conjunction with Activia.
The series brings together inspirational women who share their stories of how they balance the demands of day-to-day life with their successful careers. We also discover how they step away and recognise their InSync moments – when they feel confident, in control, and like they're reaching their full potential.
Former Olympic gold medal cyclist Victoria Pendleton, CBE, loves a challenge. After her retirement from cycling following her gold-winning triumph at the London Olympics, Victoria, 36, decided to swap saddles and take up horse riding, having never ridden a horse before. She aimed to race at Cheltenham and in March this year, she achieved her ambition, silencing the cynics. She came fifth in the 2016 Foxhunter Chase, the amateur riders' Gold Cup with a daunting 22 fences over three and a quarter miles. At the time she described the result as "probably the greatest achievement of my life".
Denise Lewis, OBE, also knows what it takes to compete at Olympic standard after winning gold in the heptathlon at the Sydney Olympics - and has forged a successful career after athletic success. Now a broadcaster for the BBC, most recently for the 2016 Rio Olympics, she combines work with bringing up her three children - her sons Ryan, 10, and Kane, seven, with her husband, property developer Steve O'Connor, and her daughter Lauryn, 14, from a previous relationship.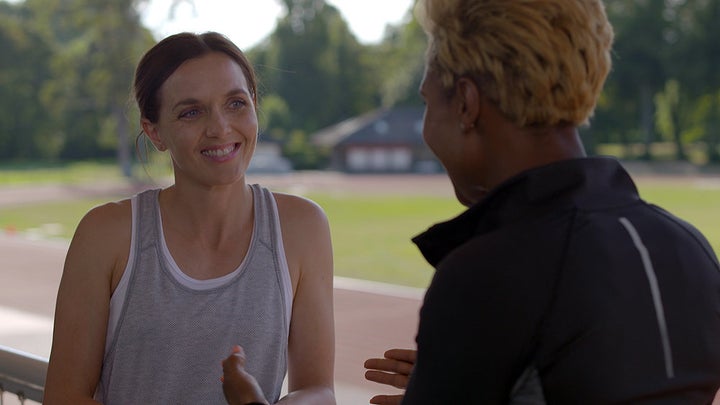 Celebrating strength
Both women agree that when you find that perfect life balance it's important to celebrate the feelings of strength and happiness. Denise talks about her love of sport: "For me, it's about the opportunity to get InSync with yourself, to feel energised."
Victoria says: "The times when I feel most InSync are when everything is organised: I know that I'm eating healthy food, that I'm getting enough rest, that I'm exercising regularly, then anything seems possible. I feel very capable and ready to take on the world."
Denise admits it's a balancing act between family life and her own personal goals. She says: "Everything revolves around my family now, and within that I understand that it's important to have that me-time and that my career pathway is still open and I've still got things I want to achieve.
"I think sometimes, as women, we don't give ourselves a break and so InSync for me is when there's harmony."
Achieving harmony
Victoria admits that she recognises when her life doesn't feel InSync. "Everything seems more of a challenge. I get stressed out, I get very snappy, my energy levels are always very low - and I have to recognise it very quickly, and pull myself out."
Denise has some wise words on how she gets back InSync: "Sometimes it's about the daily goals, just feeling that you've achieved something, no matter how small."
Ask for help
Denise says recognising when that feeling of being out of sync is creeping in "is so important, because then you can start to manage it.
"You have to open yourself up, and say, 'I need your help.' Some people aren't very good at that, so they struggle on and never reach their potential."
Victoria agrees: "I've always been someone who's eager to ask for help. I think I've never truly thought that I've I had all that's required or thought that there wasn't something more I could learn from somebody."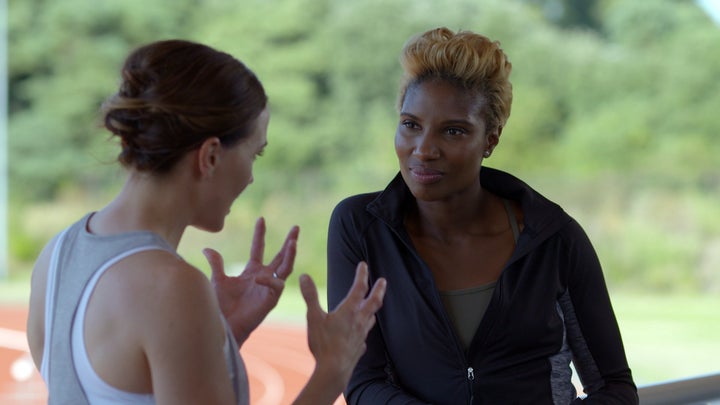 Break it down into daily goals
Hilda Burke, psychotherapist and couples counsellor, says: "We all have big headline goals, and it can be helpful to break those down into daily and weekly goals in order to achieve a long-term objective that might otherwise seem daunting.
"But I would sound a note of caution; it's important your goals are linked to something meaningful to you, that you're motivated to achieve a goal because it brings you happiness, rather than something you feel you 'should' do that feels burdensome. It's important when you set goals, to be realistic about what really motivates you."
The InSync Stories video series, produced in conjunction with Activia, sees inspiring women reflect on their lives and the ways they stay InSync - balancing career success, family life and finding personal fulfillment.
The series is hosted by prolific classical-crossover singer and songwriter Katherine Jenkins, OBE, and Victoria Pendleton, women whose work and lives exemplify what it means to be InSync. Activia believes that women can achieve their best when they feel InSync - with a sense of harmony, order and control. For more InSync inspiration, go to danoneactivia.co.uk.
Related