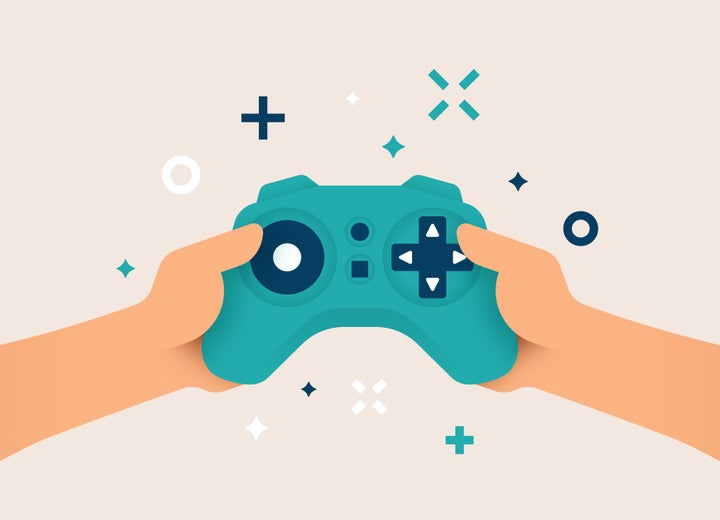 You're reading How I Cope, a series sharing self-care tips as we all adjust to the coronavirus pandemic.
When you think about it, you can achieve so much from your sofa. I, for one, have conquered many realms. I have coached teams to dozens of Premier League trophies. I have beat back countless ghouls, and raided innumerable tombs.
Games have always provided me with an escape from an unsure world. From watching my brother play Fifa '99 on our first ever PlayStation to trawling through modern epic tales like Horizon Zero Dawn as an adult, the medium has always been there for me. It's grown as both an industry and an art form as I've grown too.
Video games have taught me there's always more than one way to solve a problem. I truly believe games have helped my brain analytically and laterally, and to find solutions on short deadlines. They've taught me about the value of perseverance, the burden of duty, and the importance of sacrifice as much as any book. I've learned a lot about my moral compass – and even more about medieval history, thanks to Age of Empires. Fortunately, lots of Grand Theft Auto hasn't turned me into a carjacking, dope-slinging hit man.
Growing older, I've come to realise how much of my life I've constructed around avoiding self-doubt and the slightest chance of confrontation. And with that, I've come to appreciate just how much video games have aided my wellbeing – particularly in times of crisis. It's easy to feel powerless as the world spins and I know now I channel that frustration into kingdoms and realms that I can control – fictional careers as a football manager; new Madden campaigns where I can lead my Philadelphia Eagles to the five straight Super Bowl championships they deserve – worlds where I can be sure my actions matter.
That's possibly never been more important than now, as coronavirus means we face indefinite self-isolation and more time than ever with our thoughts – 'when you can't go outside, go inside', as those Facebook memes everyone's sharing these days say. So when the existential dread of our pandemic-ridden world feels too much, I've found myself opting to head even further into those fictional worlds to find relief, and feel in control again.
I've been replaying Red Dead Redemption II to synthesise some of those wholesome outdoors activities we can no longer engage in: picking some plants, exploring new terrain, robbing the occasional stagecoach for whiskey money, that kind of thing.
Apex Legends, a free online battle royale shooter – think 'Fortnite for grown-ups' – throws you into huge last-man-standing shootouts in teams of three, where leveraging your characters' strengths and backing up your teammates' weaknesses are the keys to victory, help me regain that 'in it together' feeling I get from work and team sports.
My wife's even turned to The Sims 4 to try and realise some dreams we can't right now: a home filled with pastels and that career change into becoming an astronaut I've been putting off for far too long.
We all feel powerless, a bit more cut loose from the things that normally tether us to each other. And that's okay. But it doesn't have to be that way. If you haven't already, I can wholeheartedly recommend picking up a PS4, a Nintendo Switch, even firing up something free on your smartphone, just to escape and move yourself into a hitherto unexplored galaxy. There are infinite options – no matter your interest or skill, there will be one out there for you in these trying times. Just as there have been so many for me.