The reaction to Sean Spicer's surprise cameo at the 69th annual Emmy Awards probably hasn't gone the way organisers had hoped.
The former White House press secretary made an unexpected appearance on the awards ceremony stage, wheeling a podium similar to the one used on Saturday Night Live to mock him.
Shocked celebrities in the audience broke out in laughter at his arrival but viewers at home did not see the funny side and took to social media to express their outrage.
Many accused organisers of trying to normalise a former official who repeatedly lied to the American public in his role.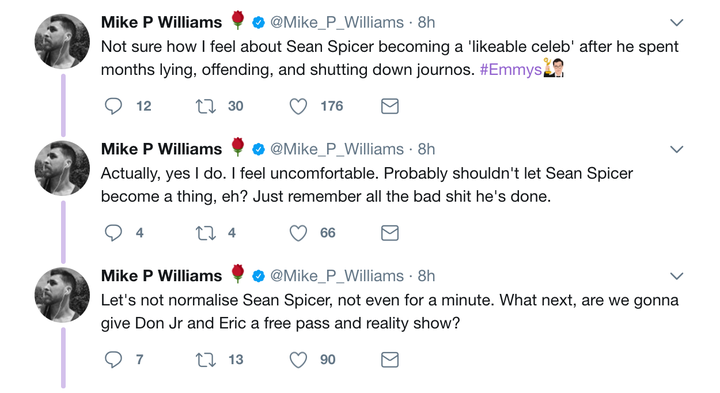 Barack Obama's former speech writer Jon Favreau was among those who commented on the rewards Spicer has enjoyed since his controversial time in the White House.
On his first day in the job, the press secretary told reporters that Donald Trump's inauguration featured the largest crowd in presidential inauguration history ― a claim quickly proved false by photographs.
And it was that same controversy Spicer made light of at the Emmys, joking to the crowd that "this will be the largest audience to witness an Emmys, period."
Others shamed stars for 'mobbing' Spicer as they posed for photographs with him, including James Cordon who was snapped planting a kiss on his cheek.