The Daily Mail has launched a scathing attack on Virgin Trains' "disgraceful" decision to drop the paper from its west coast route, accusing Richard Branson's company of an "attack on free speech".
Virgin Trains announced on Tuesday it will no longer stock copies of the paper saying the tabloid "is not compatible with the VT brand and our beliefs".
The decision takes effect immediately and was apparently taken after feedback from the company's own staff who were informed of the move last year.
A spokesperson for Virgin Trains told HuffPost UK: "We regularly review the products we have on sale for customers in the shop onboard our west coast trains and after listening to feedback from our people, we decided in November 2017 that we would no longer stock copies of the Daily Mail. When we stocked the Daily Mail onboard, we sold one copy for every four trains."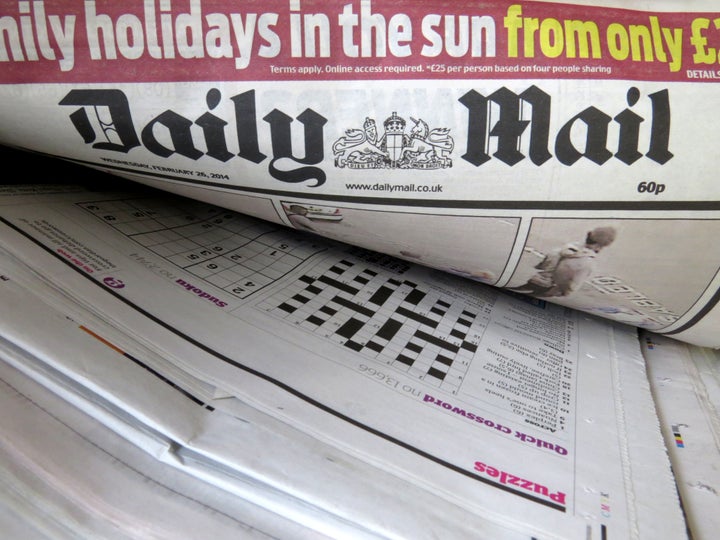 It reads: "Different viewpoints are often valuable, and it's certainly true that we choose to take our news from different sources depending on our view of the world.
"Thousands of people choose to read the Daily Mail every day. But they will no longer be reading it courtesy of VT [Virgin Trains]. There's been considerable concern raised by colleagues about the Mail's editorial position on issues such as immigration, LGBT rights, and unemployment.
"We've decided that this paper is not compatible with the VT brand and our beliefs. We won't be stocking the Daily Mail for sale or as a giveaway."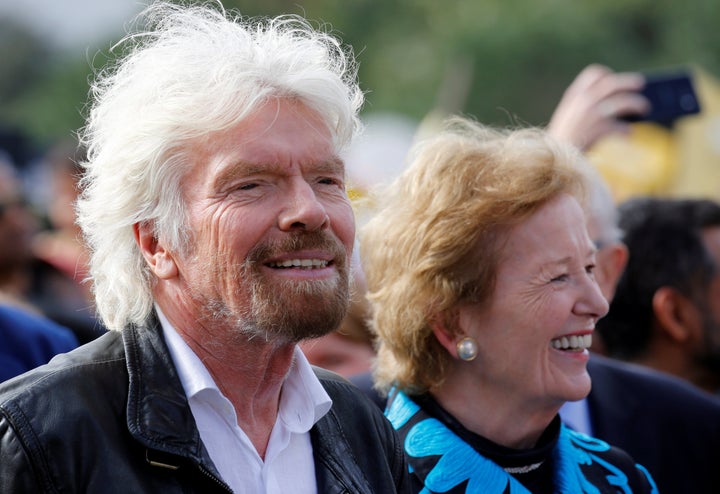 But the Daily Mail responded by accusing Virgin Trains of a "disgraceful" decision amounting to an "attack on free speech".
A spokesperson told HuffPost UK: "It is disgraceful that, at a time of massive customer dissatisfaction over ever-increasing rail fares, and after the taxpayer was forced to bail out Virgin's East Coast mainline franchise – a decision strongly criticised by the Mail - that Virgin Trains should now announce that for political reasons it is censoring the choice of newspapers it offers to passengers.
"It is equally rich that Virgin chose to launch this attack on free speech in the ASLEF trade union journal.
"For the record Virgin used to sell only 70 Daily Mails a day. They informed us last November that to save space, they were restricting sales to just three newspapers: the Mirror, FT and Times.
"They gave no other reason, but it may be no coincidence that all those titles, like Virgin owner Sir Richard Branson, are pro-Remain."
The Daily Mail has been highly critical of the controversy surrounding a Government bailout of Virgin Trains East Coast.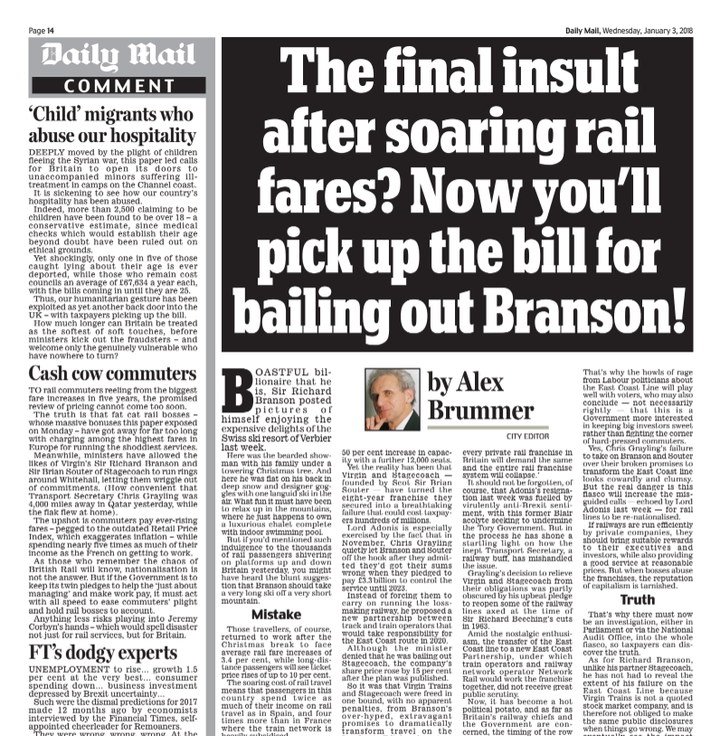 Sir Richard Branson's company, along with its partner, Stagecoach, won the contract for the east coast line in 2015 and was due to pay £3.3 billion over eight years, the majority in the final years of the deal.
But Transport Secretary, Chris Grayling, announced last year it would now end in 2020, saving the two companies millions of pounds.
Labour's Tom Watson has described the move as "grubby backroom deal" and Lord Adonis cited it as one of the reasons he resigned last week as Theresa May's infrastructure tsar.
Branson has insisted a delay to the "promise of a huge upgrade" of the line meant "a discussion with government had to take place" and that Virgin Trains and Stagecoach had lost £100 million running the route.
He added: "Banning things because you don't like them solves nothing."
However, the decision does not affect Virgin Trains East Coast which is a separate company.
The Daily Mail along with The Sun and the Daily Express have become the targets of a popular campaign led largely by the Stop Funding Hate group although it had not specifically focused on Virgin Trains.
Speaking of today's news, a spokesperson for the group told HuffPost UK: "With experts warning that the hate in our media has fuelled hate crime on our streets, there is growing public disquiet about the impact of hostile and discriminatory newspaper coverage.
"Although our focus is on advertising rather than bulk giveaways, Stop Funding Hate supporters share many of the concerns raised by Virgin Trains employees about the Daily Mail's coverage."
Stop Funding Hate has claimed a number of significant victories, most recently Paperchase who dropped a partnership with the Daily Mail in November last year.
The Stop Funding Hate campaign also has its detractors and has been accused of "harassing advertisers".
"It's a very, very sad day for an independent media."
She said that Paperchase had "blundered" into accepting the word of "a few Twitter trolls", adding: "I'm sure Paperchase really doesn't want to get involved in that kind of political and cultural war."
Stop Funding Hate insists it is "all about consumer choice and has never called for any publication to be removed from sale".