The centuries-old festival of Vaisakhi is one of the most important events in the Sikh calendar, celebrated by millions worldwide, but this year's festival – like other religious festivals including Passover and Easter before it – takes place in the dark shadow of the coronavirus crisis.
However, the British Sikh community is determined not to let Covid-19 stop them marking the occasion – even if many are now planning on celebrating a 'Virtual Vaisakhi'.
"Vaisakhi is taking place in exceptional circumstances," Amrick Singh Ubhi, director of the Nishkam Centre and chair of the Council of Sikh Gurudwaras in Birmingham, tells HuffPost UK.
"In these times of self-isolation and social distancing, new ways are having to replace the congregational connections that are so vital across many faiths."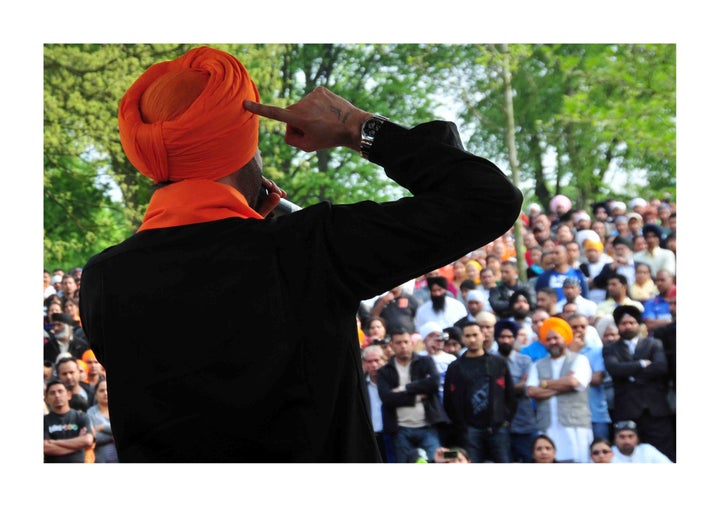 Vaisakhi commemorates the Amrit Ceremony of Initiation, which took place in 1699 on the first day of the month of Vaisakh. On this day the 10th Sikh guru, Sri Guru Gobind Singh Ji, created the order of the Khalsa, requesting his disciples to come forward to give their heads for the causes of justice and righteousness.
This marked the 'birth' of the Sikh nation; the Khalsa was tasked with the responsibility of defending those suffering at the hands of tyrants and dictators: to serve the downtrodden, to uplift the oppressed, and to see humanity as one common people, regardless of caste, religion, gender or colour.
Traditionally, Sikh communities celebrate the festival by visiting their local Gurudwaras, which are decorated especially for the occasion. There are also street processions, known as the Nagar Kirtan, led by the sacred Sikh scriptures. They often include displays of the Sikh martial-art 'gatka' and the serving of plentiful free food – known as 'langar'.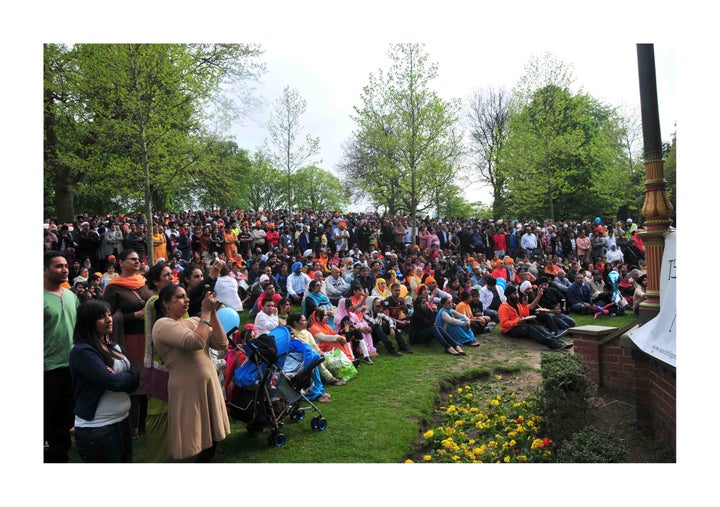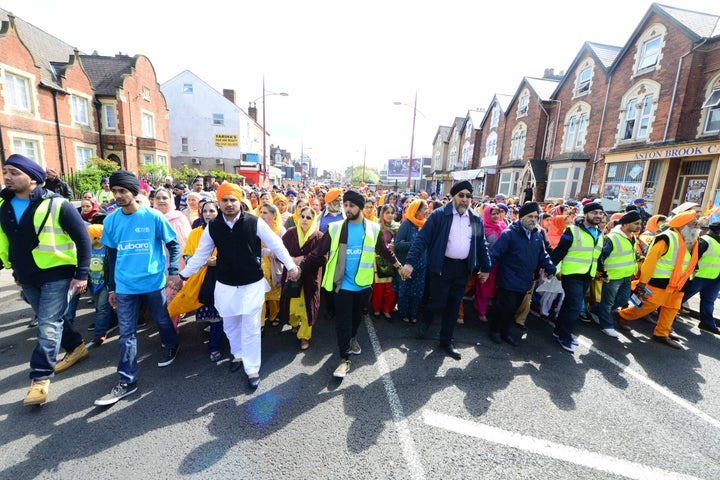 However, with all places of worship closed as part of the UK government's social distancing measures and group gatherings not permitted during lockdown, community leaders and families are adapting how they mark this year's Vaisakhi.
Some Gurudwaras will be streaming their services online or on community TV channels, says Amrick Singh Ubhi, while in the West Midlands, people are already using the hashtag #VirtualVaisakhiWM to wear traditional Sikh shades of orange or blue and post pictures on social media in a show of solidarity – and much-needed colour
Manjit Kaur Kang, from Birmingham, and co-chair of the RBS Sikh Network, welcomes these virtual celebrations.
"Vaisakhi 2020 will be an unprecedented occasion for many Sikhs with the absence of visiting the Gurudwara, family gatherings and partaking in the annual Nagar Kirtan," she says of the challenge.
"[But] as Sikhs, we are reminded to always be in 'Chardi Kala', a mental state of positivity, optimism and joy even during times of adversity. Through this fantastic initiative, we can all get involved, share these positive and uplifting messages and bring communities together."
Vaisakhi celebrations will continue in people's homes during lockdown with households who are isolating together also praying together, watching services online, and volunteering where it is safe and possible to do so.
In particular, volunteers will direct the free food of the langar towards the most vulnerable at this time, whether that's serving the homeless or delivering meals to hospitals and care homes – both for patients and frontline workers.
As Amrick Singh Ubhi says: "During these challenging times we must remember all those on the frontline who are serving humanity [and] remember those who have lost their lives or lost loves ones to the pandemic."
Narinder Kaur Garcha, 44, from Tividale, is one of many in her West Midlands community who eagerly awaits Vaisakhi each year.
"I dedicate most of my spare time to programmes including the Nagar Kirtans," she tells HuffPost UK. "This year due to the pandemic we are having to press pause. However, if we can save lives and ease pressure on the amazing NHS, this is 'seva' [the Sikh concept of selfless service] in itself."
"I am pleased to see the number of Gurudwaras that are using social media platforms so we can still partake in listening to prayers online. Whilst I will miss celebrating with the community this is only short term.
"I look forward to seeing the doors of our Gurudwaras open in the not too distant future."