Vogue's 'Real Issue' has received a mixed response, with some praising the move towards diversity, while others have taken umbrage at the use of the term "real".
The November issue of British Vogue, which hits stands on Thursday 6 October, doesn't feature a single professional model (that is, if you don't count the reams of advertising).
Instead Alexandra Shulman filled her pages with women who have made a name for themselves in other professions.
"I feel strongly that women who are in positions of authority or power, or who work in professions should be able to indulge their interest in clothes and fashion without it seeming frivolous or that they don't care about their jobs enough," Alexandra Shulman told The Telegraph.
"In this country there is still a stigma attached to clearly enjoying how you look and experimenting with it if you are a woman in the public eye and not in the fashion or entertainment business."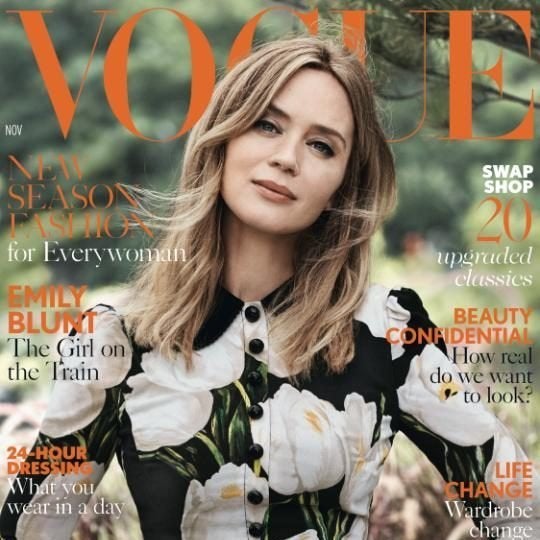 Inside the issue you'll find architectural historian Shumi Bose in a Max Mara jumpsuit. Ice cream brand founder Kitty Travers in Hermes coordinates and women's rights advocate Brita Fernandez Schmidt in a Michael Kors blouse.
However, the cover still features the more familiar face of Emily Blunt - a move Shulman defends by saying that Blunt plays an "everywoman" in 'The Girl On The Train'.
'The Real Issue has earned the fashion mag some new fans and reinvigorated the interest of others.
However, Blunt jokes in the cover interview that: "it took three hours of hair and makeup to get me looking this real," and it is the use of the word "real" to position models against all other women, that has upset some commenters.
"While we admire the inclusive sentiment, we, along with our forums, believe Schulman could have chosen a better title for the edition —and cast a far more diverse group of women," wrote Cordelia Tai.
"Not all 'real' people can see themselves in the (from the looks of it) mostly white, younger than 50, straight-sized, cis models who were chosen to pose for Vogue.
"In fact, it doesn't appear as if the issue checked off any diversity boxes apart from 'profession'."
Related