If you're shopping at Waitrose in Oxford you'll need to remember to bring your own refillable tubs and bottles – because the Botley Road branch of the supermarket has been transformed into something more akin to a good old-fashioned grocers for the next 11 weeks.
Following the trend for 'zero waste' shops that offer shoppers package-free food and cleaning refills, this branch has ditched plastic packaging on 60 loose fruit and vegetable products as well as some wine and beer, detergent, pasta, cereals, coffee and seeds as part of a trial that runs until August.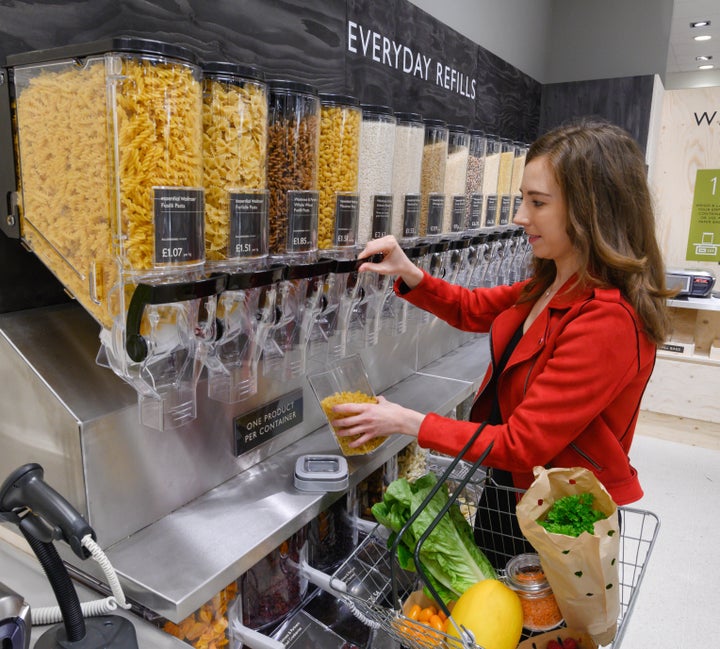 What can you buy without packaging?
Customers will be able to buy frozen mango, strawberries, blueberries, cherries, pineapple and raspberries; four wines and four beers on tap; four types of coffee that can be ground and 28 other grocery products including pasta, rice, grains, couscous, lentils, cereals, dried fruit and seeds available through dispensers.
Shoppers will also be able to refill on Ecover detergent and washing up liquid and flowers and plants wrapped with 100% recyclable craft paper.
What will you need to bring with you?
If you want to shop the range, reusable plastic containers will be on sale in store – but go through your cupboards for suitable containers and you'll find lots that you could re-cycle. Why not bring reusable cereal containers (perfect for pasta, lentils and other dried goods), clip-lock lunchboxes for frozen fruit, or an old jam jar for that ground coffee.
"We are determined to build on the work we've already done to reduce packaging, and this test will take our efforts to a whole new level as we help the growing number of customers who want to shop in a more sustainable way," Tor Harris, from Waitrose & Partners said.
"This test has huge potential to shape how people might shop with us in the future so it will be fascinating to see which concepts our customers have an appetite for."
As a new BBC documentary, War On Plastic, is set to reveal when it airs next week there are more than 19 billion pieces of plastic inside UK homes, with a lorry's worth of plastic waste tipped into the ocean every minute.
Greenpeace has welcomed Waitrose's trial calling it a "genuinely bold step".
"Lots of supermarkets are starting to sell loose fruit and vegetables, which is good, but more importantly this kind of innovation could spark a refill culture that's so desperately needed to cut plastics in mainstream shops," Ariana Densham, Greenpeace ocean plastics campaigner, said.