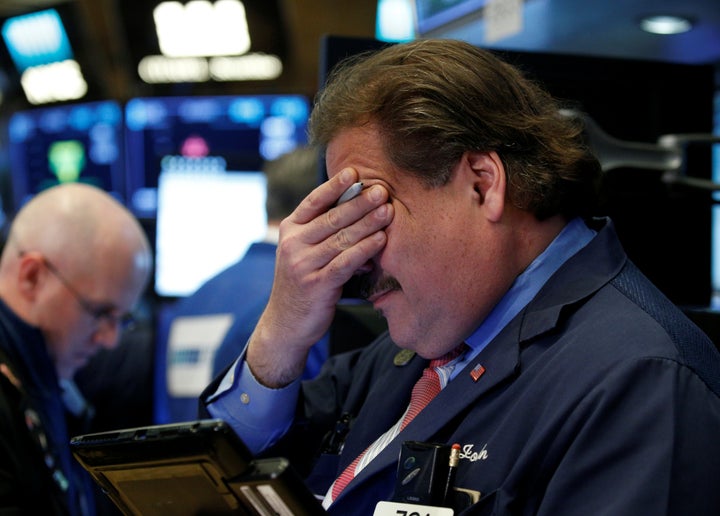 US stocks plunged during a highly volatile day of Wall Street trading with the Dow Jones falling by more than 1,150 points, erasing all the gains it has made for the year.
At the end of a rollercoaster day, the Dow Jones Industrial Average fell by 1,175.21 points, or 4.6%, to 24,345.75.
At one point, the Dow fell 6.3% or 1,597 points, as it breached both the 25,000 and 24,000 levels during trading.
Fears of interest rate rises in the US in an effort to keep inflation under control are making markets nervous.
The S&P 500 and Nasdaq indices, both key benchmarks of Wall Street, were also down considerably.
Meanwhile, Japan's Nikkei dived 4.7%, its worst fall since November 2016, to four-month lows.
MSCI's broadest index of Asia-Pacific shares outside Japan also slid 3.4 percent. Taiwan shares lost 5.0 percent, its biggest since in 2011 and Hong Kong's Hang Seng Index dropped 4.2 percent.
The decline in the Dow Jones followed months of market increases, which had fuelled concerns that share prices were over valued.
The Dow's biggest point loss until now was a 777-point drop in the global economic crisis of September 2008.
The stock market has climbed to record peaks since President Donald Trump's election and remains up 23.8% since his victory.
Unlike many if his predecessors, Trump has frequently touted the rise of the stock market during his presidency.
As the stock market fell on Monday, the White House said the fundamentals of the US economy are strong.
London's main share index, the FTSE 100, had earlier closed down 1.46%, and the biggest markets in Asia fell between 1% and 2.5%.
Many investors have been bracing fora backdraft for months, as the stock market has reached record high after record high with investors encouraged by solid economic data and prospects of corporate profits, the latter bolstered by recently passed tax cuts.
Friday's January jobs report sparked worries over inflation and a surge in bond yields, as well as concerns that the Federal Reserve will raise rates at a faster pace than expected.
"Markets fluctuate, but the fundamentals of this economy are very strong and they are headed in the right direction," White House spokesman Raj Shah told reporters on Air Force One as President Donald Trump flew to Ohio.
As stocks plunged on Monday, Trump was speaking at an event in Ohio - but, noticeably, was not taking credit for the market despite doing so repeatedly when stocks were rising.
White House spokesman Raj Shah, in an adjustment to the administration's message on stocks, told reporters aboard Air Force One en route to Trump's speaking event in Ohio, "Look, markets do fluctuate in the short term. We all know that ... But the fundamentals of this economy are very strong and they're headed in the right direction."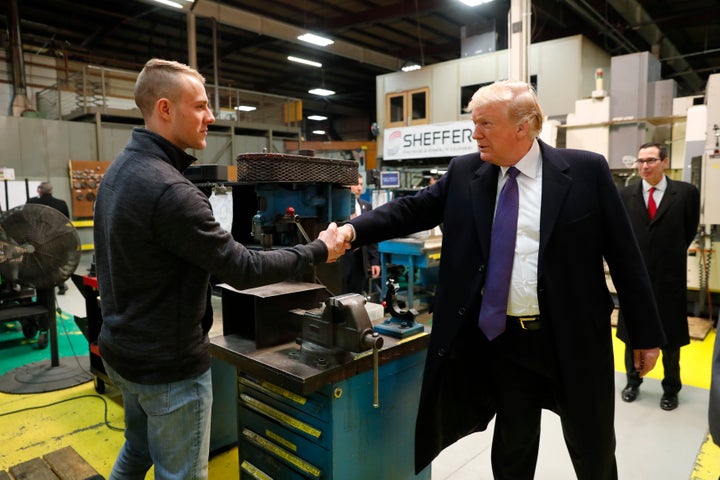 Throughout a speech at a factory in Blue Ash, Ohio, Trump made no mention of stock markets. That departed sharply from past practice.
In his State of the Union address last week, Trump said: "The stock market has smashed one record after another, gaining $8 trillion and more in value in just this short period of time."
On January 7, he wrote on Twitter: "The Stock Market has been creating tremendous benefits for our country in the form of not only Record Setting Stock Prices, but present and future Jobs, Jobs, Jobs. Seven TRILLION dollars of value created since our big election win!"
Three days before that, he tweeted: "Dow just crashes through 25,000. Congrats! Big cuts in unnecessary regulations continuing." He had sent similar tweets for months.
The Republican president told Reuters in a Janurt interview he has been getting kudos from people grateful for increased pensions and he believed the rise would not have happened if his Democratic opponent Hillary Clinton had won the 2016 presidential election.
"If the Democrats won the election, the stock market would have gone down 50% from where it was, and now look at the percentage increase. It's a record increase," Trump said.