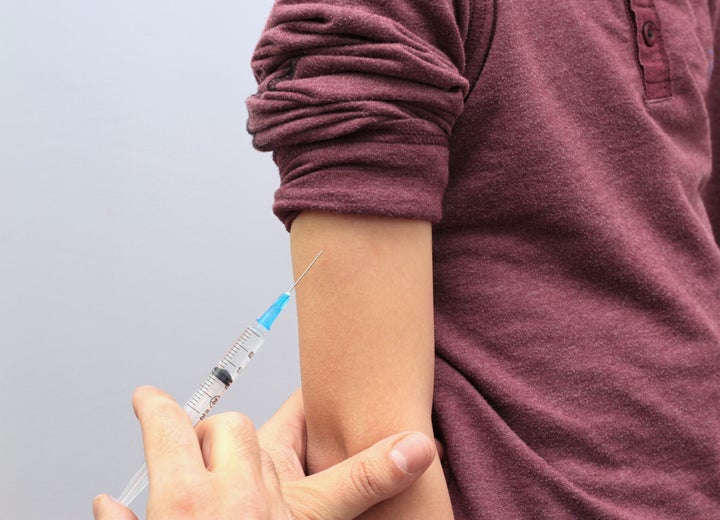 There is a vaccine that has been proven to reduce preventable cancers and improve people's sexual health, yet it is still not available for everyone. The Human Papilloma Virus (HPV) vaccine was introduced to girls aged 12 or 13 from 2008 across England, Scotland and Wales, with a catch-up programme available up to the age of 18. Data released by Public Health England just this week has found a significant decline in HPV-related cancers among young women as a direct result of the vaccine. The fact that this potentially life saving, not to mention cost saving, vaccine has not been routinely available for all is nothing short of an outrage, but after years of campaigning, victory may be in sight.
Last weekend, the Mail on Sunday, reported that Ministers at the Department for Health and Social Care had received advice from the Joint Committee on Vaccination and Immunisation (JCVI), recommending to extend the HPV vaccine to all boys at the same time as girls currently receive the vaccine. If this is true, this would be a victory to help safeguard the sexual health of everyone. If rolled out, it would finally end this discriminatory policy that has left boys at risk of HPV. This is a virus that does not recognise gender or sexual orientation and causes more than 1,400 cases of head and neck cancer, and nearly 50,000 cases of genital warts each year. Recent sexually transmitted infection statistics for England showed a particular dramatic drop in genital warts among women, due to the uptake of the vaccination but the decline is much slower among men and boys.
In February, Terrence Higgins Trust successfully pressured NHS England to make the HPV vaccine available to all gay and bisexual men across England, up to the age of 45. This finally brought England into line with Scotland and Wales that have existing vaccine programmes delivered within sexual health clinics. Whilst a programme for gay and bisexual men addresses in part some of the equity issues, it is none the less a second class service as the vaccine has been proven to be most effective before a person becomes sexually active. Gay and bisexual men are already at increased risk of HPV, for example this population is twenty times more likely than heterosexual men to develop anal cancer. Therefore, postponing immunisation until adulthood is playing catch-up with any potential exposure to HPV and may be too little, too late for some. This coupled with the fact that sexual health clinics across England in particular are under continued strain from a surge in demand, means people may not be able to access the vaccine.
Recognising the devastating impact HPV can have, some parents have stepped in where the NHS refuses to do so, by privately purchasing the HPV vaccine for their sons through high street pharmacies. This can cost over £400 and adds to the existing health inequities.
This cannot continue. We have the medical evidence to prove that the HPV vaccine works and is also cost-effective.
The answer to these outstanding problems is obvious: make the HPV vaccine available to boys through a school-based immunisation programme.
During a recent debate in Westminster, Public Health Minister, Steve Brine, said he would "prioritise" consideration of advice by the JCVI and the UK Government would conduct an equalities assessment to determine if any discrimination was taking place by withholding the vaccine from boys. Both commitments were welcome but now is the time to turn these words into actions.
The JCVI is not expected to publish the minutes of its recent meeting until at least mid-July. It is clear that the UK Government has already received advice from the JCVI. There is no reason for unnecessary delay. Terrence Higgins Trust is therefore calling on Ministers to expedite its decision making process. We have fought for years to get this potential decision by the JCVI. For the sake of the health of boys across the country, we cannot wait any longer.