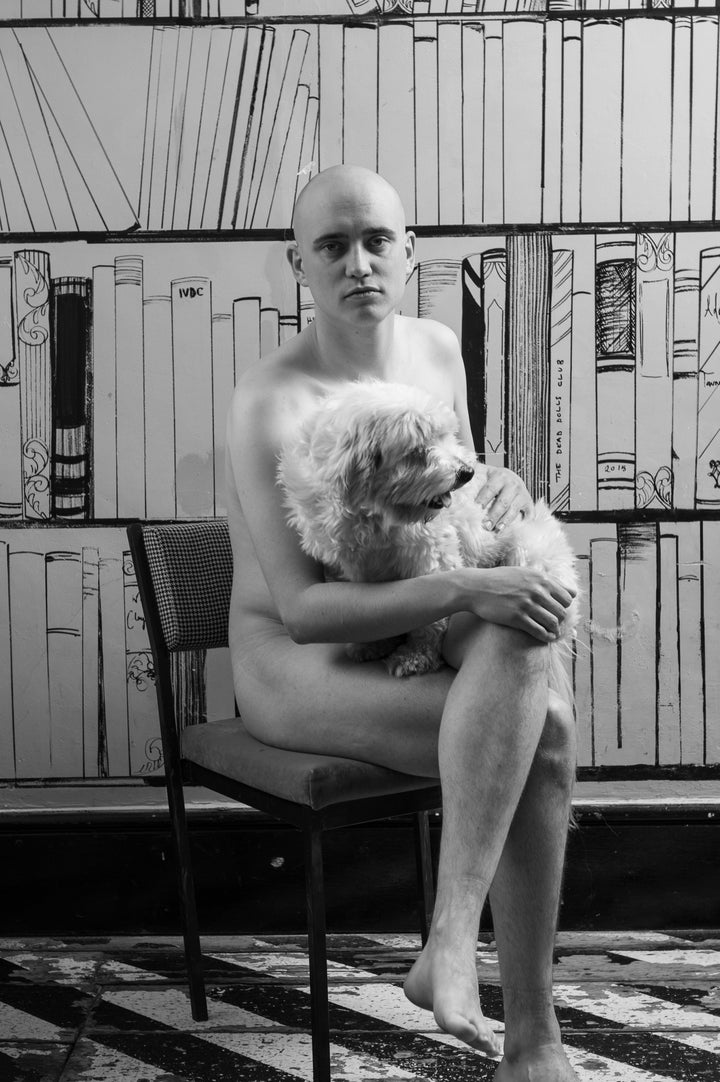 Non-sexualised nudity is important and there isn't enough of it in the UK.
Maybe I'm biased, because I recently had a professional nude photoshoot as part of the promo for my forthcoming poetry collection, Bad Boy Poet. Having done a couple of amateur nude shoots when I was younger, I celebrated achieving my longstanding aim of getting a book deal by using my hard-fought hipster contacts to get a talented photographer to photograph me – and my dog – fully nude, for a non-bank-balance-breaking mates-rates discount.
I am very happy with the results. Unfortunately, though, none of those being printed contain full frontal nudity. I was prepared to bare all – which I had never done before – but the publisher gave me a stern "no", saying that the inclusion of a fully nude photographed penis would affect where the book could be stocked. This upset me a bit, because though I can understand a business not wanting to sell pornography, the photographs of my penis were documentary at best, boring at worst.
The point of my nudity wasn't to be garish, or sexy, or aggressive, but to be real. I do not have a toned, muscular, body, I do not have a massive penis. I don't have much body hair (and zero hair on my head), and I'm a little bit bigger than I'd like to be, but what I had hoped to gain from my photoshoot was a picture that would capture me looking vulnerable, yet unashamed.
I wanted a picture to show what I am underneath my clothes, not just what I look like. I'm a skinhead man who is neither short nor stick thin, so it's not hard for me to appear intimidating, even if I never feel it. The photographs show me as I am: unfit, unclothed, but real. Not blind to my imperfections, but not overwhelmed by them either. Understanding what my body is forms a big part of understanding who I am: with maturity, I am able to see how much my identity is wrapped up in my body.
The photoshoot was an unfamiliar experience, because it was the first time I can remember being naked – without shame – in front of someone who wasn't a lover. Every time I'd got changed in front of a friend or a stranger – even on the occasions I've been skinny dipping – there was a conspicuous averted gaze.
I am not a naturist: I do not think we should be naked all the time, I do not think we are all inherently beautiful, but I do wish that here in the UK we had a healthier relationship with nudity. I don't want my skin to be shocking. I don't want to feel ashamed of myself.
When I was a child, I had an aged relative who lived in a tiny village in Norfolk. Two or three doors down the road lived a married couple who were naturists. One summer afternoon I was walking towards the little grocery shop in the village centre, and passing the garden of this infamous – in my extended family and probably in the village, too – couple and I saw a man in his 50s pushing a lawnmower back and forth while wearing nothing but a tiny, tiny, thong. I was scandalised, as were all my family, except for the 90-year-old we were visiting. But why?
Our bodies are not inherently and constantly sexual. There are naked public baths in many parts of the world, and there are many, many nude beaches in the rest of Europe. Our British attitude towards nudity as an aberration, as a provocation, makes us hate ourselves. It is ridiculous that I have always felt more comfortable being naked in front of people I want to love or desire me than I have, casually, before or after going swimming or playing squash with a friend. By keeping our nudity as something special – but sexual – we make lives harder for everyone. It's why it is embarrassing when people criticise nursing mothers, because it shows their own over-sexualisation of stranger's bodies.
Without shame towards ourselves comes a healthier attitude towards the bodily nudity of others. Being more comfortable benefits everyone.