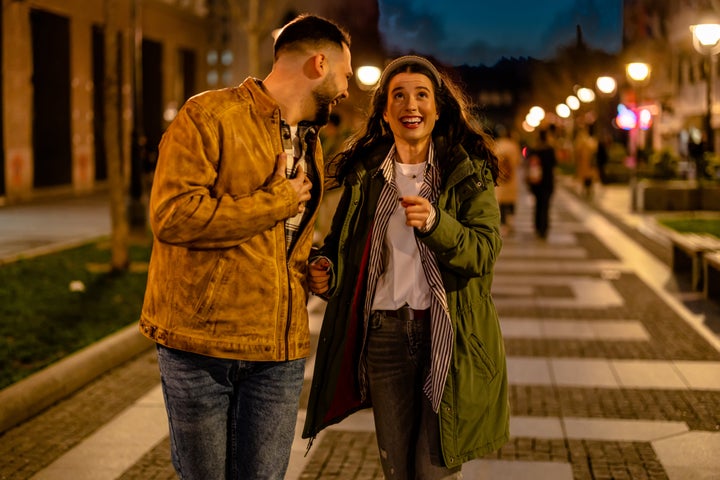 Picture this. Summer, whatever there was of it, is over. You're about to kick back and enjoy some well-earned time out watching Gilmour Girls. Pumpkins are on display, and the PSL is reigning supreme over peach ice coolers. Everything is cosy and perfect.
Except that this year, Cuffing Season, (a term that describes the time of year singles begin to search for a temporary cold-weather cuddle buddy) has arrived one whole month early.
Looking at data from the last four years, between August and November, dating app Hinge has identified an increase in usage as singles turn to the app in September with daters hitting their stride in October as they get out on dates.
In response to this, Hinge's Director of Relationship Science, Logan Ury, and Love and Connection Expert, Moe Ari Brown have brought out a guide for the distractible dater, to help folks cope with the upcoming season. But they aren't the only ones dishing up advice.
Jasmine Denike tells HuffPost that, in 2022, she was *very* single while finishing up an MA in London but was also an "avid dater". The season was unbearable for her until she two unlikely heroes saved the day.
"As the end of summer dawned last year, I was aware cuffing season was fast approaching and I didn't have anywhere to turn," she says. "Honestly, despite dating a lot back then I really owe my survival to my flatmate and her practically-moved-in partner who was with us all the time."
Danike explains that the big win off Cuffing Season came down to not getting "cuffed".
"It was a victory in my eyes," she shares. "Getting to have the comforts of my best friend and her partner around really made cuffing season bearable."
This year, Denike hopes to make it past cuffing season and into the spring with her current (new) relationship.
How should we be approaching cuffing season?
Eimear Draper, otherwise known as the straight-talking dating coach, explains that cuffing season doesn't have to be a total letdown. Here's her top advice for surviving cuffing season.
Stay true to you and what you want out of a relationship
Are you in it for the long haul? Or just looking for a bit of a fling? While there's nothing wrong with having a flash in the pan, being true to yourself and knowing exactly what you're after can help you avoid disappointing dates.
"We have all done it, thought "Oh that younger/hotter/sexier etc... will just be a bit of fun". However, if that bit of fun is going to be around for 4 months (cuffing season is traditionally seen as Oct - Valentine's Day) then is it going to stop you from achieving your goal of a long-term relationship," says Draper.
If you're after something that lasts beyond Valentine's Day 2024, then try not to get distracted by the flurry of attention around you. "Equally if you are not in a place for a long-term relationship right now then don't seek one out," encourages Draper.
"However make sure your expectations are realistic, a casual short-term arrangement may not be pulling out all the stops for your Christmas present. Maybe prepare yourself for a selection box," she says.
Be wary of being in a relationship that isn't good for you.
Listen, if you're happy to kick it with someone for the short term and take each day as it comes, then, who are we to yuck your yum? But, Draper advises caution.
"When we are in a relationship that you don't see a long-term future in, you can accept things that you wouldn't accept otherwise. We can brush this off as being okay as it is just for the colder months."
She says that if your partner/sexcapade/friend with benefits/situationship — or however you chose to label (or not to label) yourselves is displaying some ick-worthy behaviours, it's time to take stock.
"Some actions and behaviours can stick with us and cause us to self-doubt. It can often take us longer to process after the relationship ends than it lasted," says Draper.
Adding to this, she says, "If your friends are raising concerns about how you are with the person, or how the coupling has changed you, then take a pause and check in with yourself. Does this feel like it is adding to your life in a healthy way?"
Get yourself out there
"It's not going to just land in your lap!" Says Draper. "Get onto your dating app of choice (mine would be Tinder) and use it as the tool it is intended to meet people."
Draper advises not to get caught in an endless cycle of messaging, but rather move things along quickly. And, if you want to be really efficient, employ pre-date and date-stacking strategies.
Love — or lust, doesn't have to be found via a dating app either. "Look at your weekly activities and routine and ask; are they putting you in situations to meet people? If not change them up," she says.
While the course of true love never did run smoothly, or casual short flings, for that matter, there is one key thing you can employ to underpin all this dating advice: Open communication.
"Be clear about your expectations and be sure that the person that you are "cuffing up with" knows what to expect," says Draper. Otherwise, you might find yourself in a pretty rubbish sitch.