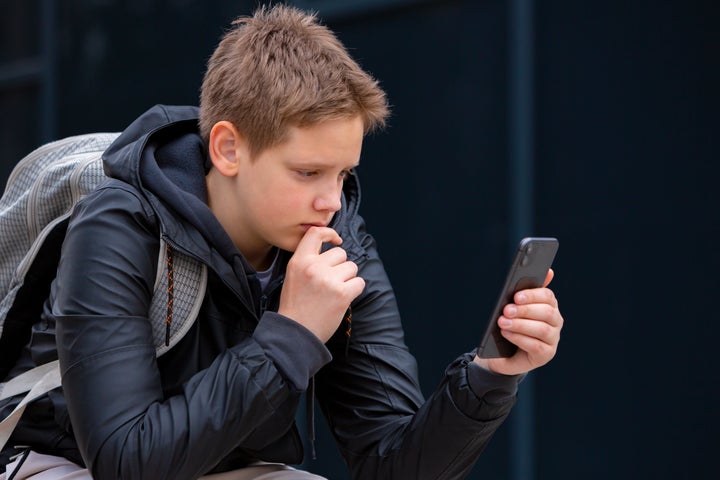 It's official – schools in England are set to ban pupils from using mobile phones during the school day, as per new government guidance.
Under the new plans, students can use their phones on their travels to and from school, but they won't be allowed to use them throughout the school day – including on breaks.
It's worth noting that lots of schools already have their own policies on phone use during the school day, but these vary across the country. While some children have to hand their devices in at the start of the day, others will be trusted to not use their phones until break time.
So, what do parents think of this proposed change? HuffPost UK spoke to three mums with children in secondary school, or who recently left school, to see whether they think such a move would have a positive impact. Here's what they said.
'Banning phones in school is an absolutely brilliant idea'
Becci Coombes, from west Sussex, has a 15-year-old boy and thinks banning phones in school is "an absolutely brilliant idea". In fact, she's surprised it has taken so long.
"I can't imagine how hard it must be to try and teach children when they are constantly checking their phones for updates – apart from anything it is a question of basic good manners, giving someone your full attention while they talk to you," she says.
Coombes, 50, runs her own Scandi lifestyle and craft boutique and will occasionally teach crafting workshops at youth clubs – she's always had a 'no phones policy' so she has their full attention, "not just so they are listening properly but also for safety reasons".
At home, she's keen to ensure they have phone-free time as a family as well.
"The content children watch is designed for them to scroll through quickly, and I think they are exposed to far too much of this distraction in their leisure time, without being attracted to it during school hours," she notes.
"I think phone use is truly doing the youngest generations a huge disservice – both I, my friends and teachers I know are all of the opinion that kids are finding it harder to concentrate, read more than a couple of sentences or to or keep their concentration, all because of the way they are training their brains to scroll through phones at high speed."
'Phones are a distraction in school'
Rachel Beech's son is 12-years-old and attends a school where phones can only be used in one specific area during break times.
Pupils are only allowed to use phones for calls or messages and will have their phones confiscated if they're caught playing games, watching videos or taking photos.
The 43-year-old, who's based in London and runs her own company, says: "I think this is perfect. Phones are a distraction in school and can cause many challenges around bullying and infringement of privacy.
"I have heard some pushback from school leaders around the use of phones for dual-factor authentication when using learning software, but this can easily be handled with email."
The parent says keeping her son off his phone is "a constant battle" so she's glad he has a break from it during the school day.
"Whilst I am thrilled he often finds interesting and educational videos to engage with online, I am concerned about the long-term impact on his eyesight and posture, as well as the potential of him stumbling across less innocent content," she adds.
'I'm in favour of phones being allowed in schools'
Marie Brown, a website designer from Kent, has two teenagers who attended schools with differing policies on mobile phone use – one was allowed to take a phone, the other wasn't.
The 52-year-old tells HuffPost UK she's all for phones being allowed in schools – providing there are safeguards.
"I can see all the arguments for banning phones, but the children who went to the school where phones were allowed seem to have the healthier relationship with their phone," she says of her own children's experiences.
"Teachers may not like it, but phones are an essential part of life and I think children need to be taught how to use them responsibly."
At her teen son's school where phones were allowed, for instance, they were used as part of their education. "They used to video experiments in science (either a demo by the teacher or their own), research things on their phone and take photos of things as part of their lessons," she says.
"My son could contact me at break – or I could leave him a message for him to pick up at break."
One key point is that pupils were only allowed to use phones in lessons when instructed to by the teacher ("clearly this is important and I don't have an issue with phones being banned/put in a box at the start of a lesson," she adds).
But with her daughter's school – which required phones to be handed in in the morning and collected after school – things were a little more tricky.
"If she needed to contact me during the day she had to phone from the office (which wasn't convenient to me when I'm working)," says the mum.
"She's moved onto a different sixth form where they used technology more in school and has found it hard because she isn't used to using it as part of her lessons."
Do you think phones should be banned in schools? Let us know in the comments below.