You're reading Here, Try This – our month-long plan encouraging you to try something new every day.
If you've got a handful of prints and photos lying around that are yet to be framed, it's time to grab that bull by the horns.
January 2021 is one like no other, with plenty of us confined to our homes. And there's no better time to tick off the long-forgotten items – like framing – on your to-do list.
Should you mount the print? How do you choose the frame? Where do you even hang it? We asked Alex Medlin, who runs Leverton Framers in Berkshire, to walk us through the basics.
Choose the right frame
"There are really no rules to be broken," says Medlin, who has noticed a recent trend for putting abstract and contemporary pieces into vintage frames. "Try to keep an open mind and, most of all, trust your instinct."
Pinterest reveals there's an appetite for simple, monochrome frames – particularly for gallery walls. and plenty of retailers like Habitat, Ikea and Dunelm sell these. "They are always a great option for the straightforward framing of fun posters, prints or anything a 'standard' size," says Medlin, "and they're more economical than a bespoke frame, especially if you are looking for that quick art hit rather than staring at a blank space."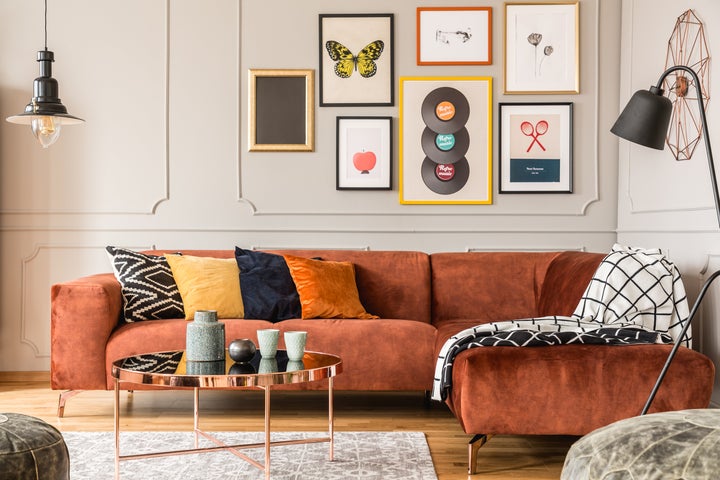 Contemporary prints often look great finished in a flat white or black frame, or perhaps a slim aluminium frame, advises Medlin, while sets of prints work well in the same type and size of frame (perhaps a slim oak or walnut frame) and hung together.
Portraits usually require something with more personality, she says, but nothing that overshadows the subject within. Small pictures closely framed with something big and bold are often surprising winners for her clients.
If you've got children's artwork you'd like to frame, these can look great in more neutral painted wooden frames, so the bright and colourful artwork can shine through. And if you're framing still life paintings, try something with a bit of "gilded aged grandeur" around them, she suggests.
To mount or not to mount?
A mount is usually used for artworks on paper to ensure the picture glass doesn't make contact with the artwork. "Works created in pastel or charcoal require a double-mount, a super-thick mount or a 'float' mount where the mount is raised slightly above the artwork," explains Medlin.
The mount size is usually chosen in proportion to the artwork but there are always exceptions and you can great creative. "Smaller etchings, for example, can be mounted with large borders to great effect," she says. "Again, eye and instinct play an important role here to find the right balance."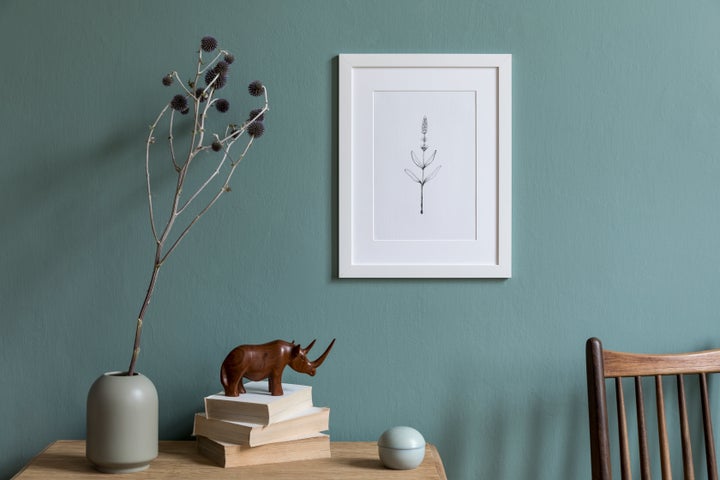 Monochrome images tend to look best with white or off-white mounts, and the latter will always work well with contemporary and bright prints, says Medlin.
"Some consider the coloured mount to be old fashioned," she continues, "however, they still have their place, especially with a double-mount: the under-mount can be a complementary colour just to strengthen a particular area of a picture."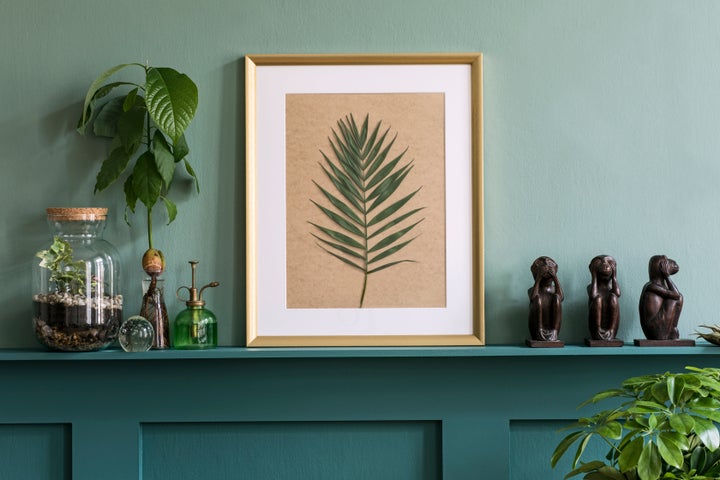 How (and where) to hang it
There are two options: go for the eclectic mix and simply hang them where you can fit them or, for a more ordered look, frame a series of similar-sized works in black frames and place them on a large feature wall.
"Often the downstairs loo becomes the perfect mini gallery with lots of family pictures, school mementoes, and certificates interspersed with fun cartoons in different frames, old and new," says Medlin, nodding to the eclectic mix.
"Staircases are great for showing off a collection of pictures, too – perhaps keeping the smaller images to the lower levels so they don't get lost."
If you're lucky enough to have a feature wall, a block of identically framed pictures can look stunning and can create a feeling of order, she adds. Or, equally, one very large picture on its own can look just as brilliant.
This new year, we focus on fun, not denial (because we've all had enough of that). Follow our month-long plan, with a new Here, Try This idea each day, spanning easy ways to engage your body and mind, inspiration for your food and home, and tips for boosting how you feel – inside and out.