Making lunchboxes for your kids is hardly the highlight of your day, so ensuring they're nutritious and interesting on top of that isn't the easiest job.
Primary schoolchildren are getting less sugar in their packed lunches, but they're also getting lower levels of vitamins and minerals than a decade ago, new research in the BMJ shows.
The nutritional quality of packed lunches still remains low, it found, with the percentage of them meeting food standards rising to just 1.6% in 2016 from just over 1% in 2006.
Dietitian Susie Burrell, from Australia, recently shared a five-step guide of what to include: 1) sandwich, wrap or salad, 2) fresh fruit, 3) veggies, 4) protein rich snack and 5) water.
So we decided to ask two nutritionists and a dietician what their perfect "lunchbox formula" would be. Obviously, time is a factor for many parents, so rather than giving you extra things to think about, this is more about basic guidelines you can follow.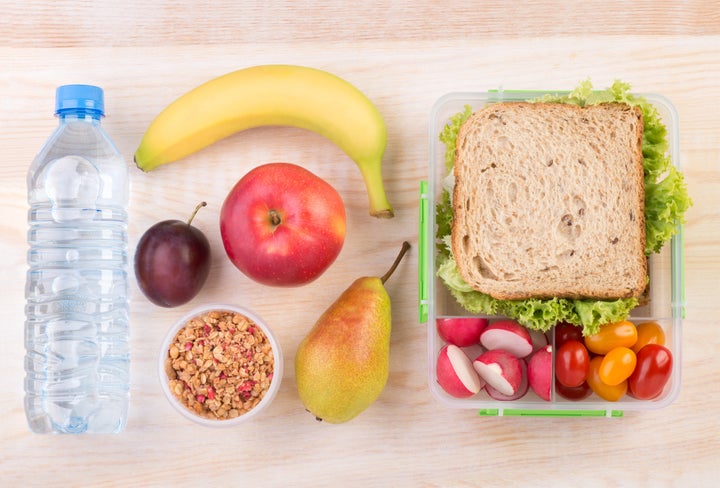 1. "Children's lunchboxes need to be balanced"
Charlotte Stirling-Reed, nutritionist and owner of SR Nutrition said balance is key in ensuring your kids get everything they need at lunch: "plenty of energy, fibre, protein and vitamins and minerals too."
She said it's a good idea that a child's packed lunch contains each of the following for them to eat throughout the day:
Some starchy food - wholemeal bread, wraps, pasta or crackers.

A portion of fruit and a portion of salad or vegetables - cucumber and tomato in sandwiches, a small fruit salad, some carrot sticks or chopped grapes.

A portion of dairy food - small piece of cheese, a small, plain yogurt or a carton of milk.

A portion of protein rich food – hummus to dip, tuna sandwiches, a hard boiled egg, bean salad or some slices of meat.

A cool drink - water or a carton of milk.
"Make sure you check if your child's school has any specific policies on what should and shouldn't be brought in a packed lunch too," she adds.
2. "The most impost focus is getting good sources of protein and carbohydrates."
Will Hawkins, a nutritionist at online GP service Push Doctor, agreed with Burrell's formula. He said getting one to two good sources of protein and carbohydrates should be the base of your child's lunchbox.
"Vitamins, minerals and healthy fats will follow," he says.
Sandwiches - you should always choose a complex carbohydrate, such as brown bread or a wholemeal wrap. Fill it with a source of protein and healthy fats, such as tuna mayo, chicken, deli ham or cheese. Include a vitamin/mineral filling too, such as tomato, cucumber, onion or spinach.

The second protein or carb source - this should be something on the lines of a handful of nuts. You can also add a piece of fresh fruit or smoothie, but remember to avoid fruit juice as it's usually high in sugar.

For something sweet - if you have a little bit of time to prep, melt a couple of pieces of dark chocolate, coat some cashews and leave to chill overnight in the fridge. Dark chocolate is good in moderation, as it contains antioxidants that are beneficial to their immune system.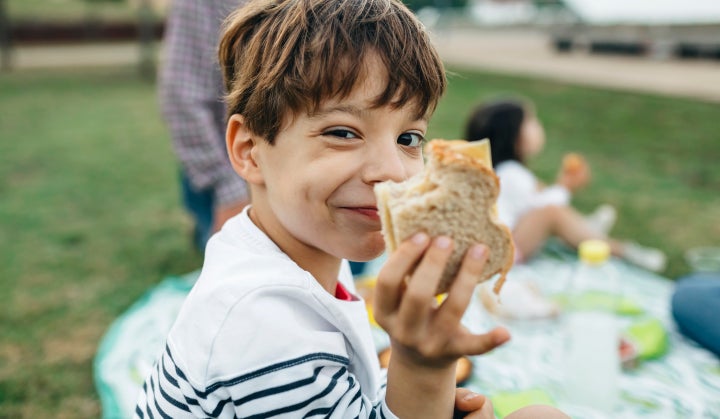 As a side note, Hawkins said parents should bear in mind the source and quality of your protein.
"Processed chicken or ham slices, for example, can be very high in salt and are often stripped of other nutrients during processing," he says. "Be careful with pre-packaged sandwich fillers too. These can be full of artificial preservatives and salt."
3. "Get your child involved in preparing and choosing what goes in their lunchbox."
Dietician Elaine Allerton believes getting kids involved with what goes into their lunchbox could mean they're more likely to eat it all.
Allerton's formula was very similar to Burrell's. She says to check your child's lunchbox includes:
A starchy carbohydrate - bread, preferably wholemeal or 50/50.

A source of protein - beans, pulses, eggs, fish, meat, cheese.

A vegetable and fruit portion - a portion is what will fit in your child's hand. You could have carrot or cucumber chopped into strips, a handful of cherry tomatoes, baby corn, a satsuma or a pepper chopped into strips.

Some calcium - a small piece of cheese or a low sugar yoghurt.

A drink - water or no added sugar squash, but you can lift the flavour of plain water with a slice of cucumber or a sliced strawberry.
"Crisps, chocolate, sweets and sugar-sweetened drinks should not go in lunchboxes," she adds.
Tips on getting kids eating all their food at lunch:

Stirling-Reed offered her advice on ensuring your kids eat everything at lunchtime:

Make lunchboxes fun with colourful straws, napkins and cutlery

Cut foods such as vegetables, fruits and breads up so they are easier and more convenient for your children to eat at school

To keep food cool, freeze a bottle of water and place it in a plastic bag in the lunchbox

Vary the food you offer so your children don't get bored with the same lunch each day

Talk to your children about what foods they like and don't like in their lunchbox. Give them options and choices to get them involved and give them some independence

Try not to overfill lunchboxes, especially if your children have small appetites. It's better to offer smaller amounts of ready-to-eat foods and encourage them to eat as much as they can.
Dieticians are health professionals that assess, diagnose and treat dietary and nutritional problems, although they do work with healthy people, too. Nutritionists are qualified to provide information about food and healthy eating.
The dietician and nutritionists in this article were registered with the Health & Care Professions Council (HCPC), the UK Voluntary Register of Nutritionists (UKVRN) and the Sport and Exercise Nutrition Register (SENr).