From what to wear, where to sit and how fast to eat, royal wedding etiquette is fraught with potential missteps.
While traditions have loosened as the royal family has attempted to modernise, there are some rules that must be obeyed at all cost.
Meghan Markle and her family face a steep learning curve, and it all starts with...
What To Wear (And Why Brides Now Wear White)
The choice of a white wedding dress - now a tradition for monarchy and the public alike - was actually inspired by the royals.
"Queen Victoria had a very beautiful white dress," explains historian Sarah Gristwood, who has written extensively about royalty.
"Before then, people had just worn their best dress, which was often black or dark blue.
"But after Queen Victoria's wedding, lots of other brides wanted one. A lot of wedding traditions came in with Queen Victoria."
From Queen Elizabeth II's duchess satin gown to Princess Diana's iconic Emanuel dress - which featured a mammoth 25 foot train - royal brides have typically opted for demure white gowns on their wedding days ever since.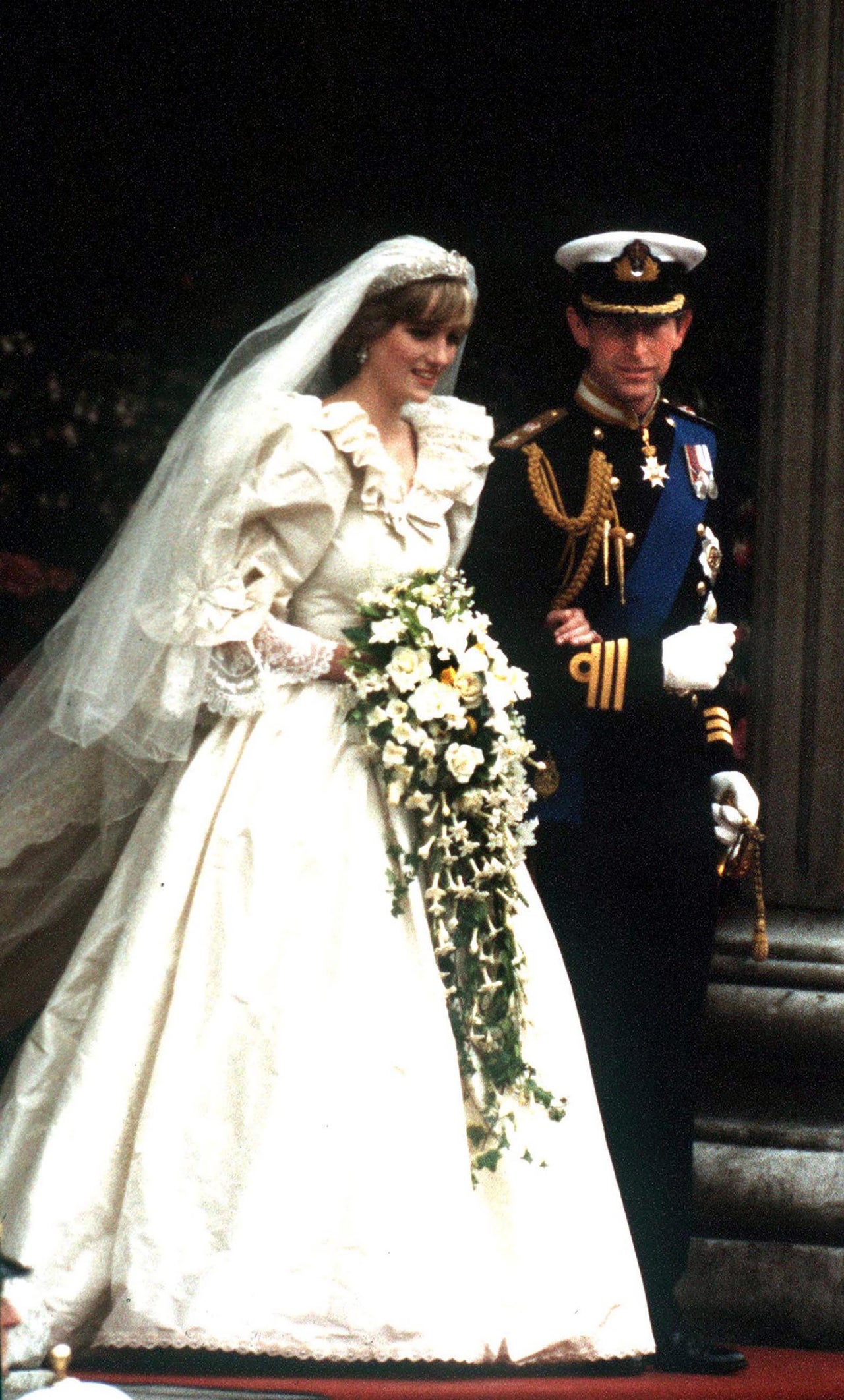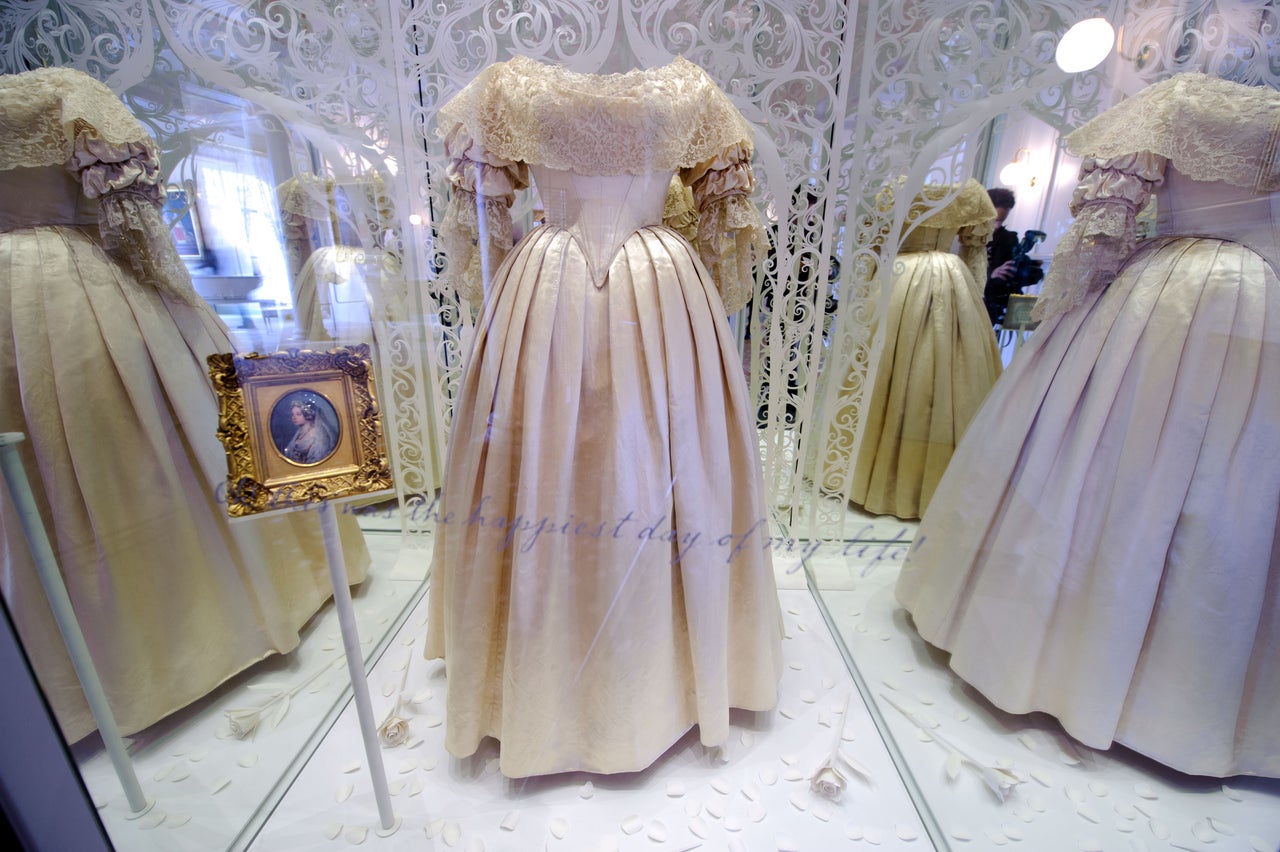 Many royal grooms opt to wear military uniform on their wedding day - including Prince Philip, Prince Charles and Prince William.
However Prince Harry, who is no longer a serving officer, will likely choose a morning suit for his May nuptials.
Morning dress is also the standard choice of outfit for royal wedding guests, according to Lucy Hume, associate director of legendary etiquette coaching company Debrett's.
"For men, this means a morning coat in grey or black, with a waistcoat and grey striped trousers," the co-author of Debrett's Wedding Handbook says.
"A black or grey top hat is worn outside but removed when inside. Ties are worn with a plain, pale shirt and cufflinks. Shoes should be black and lace-up."
Women should opt for "formal day dress" - a dress and jacket, or a suit.
"A hat or fascinator would be appropriate for this kind of occasion, but avoid anything too distracting or likely to impede others' view," Hume says.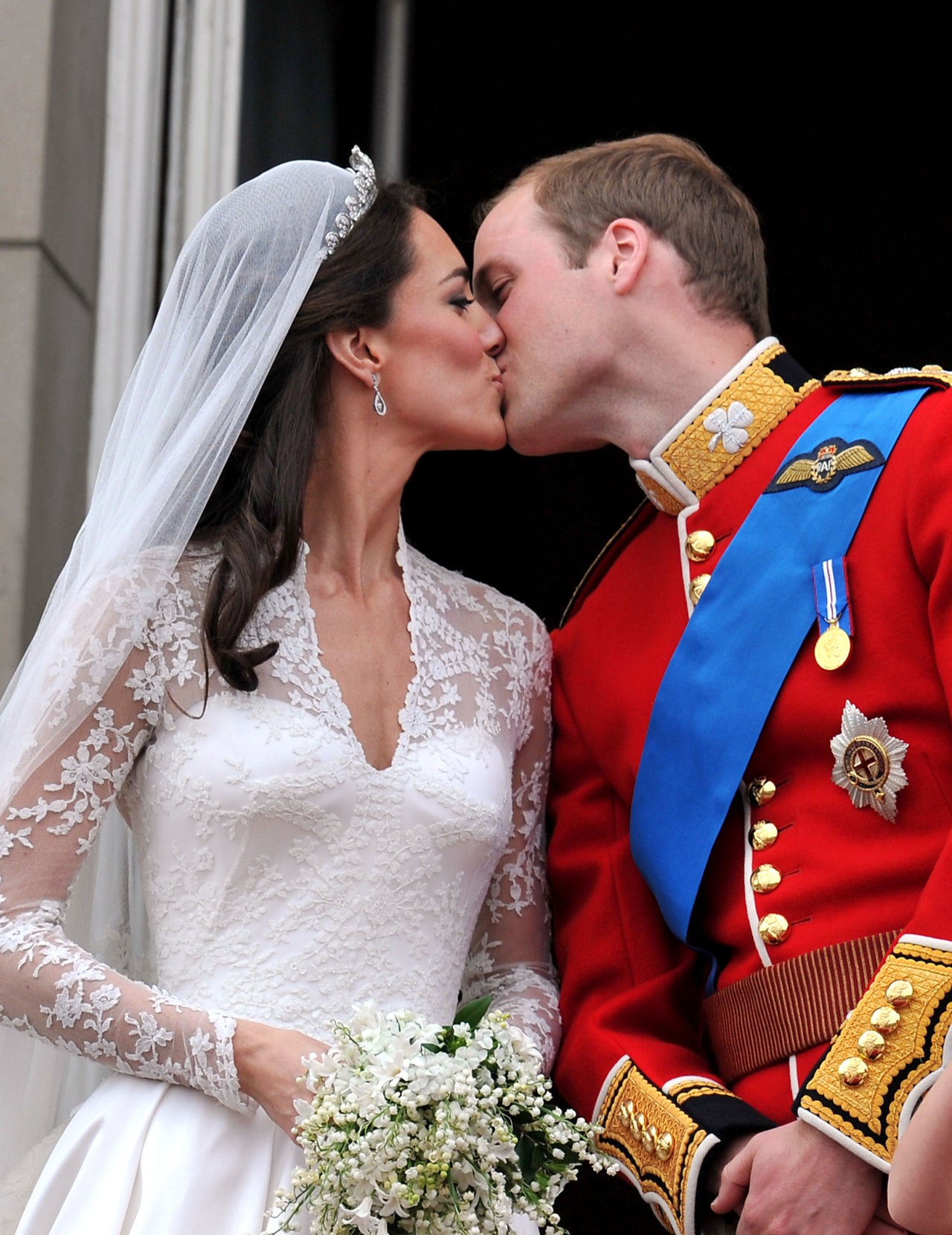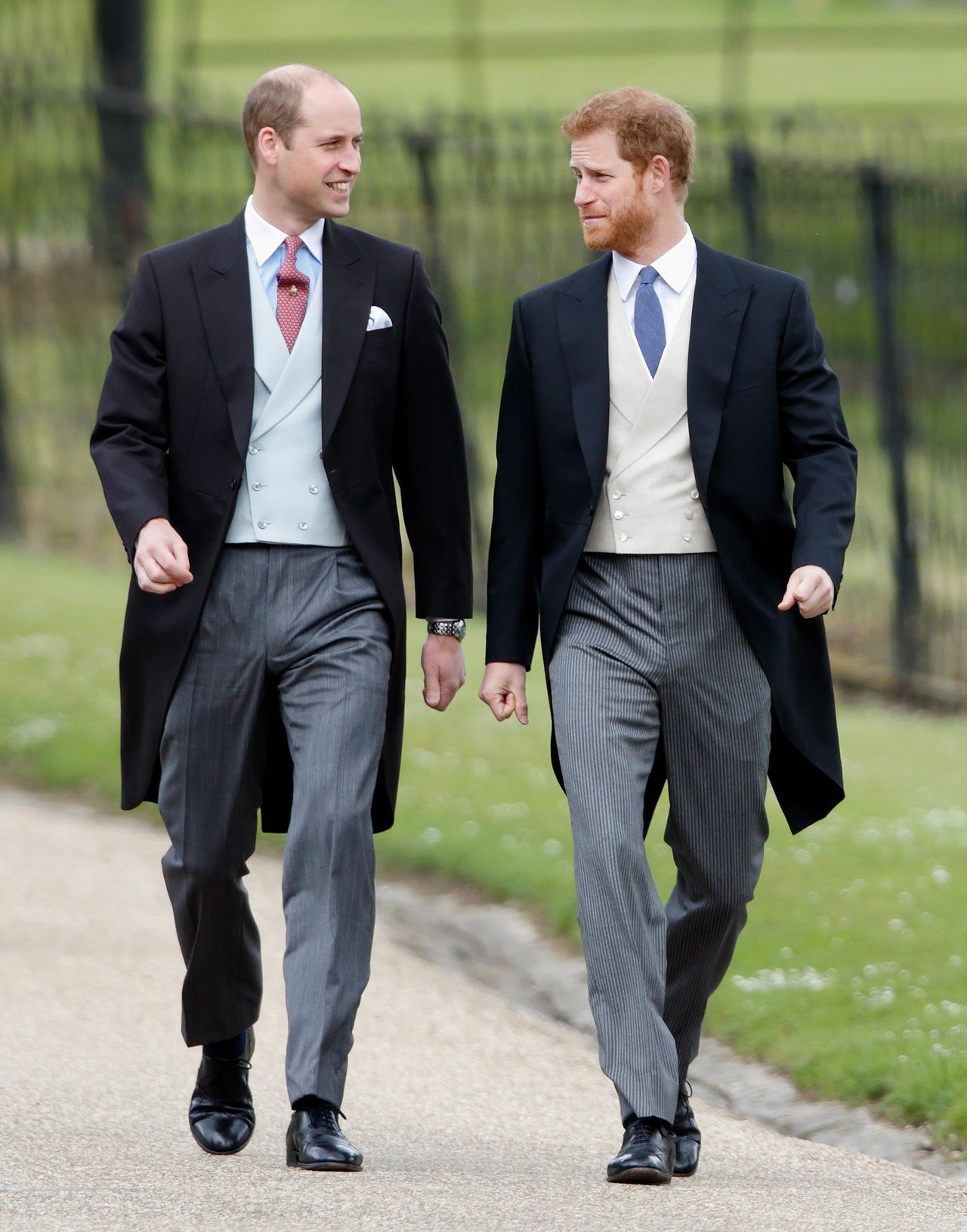 Where To Sit (Don't Expect A View)
It's traditional for the Royal Family sit on the right-hand side of the church, facing the altar, says former Debrett's etiquette tutor Jo Bryant.
However, due to the huge number of foreign monarchy, dignitaries, politicians, friends and family typically invited to watch the royals tie the knot, this rule is often broken.
"At the wedding of the Duke and Duchess of Cambridge, the front right row at Westminster Abbey was occupied by the Queen, the Duke of Edinburgh, Prince Charles, the Duchess of Cornwall and Prince Harry," explains Byrant, who now runs her own etiquette consultancy.
"Opposite them were the Middletons, bridesmaids and page boys, and the Spencer family - the couple therefore ignored the tradition of the left side for the bride's family and guests and the right for the groom's."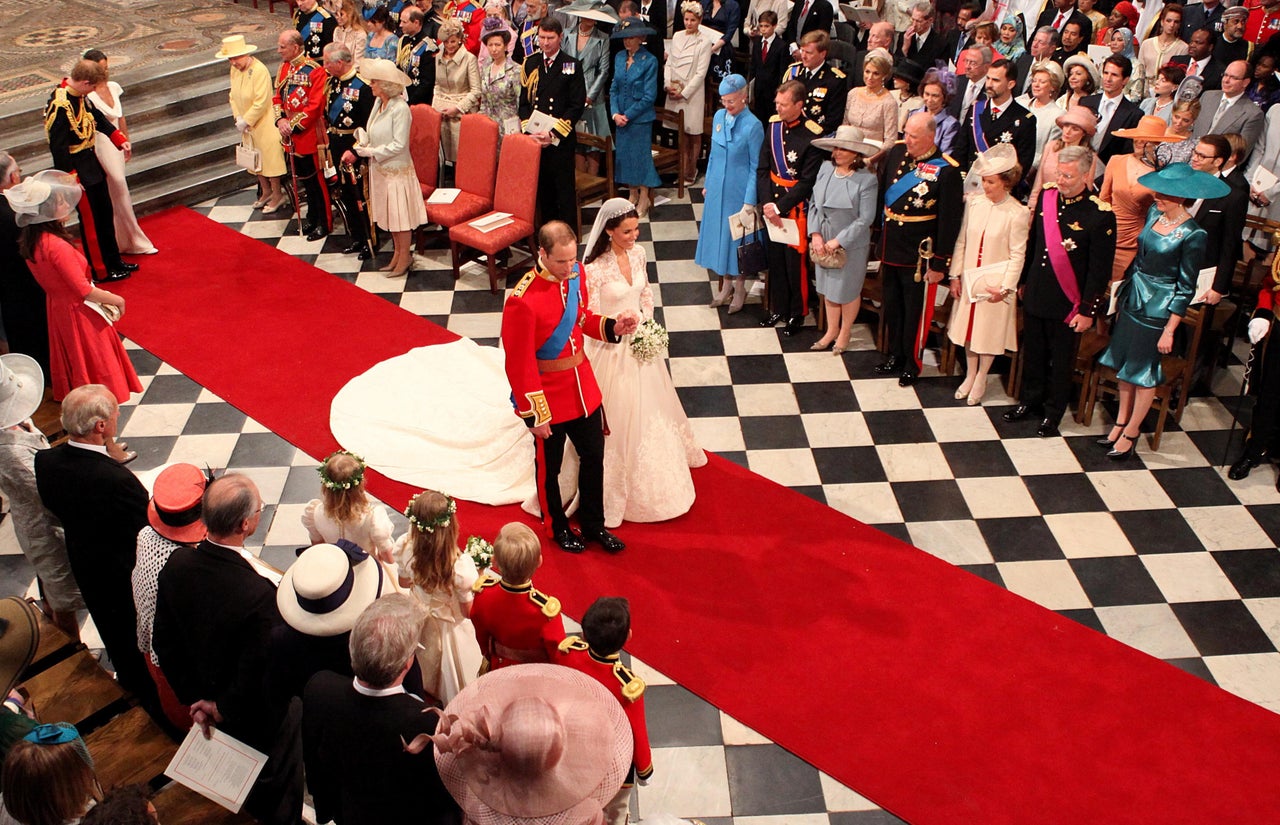 Of the 2,000 guests invited to watch William and Kate exchange vows in Westminster Abbey, only around half were actually able to see the couple, with the rest left to rely on screens erected in the church to watch the nuptials.
Meanwhile, an astonishing 3,500 people were packed into St Paul's Cathedral for the wedding of Prince Charles and Princess Diana in 1981.
However, Prince Harry and Meghan Markle have bucked a trend for mega royal weddings by opting to exchange vows in the intimate St George's Chapel at Windsor Castle, which 'only' holds around 800 people.
Bow To The Queen (Even The Bride And Groom)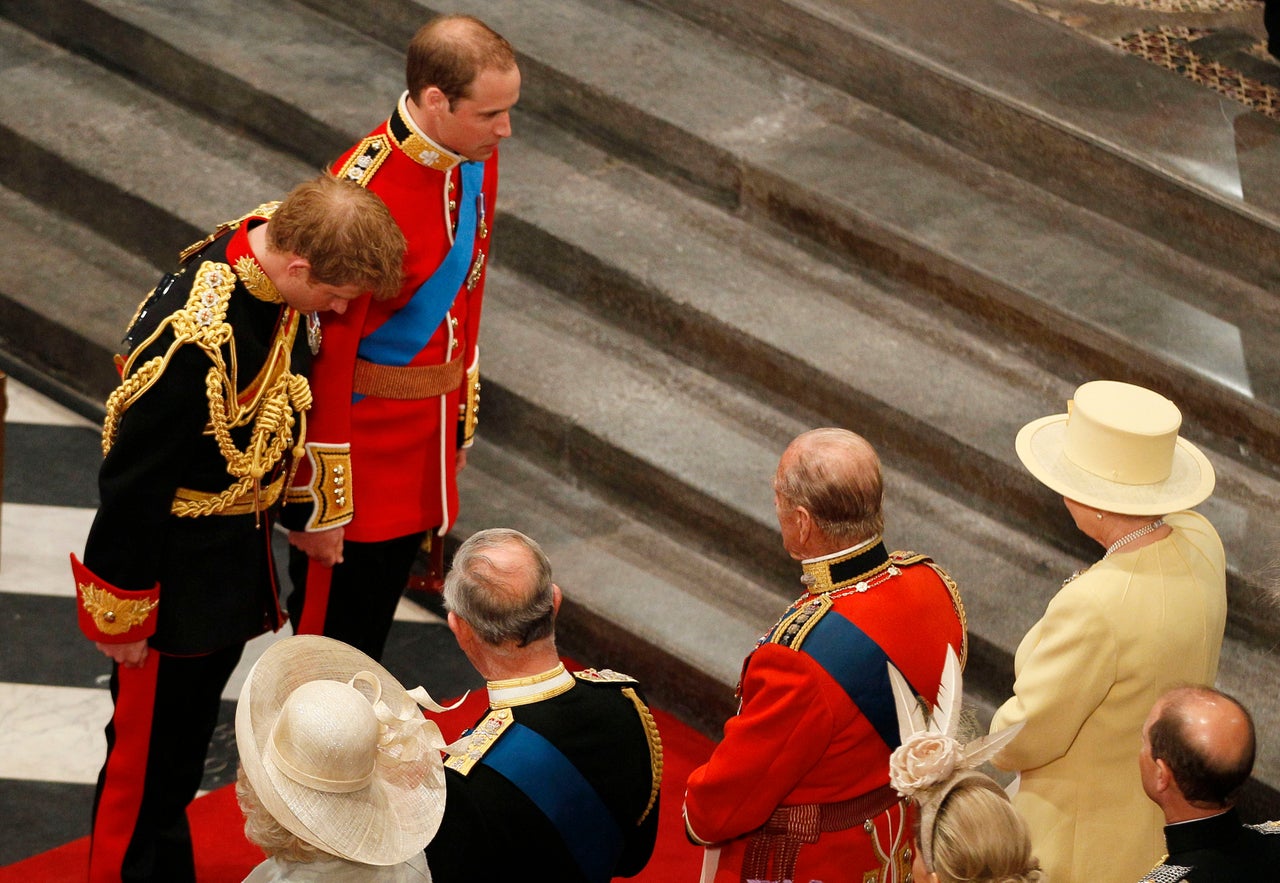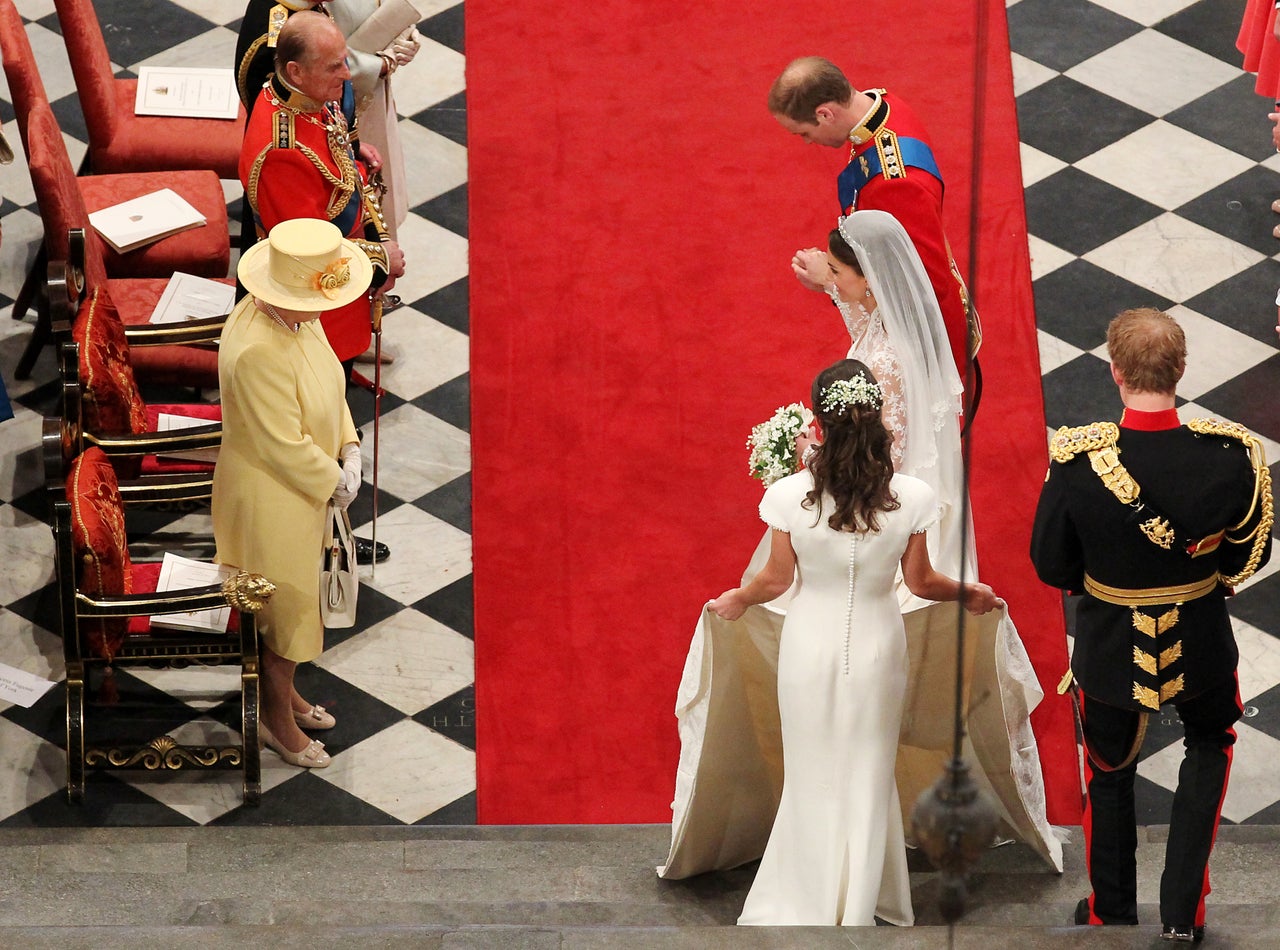 If history is a guide, guests at Prince Harry and Meghan Markle's May wedding are likely be asked to stand as the Queen enters St George's Chapel at Windsor Castle.
"At the last royal wedding, the Queen and the Duke of Edinburgh were the last to arrive before the bride and her party," explains Bryant.
"She was met by the Dean of Westminster 15 minutes before the start of the ceremony. As she entered the Abbey, a fanfare sounded."
"It is understood that guests were asked to bow or curtsy as the Queen walked through"
Those gathered to watch Kate and William wed were instructed in the order of service to rise and "remain standing" until the monarch had taken her seat at the front of the church.
"The Queen's procession, as it was referred to, also included the Prince of Wales and the Duchess of Cornwall," Bryant adds.
"It is understood that guests were asked to bow or curtsy* as the Queen walked through."
The bride and groom were not exempt from this rule - as the couple left the Abbey as man and wife, they paused to show their respect to the Queen with a bow and a curtsy.
Meeting The Queen (And How To Curtsy)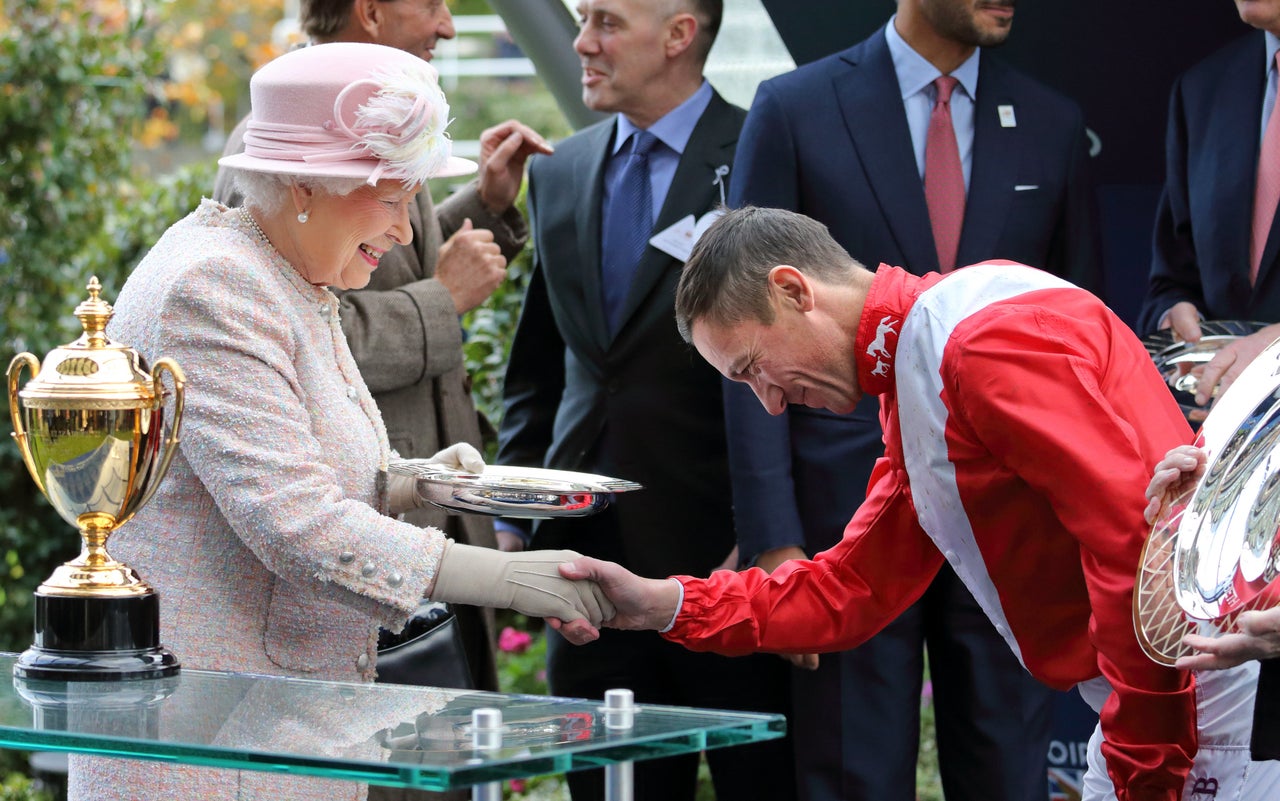 How wedding guests greet the Queen is a particularly important element of royal etiquette.
"The first time a guest meets the Queen, they would be 'presented' to her, rather then introducing themselves," etiquette tutor Bryant explains.
"Physical contact should be avoided, apart from a formal handshake"
"A woman should curtsy and men should bow from the neck - a quick simple inclination of the head, not a full bow.
"The Queen should first be called 'Your Majesty' and thereafter 'Ma'am', pronounced to rhyme with 'ham' not 'farm', Bryant explains.
According to former royal butler Grant Harrold, there are three steps to a perfect royal curtsy: start with your hands by your side, then place your right foot just behind the left, and follow with a "little bob" - but don't go too far down.
For men, a simple "neck bow" is all that's required.
The Wedding Banquet (Keep Up With The Queen)
Guests may not be sat near the Queen at the wedding reception, but it's likely they will still be expected to follow long-standing royal dinner etiquette.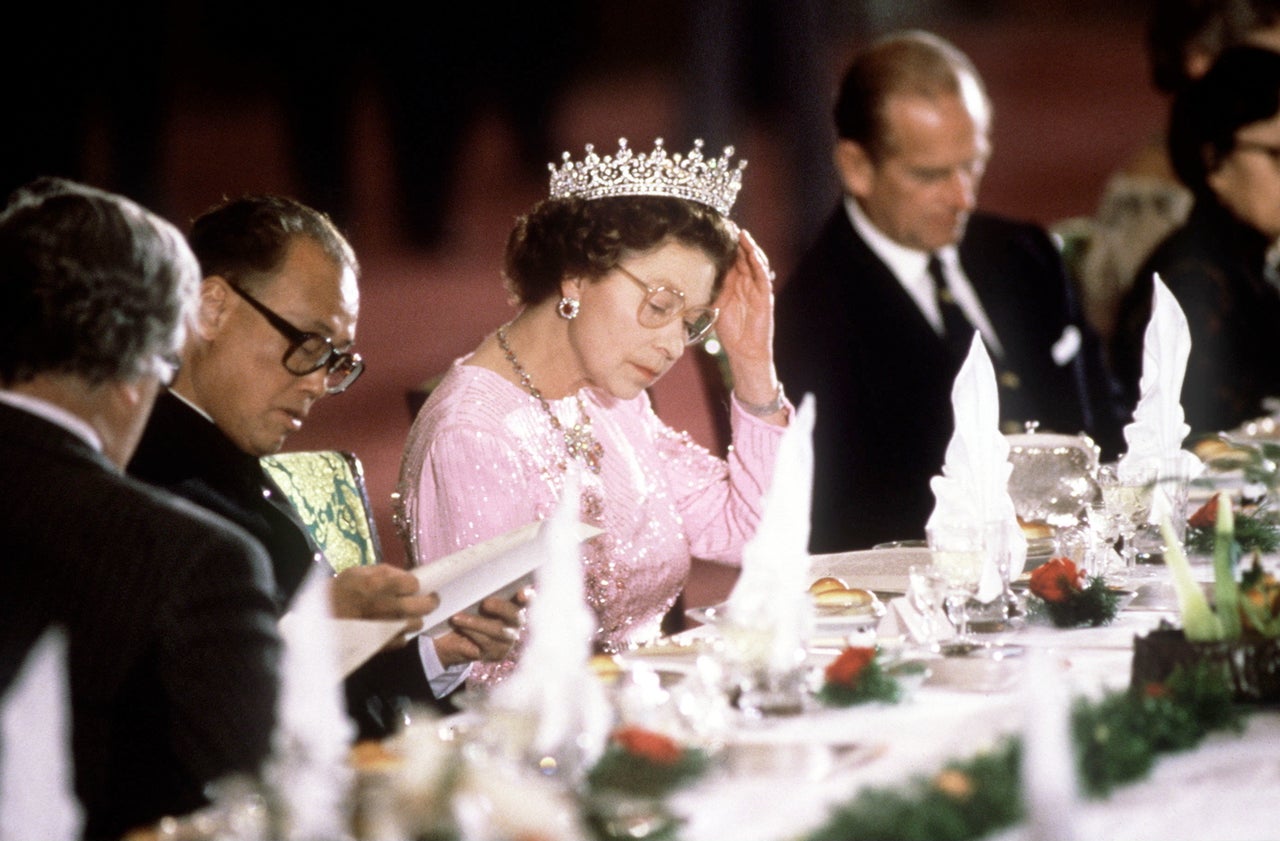 According to Darren McGrady, who was the Queen's private chef for 11 years, the monarch sets the speed of the meal at a formal banquet - whether guests like it or not.
McGrady, who also worked for Princess Diana at Kensington Palace before her death, told HuffPost: "The Palace steward would stand behind the Queen.
"They'd start clearing - even if you hadn't finished"
"As soon as she put down her knife and fork from the first course, he would hit the button for the lights to signal the footmen to come in.
"The course was over and they'd start clearing - even if you hadn't finished, they would be clearing the table."
And The Wedding Cake(s)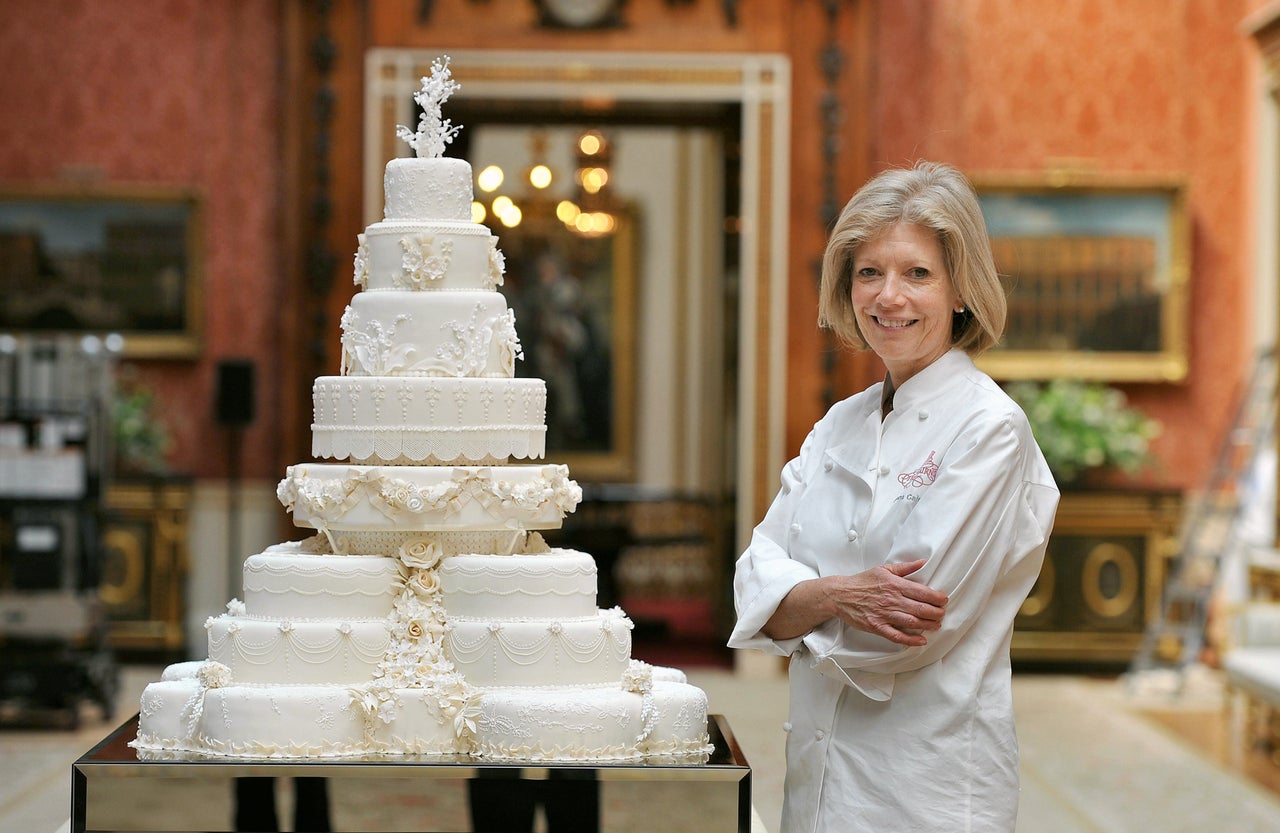 "Royal weddings have often featured more than one wedding cake in order to cater to the number of guests as well as the tradition, started by Queen Victoria, whereby slices of cake are sent as gifts all over the world," Lucy Hume from Debrett's explains.
"The Queen and Duke of Edinburgh, for example, were given eleven cakes in addition to their main cake."
The tradition is one which was followed by Kate and William in 2011 - the couple's official cake was an eight-tiered dried fruit creation designed by "queen of cakes" Fiona Cairns.
Decorated with 900 hand-crafted sugar flowers, the top layer of the cake was saved for Prince George's 2013 christening.
A second chocolate biscuit cake, made by McVities from a favourite royal recipe, was also commissioned for the wedding.
The Bouquet (Is Not For Catching)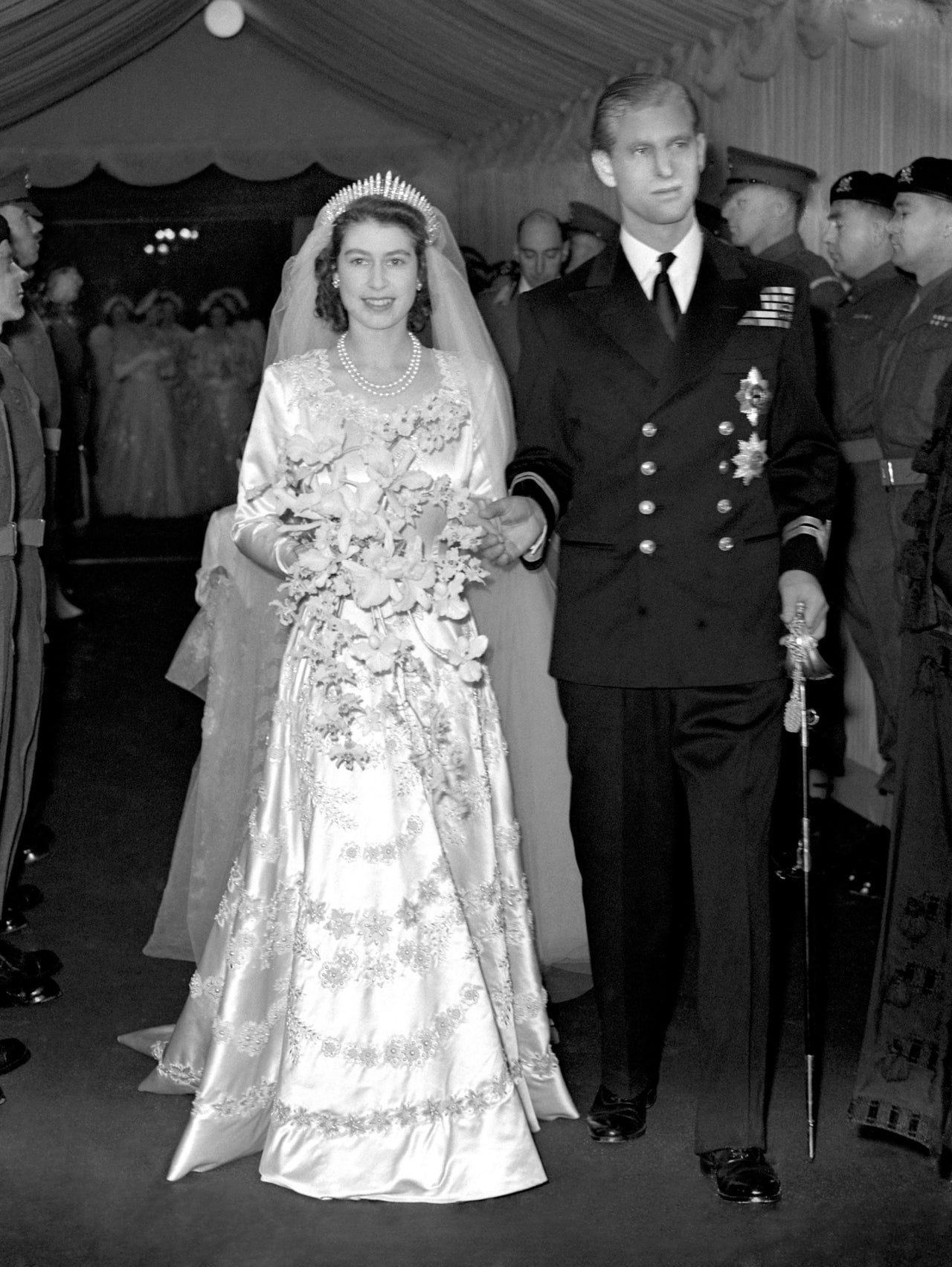 Royal brides since Queen Victoria have included a sprig of myrtle in their bouquet, says royal historian Sarah Gristwood.
The practice began after Queen Victoria was gifted a spray of the small white flower by Prince Albert's grandmother in 1845, which was planted in the garden of Osborne House, the family's Isle of Wight holiday home.
When her daughter, also named Victoria, married German Emperor Frederick III in 1858, a sprig taken from the plant was added to her bouquet.
Since then, a long line of royal brides - including the Queen, Princess Diana and the Duchess of Cambridge - have carried Osborne House myrtle on their wedding days.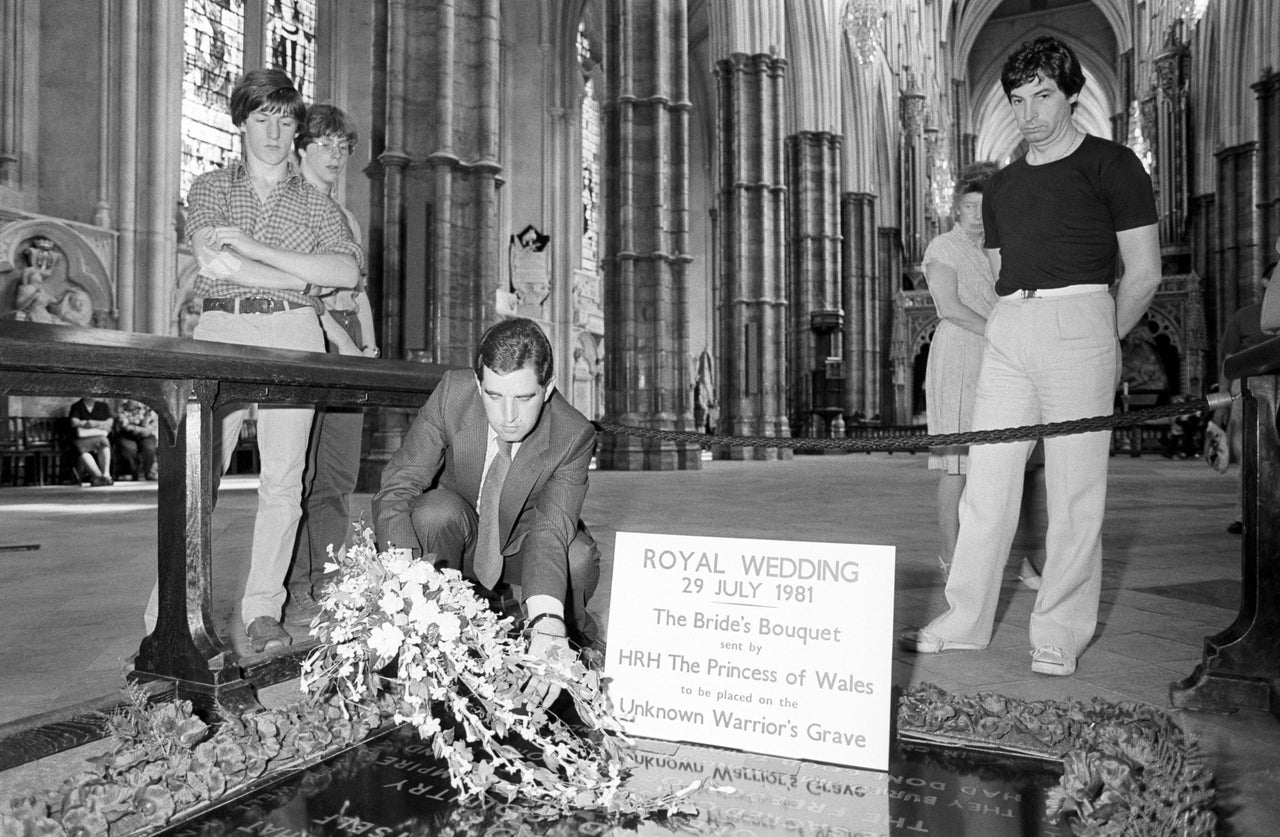 Despite Harry and Meghan deciding against Westminster Abbey, the bride's bouquet is still likely to play a role in a key tradition at the Abbey, according to long-standing royal commentator Richard Fitzwilliams.
"All royal wedding bouquets from brides marrying in Westminster Abbey are placed on the Grave of the Unknown Warrior," Fitzwilliams explains, referencing the famous war memorial.
"The Queen Mother began this tradition as a bride in 1923 as a tribute to her brother Fergus, who was killed at the Battle of Loos in 1915. This normally happens the day after royal weddings.
"Diana, Princess of Wales, and the Countess of Wessex, who were not married in the Abbey, both sent their bridal bouquets to be laid on the grave," he continues.
"Given Harry's close link with the military, in which he served for a decade, it is likely Meghan will also do so."
*Curtsy can be spelled a number of different ways, including curtsey. However, a spokesperson for Buckingham Palace reliably informed HuffPost UK they prefer the use of 'curtsy'.