Wedding season would now be in full swing had the world not been in the grips of a pandemic. Instead, couples across the UK face cancellations or postponed ceremonies – with a backlog expected well into 2021.
The future is uncertain for those getting married. When restrictions do begin to ease, small ceremonies involving five or fewer people may be allowed to take place first, Bernadette Chapman, director of the UK Alliance of Wedding Planners, tells HuffPost UK. Although as it stands, there hasn't been any insight from the government on this.
At a later date – although, no earlier than 4 July – the hospitality industry is expected to begin reopening. "It might be that slightly larger weddings are allowed at this time but again we cannot know for sure," says Chapman. "We anticipate some wedding venues will begin to open but it's unlikely large weddings indoors will be possible."
Wedding planners are keen to help ceremonies go ahead, however, and are considering how they can make them as safe as possible for couples and their guests. Here's what that might look like.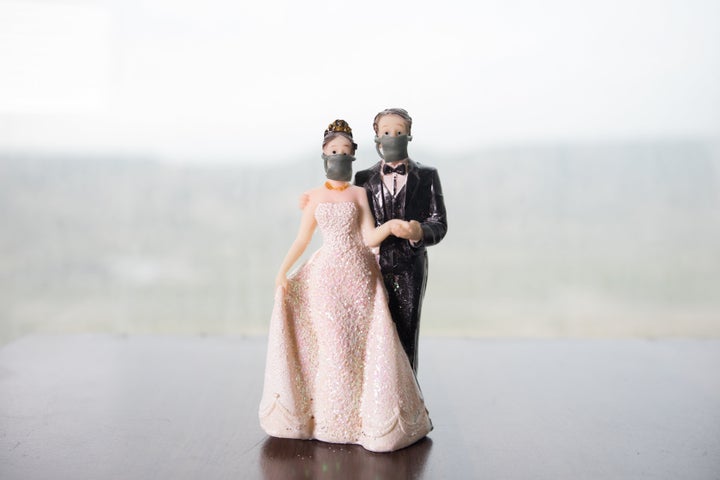 Outdoor venues
We now know the virus doesn't spread as much outside, so there's likely to be an increase in celebrant-led ceremonies at home in the garden, or in the gardens of wedding venues. "We're anticipating couples having a legal ceremony prior to this with their witnesses," explains Chapman.
Chapman also predicts clients will hire open air marquees to accommodate guests in the grounds of wedding venues, rather than indoors, to minimise risk.
But demand will be high, and she warns of a possible shortage of registrars in 2021. There will be couples who were due to marry this year, as well as those due to marry in 2021, wishing to move forward – and "there are only so many summer 2pm slots on a Saturday".
Fewer guests
If an outdoor wedding isn't possible, Chapman expects couples will limit guest numbers by at least half. Large, indoor weddings are likely to be a thing of the past until a coronavirus vaccine or effective treatment is found, she believes.
"[There may be] an emphasis on the ceremony and wedding breakfast," she adds. "This should minimise the difficulties of social distancing when you've been drinking all day or dancing."
Chapman envisages that during the ceremony, rows will be spread further apart and families – or households – will be seated together. If couples choose to feed guests, it's likely there'll be fewer people seated at tables, she says – perhaps half the number a couple would usually have.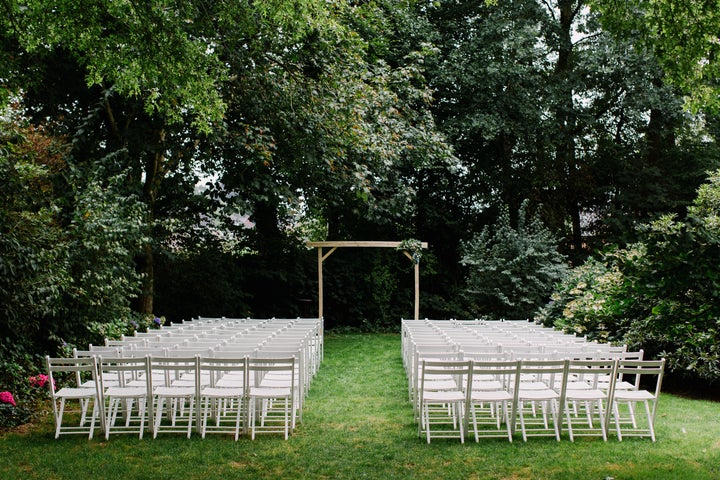 Michelle Jacobs, a wedding planner specialising in destination weddings for Jewish couples, is used to planning weddings with 200-250 guests. She's suggested clients schedule a smaller intimate wedding for family and close friends – and then schedule the bigger event once it's safe to do so.
"This may be in 2021 or it could even be in 2022," she says. "But at least they have been married – and as I always remind my couples, the marriage ceremony is the 'main event' and what it's all about."
Jacobs advises that the smaller ceremony could take place at the couple's home or in their garden – and extra guests could be invited to join via Zoom or a similar video service.
More elopements
Valentina Ring, who runs The Stars Inside, a wedding and elopement planning company, believes there'll be a move towards elopements, as couples choose to really focus on the experience.
"We may see more intimate gatherings for celebrating in a truly personal way," she says. "I've definitely seen an increase in the enquiries I receive and stories I hear of couples wanting smaller weddings.
"Honestly, I think the pressure of hosting a perfect wedding for hundreds of people doesn't sit well with many 20- and 30-somethings nowadays, and they want to take control over what is right for them and what is meaningful to them."
"We may see more intimate gatherings for celebrating in a truly personal way"
Decline of the destination wedding
With 14-day quarantines in the pipeline for those who travel into the UK from abroad, destination weddings are likely to take a back-burner – possibly until 2022.
Jacobs recommends clients consider what she calls a "UK wedding weekend", where they hire a venue for a full weekend, so they get to have the advantages destination weddings offer. "By doing it in the UK, we're not asking guests to take the perceived risk of taking a flight and travelling overseas," she adds.
No hugs and kisses for the happy couple
It's likely wedding guests will be asked not to hug or kiss the couple – or other guests. Chapman envisages there being signage dotted around the venue reminding guests to do this and adhere to social distancing advice.
A focus on hygiene
It might be the new norm for guests to wear face masks or covers to weddings – in fact, couples may provide them for everyone to wear. They might even have specially-made wedding face masks, Chapman suggests.
Daytime entertainment
Traditionally, weddings lay on entertainment in the evenings – and regardless of culture or religion, dancing is often involved.
Chapman foresees a focus on increased entertainment during the daytime to encourage an alfresco feel to the wedding – dining outside, dancing on the lawn, roaming musicians.
"This would allow slightly larger numbers, and as there is no evening element it is easier for guests to keep their distance," she says.
A different style of wedding photography
Photography plays a huge part in documenting a couple's special day, however we might say goodbye to big group photos, where everyone gathers close to the newly-married couple.
Wedding photographer Simon Fazackarley says much of it will depend on what the government suggests, as well as the scale of weddings moving forward. "There's a possibility we'll have to consider group photos within households and have spacing between other households within the same photo," he says.
"I certainly see situations where I could do groups and combine them using Photoshop to eliminate the social distance, but the majority of my couples would probably like to keep it in for authenticity."
Fazackarley predicts wedding photography will focus more on intimate portraits of just couples. "A lot of my work focuses on capturing the emotional moments occurring between people – hugs, for example – and I sadly think we're going to lose that," he says. "For a while at least."
That said, he's excited for what future weddings hold, particularly post-lockdown. "Weddings, after this, will be an explosion of joy; the likes of which we've never seen," he says. "Especially for all those struggling with being away from their families."