A man with severe tremors was left overcome with emotion after a revolutionary treatment enabled him to pick up a drink without spilling it - for the first time in years.
For the past three years, Mac MacGregor, 68, has been trapped in a body which shakes uncontrollably.
His health condition makes even the simplest of tasks difficult.
In the latest episode of ITV 'What Would Be Your Miracle?', Emma Willis meets Mac who wants nothing more than to be free of his tremors.
Prior to appearing on the show, doctors had tried everything to try and reduce his shaking, but to no avail.
However, nothing is completely impossible, as Mac soon found out.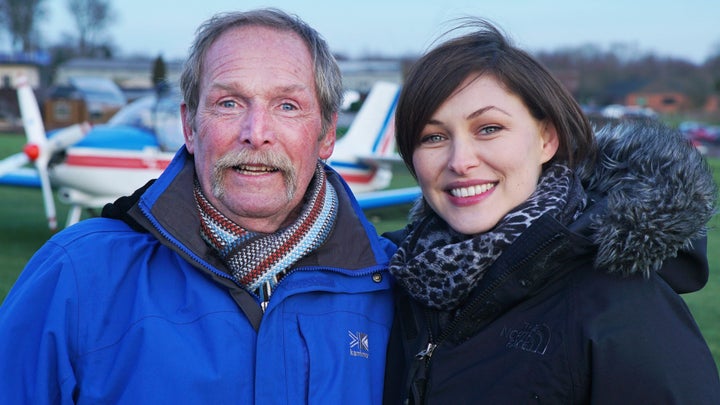 The 68-year-old, who is a former marine from Devon, hates not being in control of his body.
He joined the Marines aged 17 and served in the Falklands and on three tours of Northern Ireland. He specialised in surviving in Arctic conditions and, off-duty, was an active sportsman, doing everything from diving to paragliding.
After 23 years of regimental life, Mac retired and moved onto his next big adventure - travelling around Europe in a camper van with his wife Chez.
But their carefree existence soon came to an end when Mac had a fit.
"We were in Portugal and this one morning, I got up and Mac's sat in bed with his cup of coffee and he just went quiet," recalled Chez.
"He was biting his tongue and choking…I didn't know what was happening."
Mac had suffered a fit and, a few weeks later, he noticed that his left hand had started to shake.
What started out as a small tremor gradually spread throughout his body and became increasingly violent.
It soon got to the point where he was living in a body he couldn't control at all, a body which would shake from head to toe constantly.
Mac said: "I don't recognise myself. It's a complete change from being what I was to what I am now."
Doctors tried every possible treatment to stop Mac's body from shaking, but up until recently all of them failed.
Mac's daughter Kirsty said at the time: "It's sad, he's probably at the point where he's just, 'If you don't do anything to help me in the next six months, then I don't want to be here'.
"He wouldn't want to be a burden on mum, he wouldn't want to be a burden on me."
On the show, Mac is asked what one thing he'd do if he didn't suffer from tremors.
He responded that he'd love to glide like the birds.
"As I sit here, some afternoons you can watch the seagulls come across, and then they come to the hill and they lift. The birds make it look so easy, and it's something I'd seen them doing and I thought I wouldn't mind having a go at that," he revealed.
Soon after, Mac was sent for complex brain surgery called Deep Brain Stimulation - his final hope for freedom.
The operation involved making a 3D map of his brain, which a surgical robot used as a guide to drill, with pinpoint accuracy, deep into his head.
Electrodes were inserted into Mac's brain with millimetre precision and were then connected to a device called an Implanted Pulse Generator, which was embedded in his chest.
The hope was that once the tech was switched on, it would give Mac control of his body back.
One month after the procedure, Emma visited Mac in hospital to see if the treatment had worked.
Before the device was activated, a nurse asked Mac to reach over to the table and try to pick up a plastic cup and put it to his mouth.
His hand shook uncontrollably and the plastic cup was almost crushed in the process.
The nurse, called Caroline, then switched on the device and, after a few moments, Mac exclaimed: "Ah, ah…that's it…that feels good."
With tears in his eyes, Mac reached over to the cup, lifted it to his mouth and took a sip.
In the programme, which airs tonight on ITV at 9pm, Mac meets up with Emma eight months after surgery to finally fulfil the wish he made before his surgery.