What's the worse that can happen? The answer to that, of course, is the worse thing you can imagine. Which explains why most of us don't take risks on the unknown lightly.
But then there are those times when, weighed down by the predictability of the day ahead, or simply because a fresh new idea seems so utterly enticing, we completely derail our plans to instead try our hand at something completely different.
These people took that leap. And when they finally landed on their feet, life would never be the same again...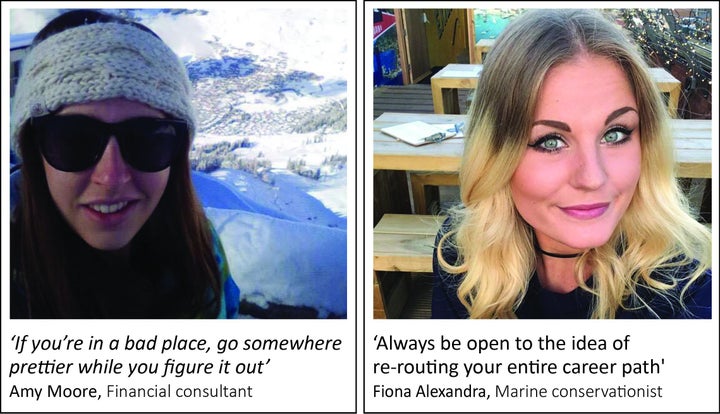 You can change your whole world in an instant
Amy's story: 'When my then boyfriend broke up with me, I had a full-on Bridget Jones response to it, complete with an ice-cream only diet in bed and an endless supply of Kleenex. It's not that I was done with wallowing, I just figured I should do it someplace else for a while, and randomly picked Switzerland. A few months of mountains, cheese and chocolate seemed the perfect antidote to my heartbreak. Within two weeks, I already knew I wouldn't be returning to the UK in a hurry. Completely out of my comfort zone and with a fresh slate to play with, my life changed overnight. It made me more confident, ever ready for challenge, and no longer the soppy girl that couldn't feel worthy without the validation of a man. Fast forward four years later and I'm happier than ever, climbing my own career ladder in finance, with two super cute cats and happily engaged to a fellow Brit, who also took a chance by switching countries to change the script of his life.′
You can land your dream job when you least expect it
Fiona's story: 'I was all set to start my masters in cultural and social anthropology at the University of Amsterdam for the same reason most people do a masters: buy some more time before deciding what to do with my life! So there I am, mapping out the big move to a new country, when three weeks before my course starts, I get a response to a summer job I'd forgotten I'd applied to. There was an opening for the position of assistant researcher on a marine conservation project in Madagascar, poorly paid, start next month, was I interested? I jumped! I used my art training to paint non-stop for three weeks straight and held an auction to gain the necessary funds in time. Six months into the job, I was running the marine programme. If you asked me when I was at university what my profession would be at the end of it all, I very much doubt I'd have guessed marine mammal medic...'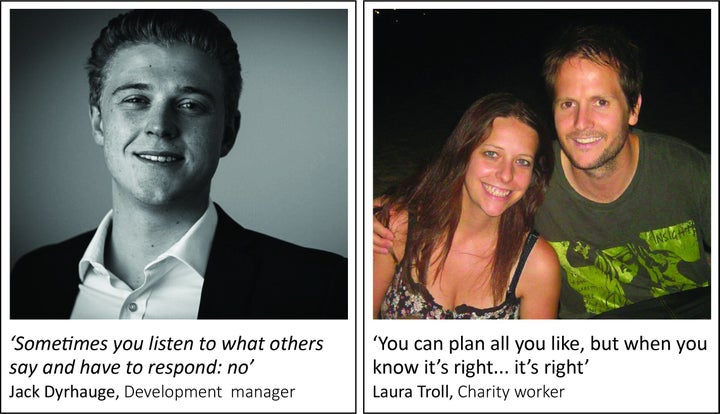 Sometimes your gut instinct knows better than common sense
Jack's story: 'As someone who got expelled from every school in every town, casually diagnosed by people as having ADSD, I knew I was lucky to get a place at university to do business studies. But my heart wasn't in it, and the voice that taunted "typical Jack, here we go again" forced me to stick at it, until one day I listened to my gut, which said I'm a doer who learns while doing. I have to admit I wondered whether my gut was full of crap and that my naysayers were right when I found myself back in my mum's house, but the fear of defeat drove me to put myself out there. Hunger is a highly desirable quality in the sales world, and through sheer perseverance, I'm now a successful business development manager running my own time. I also run a charity to help autistic people gain employment. The lesson I've learned is there'll always be people who point out your inadequacies. It's up to you to show yourself you can do it your way.'
When taking a chance on love really pays off...
Laura's story: 'After a year off in Australia doing odd jobs like working at a cattle station, I squeezed in a quick final backpacker tour up the west coast from Perth before returning to the UK to pick up where I'd left my life. I'd won a tour voucher in a bar in Darwin ten months earlier in a silly pub competition, and the tour guide sneaked in her friend Rob onto the tour because he needed a lift to Broome. A few shots of Jim Beam, a bit of suduko and a walk along the gorge, and a connection was made. On the last night of the tour, we shared a kiss. Back in the UK, he floated the idea that he come over for a second date. It was an interesting chat, telling my parents I'd had a holiday romance, on the last day, and would it be okay if he came and stayed with us for a while? Six weeks later, his plane landed and he lived at my parent's house for what turned out to be a whole year! That was 15 years ago. Since then we've lived in Scotland, back again to Australia and now back in England. There have been pet lizards, cats, ferrets and hamsters and now a mini Laura and a mini Rob. We still don't really plan for the future. When something seems like a good idea to us, we just do it!′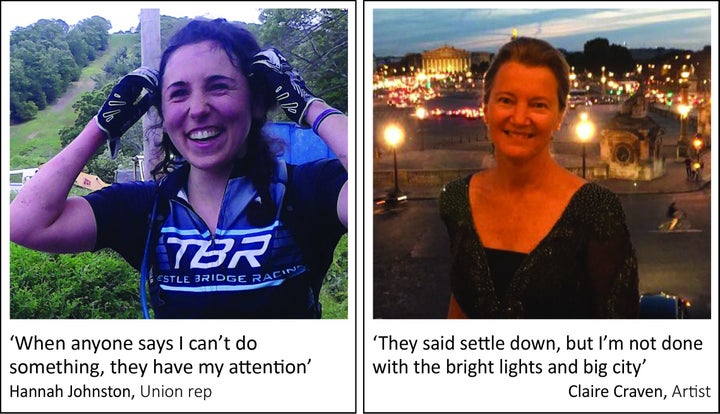 You're capable of impossible feats if you push yourself
Hannah's story: 'I've always been interested in physical challenges that seem utterly daunting. While reading about the North Canol Road in the Yukon and Northwest Territories, it occurred to me it was a trek that no woman had ever attempted. We immediately set about assembling a stellar group of five women, got material sponsorship, slated to be the first women to mountain bike the 500+ kilometre road that had been abandoned since the early 1940s. Did we think we'd bitten off more than we could chew? Oh, from the moment we set off! The trip was fraught with mechanical issues, the mountain passes were extreme to the point of life threatening, with washed out or icy roads at every turn. With the help of naturalist lodges, caribou and sheep hunters, telegraph wires, at once point, a helicopter rescue crew guiding us, we made it to the banks of the little Keele River. Ten days in, our bikes had become more hindrance than help, with half of them unrideable. When you're physically and mentally pushed beyond your limits, and then have to hoist a big bike across raging rivers, the voice that says 'give up' sounds perfectly reasonable. But we kept reminding ourselves how much tougher it had to have been for those who built these roads in the first place. If you accept you can't do something, it's worth reminding yourself someone else can and will.'
There's no age limit to changing your life
Claire's story: 'After I quit my job nursing and simultaneously ended a 30-year marriage, I started a new life, bought a house not far from where I've always lived, transformed one of the rooms into an art studio, adopted a dog and planted perennials. At my age that's what you do – settle down. But then, when my younger son and his wife had a child, I flew to New York to meet my new granddaughter. Although I had just had costly under-counter LED lighting installed in the kitchen of my new home, I suddenly thought: no, this is where I need to be. Just four weeks later, I sold my house and moved into two-bedroom rental apartment just a few blocks up the street from my grandkids. Major, major downsizing was necessary to fit my lifetime into a New York apartment, and while I may not have LED under counter lighting and a living room crammed with toys instead of an art studio, I have my family and a whole new world filled with exciting possibilities right at my doorstep.'