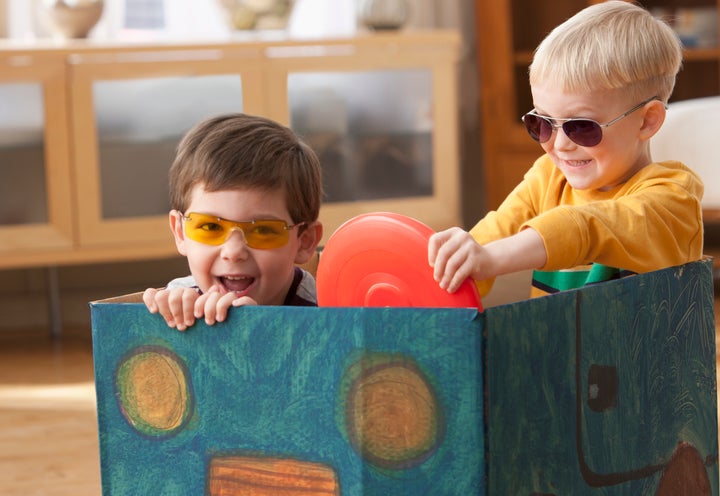 The most alluring potential toy for your tot? Nope, not your iPad mini/ the TV remote/your smartphone. It's an empty cardboard box. With infinite possibilities for play, the opportunity to let their imaginations go wild and the added bonus of helping develop their practical skills, it's something you can get behind, too.
Children love hiding places and clambering in and out of spaces, so a box they can fit inside is an ideal space for play. By its very nature, cardboard is neutral, and so a welcome contrast to so many toys with their jarring colours, flashing lights and repetitive noises. But most importantly, a cardboard box offers a blank slate for their creativity.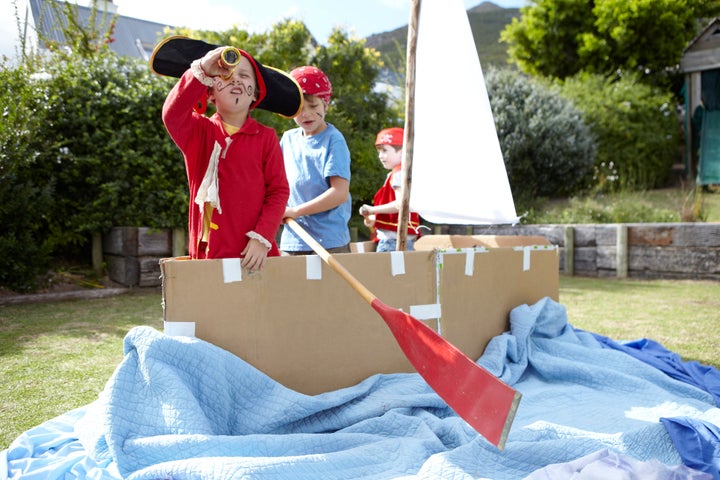 The humble cardboard box has even been included in the USA's National Toy Hall of Fame, alongside other traditional toy candidates like Lego and Mr Potato Head.
"I think every adult has had that disillusioning experience of picking what they think is a wonderful toy for a child, and then finding the kid playing with the box," Christopher Bensch, chief curator of the museum said following the box's induction ceremony.
"It's that empty box full of possibilities that the kids can sense and the adults don't always see."
In children's imaginations, boxes can be transformed into forts or houses, spaceships or submarines, castles or caves. Inside a big cardboard box, a child is transported to a world of his or her own, one where anything is possible. Even the humble shoe box or cereal box offers possibilities for houses for dolls, action figures and imaginary creatures, robots and puppet theatres (to name just a few).
Nicola Butler, Chair of Play England, says: "Toys can be quite prescriptive, but a cardboard box offers infinite possibilities. There is no right or wrong way to play with it, plus parents are relaxed about children drawing on it, ripping it up and manipulating it to fit their game - not something they'd be allowed to do with an expensive toy."
Becky Goddard-Hill, award-winning blogger at babybudgeting.co.uk, recommends regular raids on your recycling bin for cereal boxes, egg boxes and tinfoil, then let your children's imaginations run riot. Recent creations with her three children include robot figures and a spotty unicorn. "Why not have a go at building a cardboard craft house," she suggests. "There's no mortgage on that and your child can colour it in."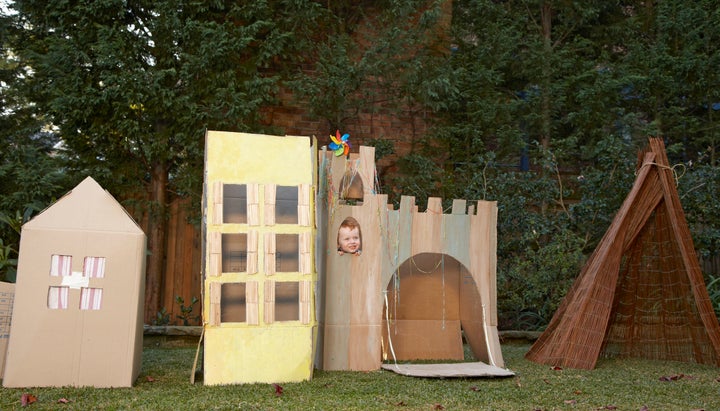 So what makes the simple cardboard box such a great toy?
The box is a million things, whereas a toy is only one. Playing with a cardboard box takes children on adventures exploring imaginary places in their minds.
My own sons still remember with bright eyed nostalgia their 'portal'. To me it looked like a large cardboard box (I think it housed a dishwasher in its first incarnation) that took centre stage in their bedroom, but for two five-year-old boys it was a gateway to different worlds that they played with for months, travelling to new places and times for endless adventures. Like Doctor Who's Tardis but less swanky. There was also the red bus that they spent as much time painting red and felt tipping in windows and wheels, as they did riding and swaying in it and jumping in and out.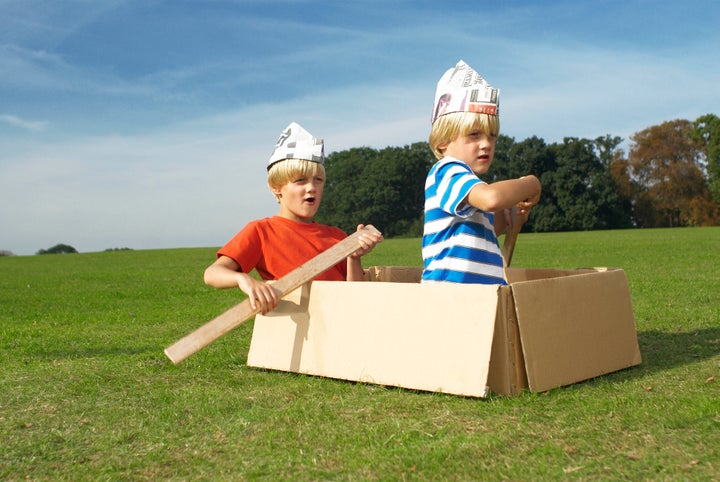 The internet is full of amazing creations made from cardboard for kids to play with. If you're looking for inspiration you can find cookers, caravans and pirate ships, plus the clever but deeply dull like sewing machines and washing machines. Many of them smack of parents taking the driving seat in creating cardboard planes, trains and automobiles.
But play experts agree that most of the pleasure of a cardboard box for children is its very versatility. Unstructured or 'free' play is also the best way for children to learn, giving them the opportunity to create and imagine without a prescribed end result.
So put out a box and see what your child makes of it.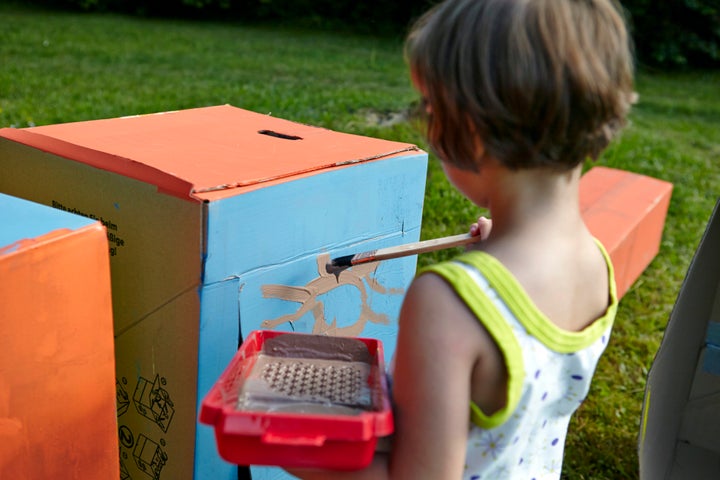 Of course, children can paint cardboard boxes, cut out windows and doors and draw and stick on extras. But to make the most of the creative play possibilities of a cardboard box, try to follow their ideas and direction and offer your help, rather than dictate your ideas.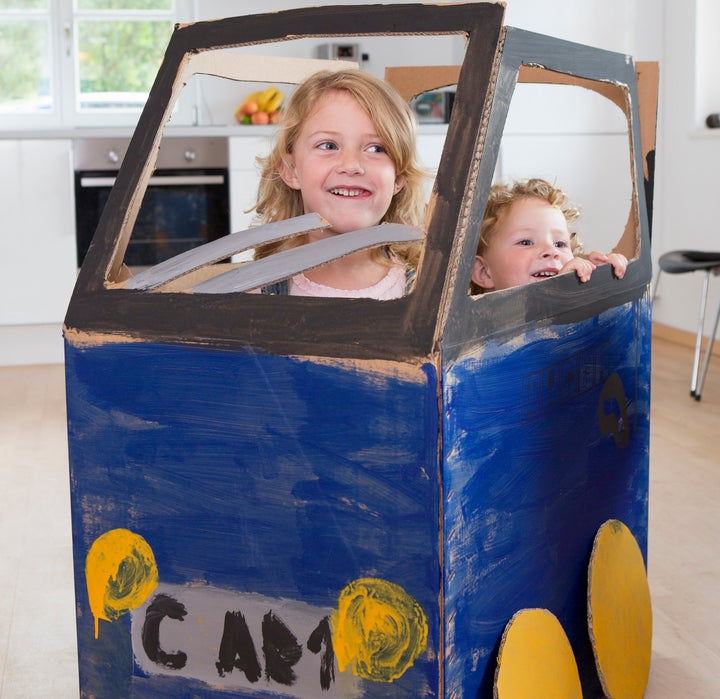 Best of all, a cardboard box is the opposite of the conspicuous consumption we parents worry our children are being brought up surrounded by. What could be better than saving money, recycling and giving your child hours of entertainment? All with a box.
Related